TECHCOMP HOLDINGS, which is dual-listed in Singapore and Hong Kong, has attracted two investors who will take up new shares of the company and become the No.3 and No.5 largest shareholders.
Under an agreement signed yesterday (9 Oct), KCH Investment Company Limited, which is wholly owned by Mr. Guo Bing, will subscribe for 22,669,000 shares and end up as Techcomp's No.3 largest shareholder with a 8.48% stake.
GW Capital Limited, which is wholly owned by Mr. Guo Yong, will own a 4.56% stake.
These are private investors who share something in common: They were co-founders of Centre Testing International (Shenzhen) Co. Ltd, which is a US$1.15 billion company headquartered in Shenzhen and engaging in consumer product testing, inspection, certification, and consultation.
Until July this year, they were also directors of Centre Testing International.
They will subscribe for an aggregate of 34,875,000 Techcomp shares at HK$2.40 apiece, a discount of approximately 5.51% to the closing price of HK$2.54 on the HK Stock Exchange on Wednesday (8 Oct).
The subscription is subject to, among other things, the approval of the SGX.
The total net proceeds from the share sale will be approximately HK$83.3 million, and will entirely be used for an acquisition, as described below.
At yesterday's closing stock price of 43 SGD cents on the SGX, Techcomp has a market cap of about S$100 million and trades at a trailing PE of 9.4X, according to Bloomberg.
The company is expected to ride on strong growth in the food safety industry the PRC, and the entry of the two big investors could add further spark to market interest in Techcomp.

Techcomp's largest M&A deal to date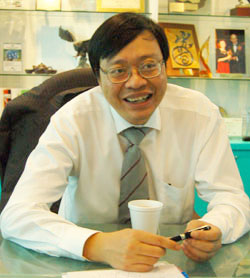 Richard Lo, President & CEO of Techcomp is the No.1 shareholder of the company. NextInsight file photo.In a piece of related news, Techcomp said it is making yet another acquisition -- its largest M&A deal to date and it targets a business that is strong in the testing for impurities for the petrochemical industry.

In a US$13.5 million deal, the company is buying the assets of the business of gas chromatograph and gas chromatograph spectrometry single-quad products (GC and GC-SQ-MS) products of Bruker Corporation (NASDAQ: BRKR).

Headquartered in Massachusetts, USA, Bruker is a leading provider of high-performance scientific instruments and solutions for molecular and materials research, as well as for in vitro diagnostics, industrial and applied analysis.

It is selling to Techcomp assets consisting mainly of the inventories, intellectual property, trademark, licenses and other assets related to the manufacture and sales of GC and GC-SQ-MS products.

The acquisition price is at a slight discount to the net book value of the tangible assets of the business of US$14 million.

The acquisition will be funded by proceeds from the subscription of new shares of the company (as described earlier in this article) and internal resources.

Techcomp said: "The acquisition is an opportunity to enable the Group to expand its presence in Europe, Asia and North America and in the business of development, manufacture and sale of GC and GC-SQ-MS products.

"All these are expected to contribute to greater efficiency and returns. The acquisition will also allow the Company to acquire complimentary technology as well as leverage on the brand equity of "Scion", which is beneficial to the future business development of the Group."