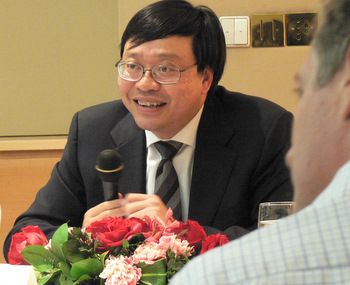 Techcomp President & CEO Mr. Richard Lo.
NextInsight file photoCHINA'S FOOD safety issues are a growing headache for a government overseeing rapid urbanization and an expanding middle class.

Techcomp (Holdings) Ltd (HK: 1298, SGX: T43), a leading PRC manufacturer and distributor of analytical and healthcare equipment, is ready to step up to the plate with cutting-edge equipment to help ensure the safety of the PRC's food supply, executives told investors in Shenzhen on Friday.

In September, Techcomp announced a sales contract worth 1.4 million usd with the China Food and Drug Administration (CFDA) for 18 sets of amino acid analyzers.

While the signing is not especially significant from a monetary standpoint, it does represent a landmark deal which Techcomp believes will lead to tremendous revenue potential down the road.

"China's food safety and security issues are ongoing and far from being resolved.

"Therefore we anticipate continued strong demand in the PRC with around 20% annual growth," said President & CEO Mr. Richard Lo.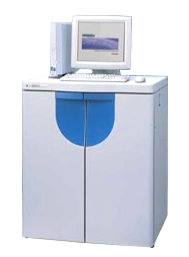 Techcomp recently inked a 1.4 million usd sales contract with the China Food and Drug Administration for amino acid analyzers. Photo: TechcompThe CFDA is a ministerial-level agency in charge of food safety supervision and drug regulation in the country.

Mr. Lo said the Hong Kong and Singapore-listed firm enjoyed strong ties within China's regulatory universe which helps boost the likelihood of future contracts being inked.

"The contract is a testimony of our strong business relations with state-level institutions and their confidence in Techcomp's products," he said.

Quality scandals in Mainland China over the years including melamine-laced baby formula, expired dairy products and second-hand cooking oil have had a very negative impact on the integrity and reputation of domestic foodstuff firms.

It has also sent those citizens in a position to do so scrambling to Hong Kong or online shopping portals to stock up on imported foods and beverages.

This is of course not a trend that China's leadership wants to see continue unabated or unaddressed, Techcomp said.

But for the meantime, Mr. Lo said his high-tech firm was more than willing to vie for as many contracts as possible to help restore confidence in China's domestic food supplies.

"The escalating market demand fueled by food safety standards and nutrition concerns has presented good opportunities for our business expansion.

"Techcomp is committed to being the brand of choice for analytical equipment, and we will devote continuous efforts to strengthening our R&D team and boost marketing activities to increase market share in the industry," Mr. Lo added.

Techcomp expects orders for its products to steadily grow with both the PRC government and consumers placing a greater emphasis on food safety standards and quality.

"Benefitting from the favorable business environment, we are confident of delivering an encouraging financial performance this year," Techcomp's CEO said.

In anticipation of growing demand, especially from the PRC, Techcomp agreed with a placing agent in September for not less than six placees to subscribe for up to 46.5 million warrants, on a best effort basis, at the placing price of 0.01 hkd per warrant.

The warrants will not be listed.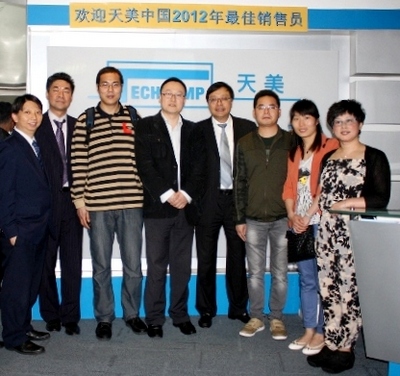 Techcomp President & CEO Mr. Richard Lo (fourth from right) invited leading PRC sales staff to the firm's Hong Kong office.
Photo: TechcompFundraising activities like these will help with needed capacity expansions, growing R&D budgets and marketing campaigns.

Techcomp's attention to R&D is paying off handsomely.

"A lot of our peers haven't reached the necessary economies of scale or are not high tech enough and are being acquired or left out of the game. We are at heart a high tech firm," Mr. Lo said.

He added that Techcomp was very sanguine on prospects in the EU, especially after acquiring Scottish diagnostic equipment peer Edinburgh Instruments Ltd (IE) in the first half.

EI is the world's leading manufacturer of Lifetime Fluorescence Spectrometers, Lasers and Gas Sensors for scientific research and industrial markets.

"Our M&A expansion in Europe is going well and we can acquire a lot of new technology in this way – especially from one of our Swiss pickups.

"We expect the Scotland acquisition to contribute to revenue in the second half."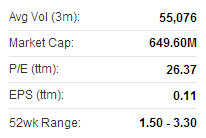 Techcomp recently 2.80 hkdBut overall, Techcomp was most bullish on prospects in the Mainland Chinese market, given both the sheer size of the population as well as the urgency of the food safety issues confronting the leadership.

"The stricter the PRC government becomes on food and drug safety, the better for the safety of 1.3 billion people and the better too for our business," Mr Lo said.

The CEO added that one sector in particular was showing particular promise for Techcomp.

"China's oft-troubled dairy sector has tremendous potential, both at the upstream supply level and the downstream distribution and retail levels."

Backed by a strong research team, Techcomp (Holdings) Ltd is China's leading manufacturer of analytical & healthcare equipment, with cutting edge technological patents in analytical instruments, life science equipment and laboratory instruments. The Techcomp brand of analytical instruments is used in laboratories for diverse industries ranging from materials analysis and testing to pharmaceuticals, biotechnology, medicine, food and beverage, and to forensics. Techcomp has a strong R&D track record and is an original design and original equipment manufacturer for the world's leading brands of analytical instruments used in research and test applications. Techcomp's strong distribution network for a wide range of the world's leading brands of highly advanced analytical equipment is predominantly in China.


---

See also:

TECHCOMP Profit Up 7.1%