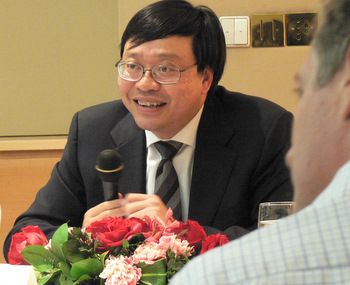 Mr. Richard Lo, President & CEO, Techcomp: "We are confident of delivering an encouraging financial performance this year." NextInsight file photoTECHCOMP wins 1.4 mln usd order from CFDA

Techcomp (Holdings) Ltd (HK: 1298, SGX: T43), a leading PRC manufacturer and distributor of analytical and healthcare equipment, said it won a sales contract worth 1.4 million usd with the China Food and Drug Administration (CFDA) for 18 sets of amino acid analyzers to be installed over the following few months.

"The contract is a testimony of our strong business relations with state-level institutions and their confidence in Techcomp's products," said Techcomp President & CEO Mr. Richard Lo.

Growing safety concerns in China over foodstuffs add impetus to the market demand for Techcomp's analytical instruments for testing food ingredients.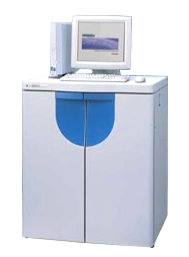 Bon Appetit! Techcomp expects rising food safety standards in the PRC to boost demand for its amino acid analyzers.
Photo: Techcomp"The escalating market demand fueled by food safety standards and nutrition concerns has presented good opportunities for our business expansion.

"Techcomp is committed to being the brand of choice for analytical equipment, and we will devote continuous efforts to strengthening our R&D team and boost marketing activities to increase market share in the industry," Mr. Lo added.

The CFDA is a ministerial-level agency in charge of food safety supervision and drug regulation in the country.

"Benefitting from the favorable business environment, we are confident of delivering an encouraging financial performance this year," Techcomp's CEO said.

The Hong Kong and Singapore-listed firm said orders for its products are expected to increase continuously with both the PRC government and consumers placing a greater emphasis on food safety standards and quality.

To cater to the expected surge in demand, Techcomp has allocated more resources to manufacture and distribute analytical equipment for testing food ingredients.
 
---
TECHCOMP to place out 46.5 million unlisted warrants

Techcomp (Holdings) Ltd said that on September 9, 2013 it agreed with a placing agent for not less than six placees to subscribe for up to 46,500,000 warrants, on a best effort basis, at the placing price of 0.01 hkd per warrant. The warrants will not be listed.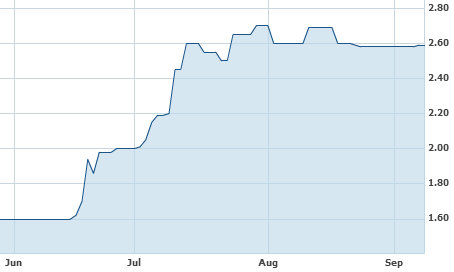 Techcomp's Hong Kong shares had a strong run following an early summer trading hiatus.     Source: Yahoo Finance

The subscription price is 3.00 hkd per warrant share.

Techcomp currently has a total of 232,500,000 shares in issue.

Assuming there is no further issue or repurchase of the shares and there is no adjustment to the subscription price, upon the full exercise of the subscription rights attaching to the warrants, 46,500,000 warrant shares will be issued.

They represent approximately 20% of the existing issued share capital of the company and approximately 16.67% of the issued share capital as enlarged by the issue of all the warrant shares.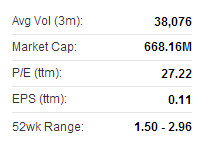 Techcomp recently 2.88 hkdAny additional proceeds from the warrant shares issue following exercise of the subscription rights up to a maximum of approximately 139.5 million hkd will be used as general working capital and for Techcomp's future development.

Backed by a strong research team, Techcomp (Holdings) Ltd is China's leading manufacturer of analytical & healthcare equipment, with cutting edge technological patents in analytical instruments, life science equipment and laboratory instruments. The Techcomp brand of analytical instruments is used in laboratories for diverse industries ranging from materials analysis and testing to pharmaceuticals, biotechnology, medicine, food and beverage, and to forensics. Techcomp has a strong R&D track record and is an original design and original equipment manufacturer for the world's leading brands of analytical instruments used in research and test applications. Techcomp's strong distribution network for a wide range of the world's leading brands of highly advanced analytical equipment is predominantly in China.
 
---

See also:

TECHCOMP Profit Up 7.1%