CHINA NEW TOWN swings to H1 profit

China New Town Development Co Ltd (HK: 1278; SGX: D4N) said its first half revenue surged 623% year-on-year to 898 million yuan, helping it to swing to a net profit of 30.63 million versus a net loss of 30.69 million a year earlier.

China New Town's interim operating profit was 210.93 million yuan compared to an operating loss of 3.91 million a year ago.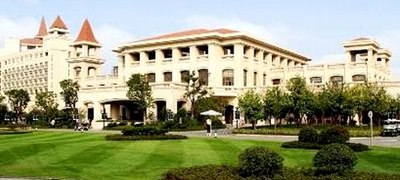 China New Town's Luodian New Town Project in Shanghai.
Photo: CNTDNet cash outflow from operating activities in the first half was 14.64 million yuan compared to 151.42 million in the first half of 2012.

Meanwhile, purchase and construction of property and plants stood at 163.58 million yuan in 1H2013 compared to 50.63 million a year ago.

Interim earnings per fully diluted share stood at 0.0068 yuan against a loss of 0.0079 in the year-earlier period.

For the quarter, the company reported that impairment loss of property under development was 7.08 million yuan for the portion of pre-sold but undelivered property units.

The Group is principally engaged in planning and developing large-scale new town projects in the suburbs of some of the PRC's largest cities, and it owns, operate and manages certain commercial properties in the completed new towns.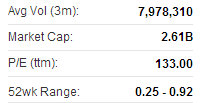 CNTD recently 0.58 hkdIn March of this year, Zhenro Group Co Ltd won an auction with a land premium of 1.35 billion yuan for a China New Town project in Shanghai, representing a bid price 41.1% higher than the auction reserve price.

"The repeated successful land auctions show that China's land market is on track for a healthy recovery.

"We believe that with committed support by the national policies in urbanization, quality new town development projects at reasonable prices have both great development prospects and substantial room for appreciation," said China New Town Development Executive Chairman Shi Jian at the time of the sale.
---

TECHCOMP H1 net profit climbs 7.1%

Techcomp Holdings Ltd (HK: 1298; SGX: T43) said its first half revenue rose 0.9% year-on-year to 68.83 million usd.

Profit for the January-June period decreased by 33% year-on-year to 0.6 million usd.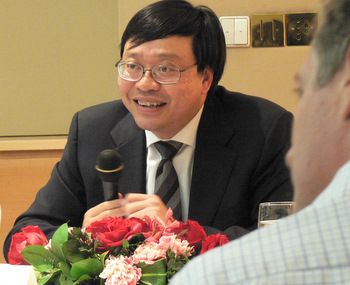 Mr. Richard Lo, President & CEO, Techcomp.
NextInsight file photoHowever, profit attributable to owners of the Company increased by 7.1% to 1.2 million usd resulting from the increase in credit from non-controlling interests by 0.3 million in 1H2013.

Techcomp, a leading manufacturer and distributor of analytical instruments, life science equipment and laboratory instruments, produced an interim EPS of 0.52 US cents, with no dividend declared for the period.

First half revenue for the distribution business decreased 4.7% to 43.7 million usd mainly due to the decrease in revenue in the PRC.

Despite the decrease in revenue for the distribution business in 1H2013, the segment results from the distribution business increased 18.8% to 0.9 million usd due to improved gross margins for the period which benefited from the depreciation of the Japanese yen as a significant portion of distribution products are imported from Japan.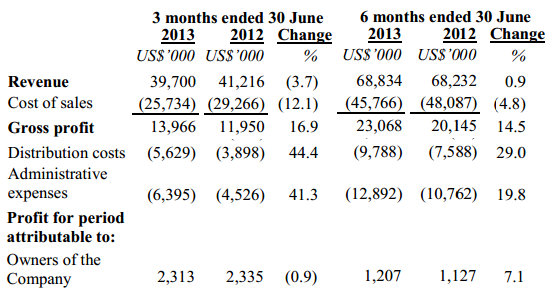 "Our January-June manufacturing business increased 12.3% to 25.2 million usd mainly attributable to the consolidation of newly-acquired subsidiaries in Europe during the period.

"However, segment results from the manufacturing business incurred a loss of 0.2 million usd in the first half compared to a profit of 0.3 million a year earlier mainly due to the increased loss contribution from the non-wholly owned subsidiaries -- namely Techcomp Jingke Scientific Instruments (Shanghai) and IXRF Systems," said Techcomp Chairman Mr. Lo Yat Keung.

Interim gross profit increased by 14.5% to 23.1 million usd resulting from the improved gross margins in both the distribution and manufacturing business.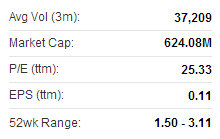 Techcomp recently 2.69 hkdThe overall gross profit margin achieved in 1H2013 increased by 4.0 percentage points to 33.5%, primarily due to the depreciation of the Japanese yen which decreased the cost of the products sold and the increased sales mix of higher margin products in the manufacturing segment.

"Management expects the seasonal trend of a stronger second half of the year to continue and the Group expects growth in demand for its products from the PRC to be the key growth driver for its business unless Sino-Japan relations deteriorate.

"Management believes the sales outlook for its products in the emerging Asian markets such as India and Indonesia will remain stable and in spite of the weak market sentiment in Europe, the Group expects improvement and positive development in these markets arising from the Group's marketing activities and contribution from its newly acquired subsidiaries," Mr. Lo said.

He added that Techcomp will continue to integrate the R&D, sourcing and manufacturing functions in Europe and the PRC in order to achieve cost savings and operational synergy for its manufacturing operations.

---

See also:

CHINA NEW TOWN Auctions Off Shanghai Plot For 1.35 Bln Yuan

TECHCOMP'S Sino-Japan Woes