Main reference: Story in Shanghai Youth Daily

HERE ARE THE most recent top 18 stake holding percentages for Wang Yawei, sometimes referred to as "China's Warren Buffett."

He is showing a growing preference for environmental-themed plays as well as agricultural shares.

Does he know something we don't?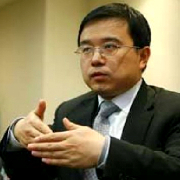 Investor Wang Yawei
Photo: SinafinanceA year ago, Mr. Wang was best known as the most prominent face at the PRC's largest fund management firm – China AMC.

The 300 billion yuan-strong fund with over 13 million investors welcomed Wang into its doors back in 1998.

He has more often than not bested the benchmark Shanghai Composite – the index which tracks both A-shares and B-shares in Mainland China.

But China AMC's star fund manager hit a rough patch as the Year of the Dragon kicked off and he then struck out on his own shortly thereafter, quitting China AMC in April 2012.

Late last year, Chinese state-run media reported that Wang registered a private equity firm in Qianhai, a financial reform test zone in Shenzhen.

After being bounced around by asset management firms last year, he's back to his investing ways and it's time to take another look at what he's been up to.

As of April 25, just before the five-day market break in China to commemorate May Day, Wang's top holding was Beijing SJ Environmental Protection and New Material Co Ltd (SZA: 300072) in which he held 19,300,000 shares for a nearly 5% stake.

Beijing SJ Environmental -- an industry peer of Singapore-listed China Environment Ltd (SGX: CENV) -- recently said it expects first quarter net profit to increase by between 90% and 113.4% (8-9 million yuan).

Its products include desulfurization purifying agents, sewage treatment services and natural gas technologies and its environmentally-themed operations are cleanly in line with many of the sustainable development themes being trumpeted of late by the new Chinese national leadership.

Third on the list for "China's Buffett" in terms of renminbi investment is Xinjiang Guannong Fruit (SHA: 600251), a producer and distributor of sugar products, cotton products, fruits and vegetables.

China's CPI, the country's broadest measure of inflation, has risen steadily of late, with food prices showing manageable increases.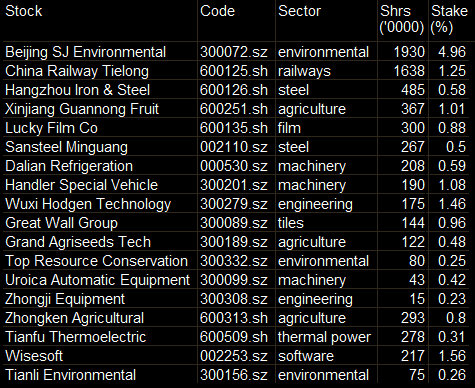 Wang Yawei's top China picks. Source: Shanghai Youth Daily

However, Beijing's attempts to control edible staple price increases has left the sector healthier overall with less ASP volatility, and an increasingly stringent quality control regime is helping boost confidence in domestic foodstuffs.

Grand Agriseeds Technology Inc (SZA: 300189) is also a major holding of investor Wang.

The Shenzhen-listed firm breeds, produces and sells hybrid rice seeds, and Beijing's continuous calls for more efficient higher-yield agriculture makes this counter an obvious high-growth potential agritech play.

Top Resource Conservation Engineering (SZA: 300332) operates environmentally-sustainable heat energy generation projects, another sector being heavily promoted by the national government in an attempt to reduce expensive oil import costs and clean up China's skies and waterways.

Zhongken Agricultural Resource Development Co Ltd (SHA: 600313), whose 2012 net profit doubled to around 16 million yuan, plans to invest 23.3 million yuan to set up an agritech joint venture with Luoyang Academy of Agriculture and Forestry Sciences.

Also making the top-18 among Wang's recent holdings is Tianli Environmental Engineering Co Ltd (SZA: 300156), a provider of industrial kiln and furnace environmental protection system solutions.

With a heavy concentration of investments in both environmental protection and foodstuffs, does "China's Buffett" know something we don't?

It would seem that with the newly-arrived government in Beijing and their strong support for both environmental technology and sustainable domestic agriculture, investor Wang is well on his way to riding these two trends forward.

---

See also:

BUFFETT & BLACK GOLD: Which China Shares To Benefit