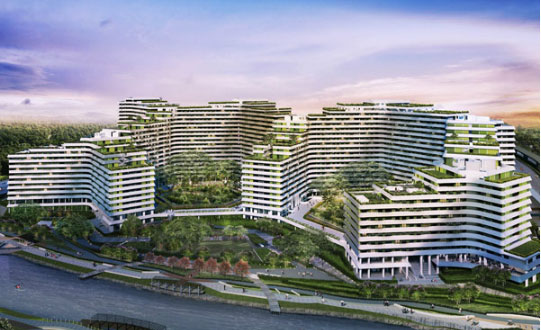 Punggol Waterway Terrace is a waterfront public housing construction project by Tiong Seng that is expected to be completed in 1Q2015. Photo from Aedas

Tiong Seng wins S$204.5m HDB contract
SGX-listed Tiong Seng Holdings has secured a construction contract worth S$204.5 million from HDB for public housing.
The contract was awarded to its wholly-owned subsidiary, Tiong Seng Contractors (Private) Limited, to construct 11 blocks of 14 to 16-storey residential buildings and two blocks of multi-storey carpark, commercial/community facilities, precinct pavilion and an ess (a S-shaped curved walkway) at Woodlands Crescent and Woodlands Rise.

The latest contract win brings its order book to S$1.28 billion, which will be delivered progressively till FY2016.
During the first 9 months of 2013, group revenue grew 19% year-on-year to S$424.3 million.
Revenue from construction contracts grew 12% to S$390.1 million. This segment contributed 92% to the revenue of the group, one of Singapore's leading building construction and civil engineering contractors.
Challenged by a tighter manpower policy in Singapore, Tiong Seng's construction gross margin slipped by 0.7 percentage points to 10.3%.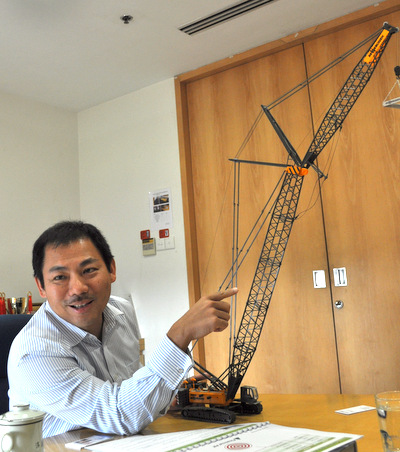 CEO Pek Lian Guan: "Winning this contract is a testament of our construction capabilities." NextInsight file photoTo deal with rising labor costs in Singapore, Tiong Seng has invested heavily in technology to improve productivity.

Its experience and capability has led to new ventures.

In April this year, it announced an MOU to invest 30% in a joint venture to set up a S$10 million precast plant in Myanmar with Shwe Taung, one of the most prominent conglomerates there.

In June, it announced plans to set up a S$15.6 million precast plant in the Iskandar region of Johor Bahru, Malaysia.

Tiong Seng is an industry leader in the use of precast construction technology and its advanced formwork system is able to reduce on-site labor requirement by as much as 30%.
Not only does the use of precast module improve productivity, it also decreases work site hazards and the incidence of accidents.
China's urbanization to boost growth
Tiong Seng also has a property development business focusing on commercial and residential projects in second and third-tier PRC cities, such as Tianjin, Suzhou, Yangzhou and the Bohai Economic Rim.

Revenue from sales of development properties amounted to S$26.4 million (compared to S$469,000 a year ago).
This segment contributed 6.2% to Group revenue during 9M2013.
Affected by the need to resettle existing residents of the site where its Cangzhou Sunny International project is located, gross margin of its property development segment declined from 77.4% to 1.1%.
9M2013 profit attributable to shareholders was S$16.7 million, down 14%.
Earnings from property development have a lumpy trend, but there's a positive side to this: China's urbanization is expected to provide growth momentum.
The management is expecting a strong boost to earnings when the majority of its development projects are completed over the next two to four years.

Recent story: TIONG SENG Extends Precast Expertise To Myanmar, Eyes Other Asian Markets



---

WE Holdings in M&A deal to tap on fast-growing PRC market


Executive chairman Terence Tea (left) and CEO Sim Mong Keang. Company photoWE Holdings has inked a deal to acquire a competitor, which is China's largest distributor of Kemet capacitors.

The Catalist-listed electronics components distributor entered into a conditional sale and purchase agreement on 3 December to acquire 100% in Everbest Industrial (International) Ltd for US$7.4 million via share issue.

Listed on NYSE, Kemet Corporation is a leading global supplier of electronic components, and Everbest is its largest distributor in China.

The acquisition broadens WE Holdings' revenue stream in the following ways:

>> Tap on China's fast-growing electronics and components industry by cross selling to Everbest's network of customers and distribution channels

>> Mutually exchange and improve on technology

>> Achieve economies of scale

Everbest has been in the business for 13 years. It distributes electronic components mainly to North, Central and South America, as well as Western Europe.

The Hong Kong company has been profitable for the past 4 financial years, posting net profit after tax of up to HK$5.1 million each year.

The purchase consideration of US$7.4 million was based on the sum of Everbest's NTA as at 31 October 2013 of US$1.8 million and 5.6 times of its expected net profit after tax of US$1 million for FY2015.

As purchase consideration, WE Holdings will issue 287,622,641 new shares at 2.572 US cents (3.18 SG cents) each.

The issue price is at a discount of 6.5% to the volume weighted average price of 3.4 cents on the day the agreement was signed.

Recent story: Myanmar Play: WE HOLDINGS Placing Out Shares Of Up To $18.5 Million