The share price of Food Empire Holdings has surged 35% year-to-date ahead of, and since, its FY2022 results release (see chart).

This may partly be because the company has signalled its positive view on its business through frequent share buybacks, mostly from Aug 2022, reinforced by strong quarterly results since 1Q2022 -- and the CEO's investor briefings.

However, probably because of multiple uncertaintites arising from the Ukraine war since Feb 2022, investors began to embrace the Food Empire story only from 3Q, thanks in part to positive analyst reports and the business resilience demonstrated in Food Empire's 1Q, 2Q and 3Q results.


Underpinning the strong business performance were increases in Food Empire's selling prices to counter higher raw material prices or foreign currency devaluation.

FY22 profit -- with an implied strong 4Q -- was an all-time high, along with proposed record dividends (4.4 cents/share):


Full-year dividend

FY18

FY19

FY20

FY21

FY22

SGD cent

0.68

2.2

2.2

2.2

4.4

*Historically, Food Empire has not paid interim dividends

Here's CEO Sudeep Nair's take, articulated at an investor briefing last week, on the company's underlying strength: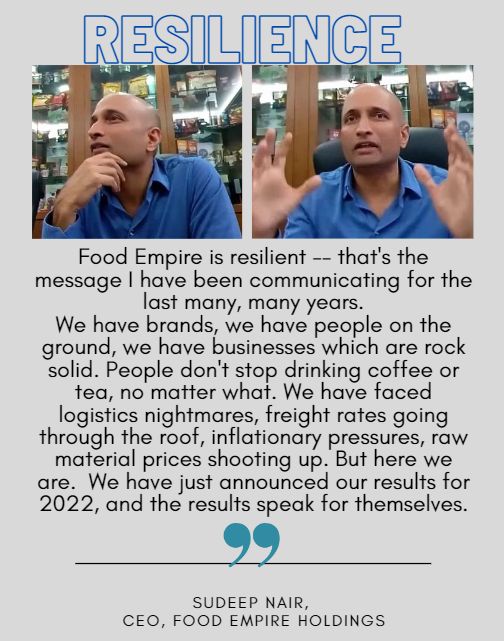 UOB Kay Hian and Maybank KE have put out reports analysing the FY2022 results, excerpts of which are republished in FOOD EMPIRE: After record profit, dividend, what do UOB KH and Maybank say?

In terms of recommendation and valuation:

• UOB KH has a buy rating and a target price of S$1.28 (S$0.78 previously), as it raised its PE peg to 10.5x 2023F EPS, its long-term historical mean.

• Maybank KE, expecting higher revenue growth from Food Empire, also has a buy rating and a target price of S$1.29 (from $1.20) based on 11x FY23E P/E.
Stock price

86 c

52-week range

42 – 87.5 c

Market cap

S$459 m

PE (ttm)

9.6

Dividend yield

5.1%

1-year return

80%

Shares outstanding

533.6 m

Price/Book

1.2

Source: Yahoo!
Food Empire's FY2022 net profit of US$60.1 million included a gain on disposal of Food Empire's 100% interest in an industrial building in MacPherson which housed its Singapore HQ and tenants.

Minus that, the core net profit was US$45.1 million (+134% y-o-y).

It's worth noting that within the figure is a US$2 million impairment of one of the brands of Food Empire and a US$1 million impairment of an associate company (more on this below).

These are non-cash items and were recognised in 4Q2022, without which profitability would have been even higher.

The big picture is, Food Empire today is much more diversified by geography and it's vertically integrated -- but that wasn't the case 10 years ago.

Its FY2012 annual report showed that its revenue source was relatively concentrated back then: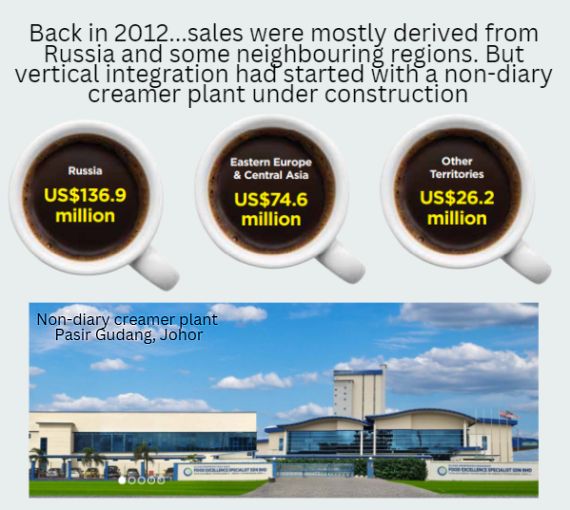 In contrast, FY2022 revenue sources were diversified with Southeast Asia and South Asia generating nearly US$133 million revenue:


Revenue by markets

US$'000

2022

2021

Change (%)

Russia

148,384

114,915

29.1

Ukraine, Kazakhstan and CIS

91,480

71,161

28.6

South-East Asia

92,718

96,779

(4.2)

South Asia*

39,600

17,393

127.7

Other segments

26,180

19,826

32.0

Total Revenue

398,362

320,074

24.5

* A freeze dry coffee plant and a spray dry coffee plant, both in India
Excerpts from investor/analyst Q&A session last week with CEO Sudeep Nair:

Q: What are you going to do with US$125 million cash (on the balance sheet as of end-2022)?
A: We've just announced record dividends to shareholders. We'll do share buybacks, we will need cash for a strong balance sheet to manage all the volatility and never be under pressure from any financial institution.

The group is self financing, it generates a lot of cash flow. Our objective is to reward shareholders over a longer period, diversify, diversify our business and make the company stronger. We want to build new businesses or grow or do something elsewhere.


Q: Can you clarify the impairment on a brand as well as an associate?
A: It was an impairment on a brand we acquired maybe 15 years back in Russia and Ukraine, so that brand has presence in Ukraine mostly. And it's sold mostly in the eastern part. For Ukraine, the discount rate used was very high, 40-50%.

The associate is a company in Italy we had invested in. It's a retail business that was doing quite OK but post COVID they had to close down some outlets.

The Q&A content has been edited for brevity and clarity.
For more on the FY2022 results, see Food Empire's announcement here.