Today, some S$28.2 million has moved into the pockets of shareholders of Geo Energy Resources, as a quarterly dividend of 2 SG cents a share.

The payouts have been fast and furious. It's just 3 months since S$28.2 million was paid out at end-May, and 3 weeks earlier (ie 10 May), S$70.4 million (as the 5-cent final dividend of FY21).

Here's the breakdown:

| | | | | | | |
| --- | --- | --- | --- | --- | --- | --- |
| Quarterly dividends | 1Q21 | 2Q21 | 3Q21 | 4Q21 | 1Q22 | 2Q22 |
| SGD cent | 0.5 | 0.5 | 3 | 5 | 2 | 2 |

The Singapore-listed company is one of a few that pays dividends on a quarterly basis.

It has not always been so for Geo Energy, which struggled through low coal prices for many years prior to 2020.

What turned its fortune -- and that of fellow coal producers everywhere -- is soaring coal prices due to unflagging energy demand while investments in coal supply shrink due to financing challenges.

It's the climate change story, giving rise to an imbalance between demand and supply for many years to come until renewable energy sources become significant alternatives.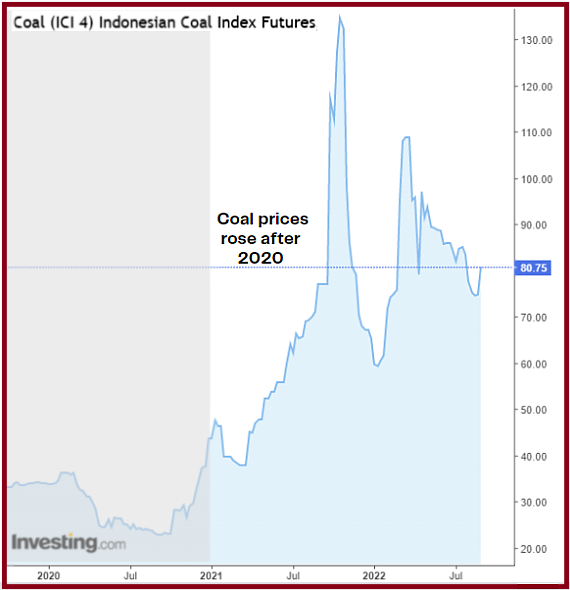 Coal prices softened in 1H2022.
With coal prices staying at elevated levels, as reflected in the coal futures (see data at CME Group website), Geo Energy will continue to enjoy large cash inflows that can sustain nice dividends.

Just see how fast the cash flows in:

"Thermal coal demand is expected to remain strong on the back of energy shortages. We expect a strong second
half of 2022 as we ramp up production while coal prices are high."
-- Geo Energy
• Total cash and bank balance as of 30 June 2022 was US$177 million.

• Just 7 weeks later, on 19 August, the cash and bank balance had risen to US$218 million (see slide 6 of presentation deck here) on 1.5 million tonnes of coal sold.
The 7-week increase alone can cover yet another quarterly dividend of 2 cents a share (S$28 million), with S$28 million to spare.

Geo Energy's stock has a whopping 105% total return over the past 1 year -- but despite returns this good as well as near-term prospects this good, it currently trades at 1.5X trailing PE. Its US$218 million cash accounts for about 57% of its market cap.

Certainly the cheap valuation raises eyebrows.

Surely no one is thinking dividends will dry up as Geo Energy has a policy of paying out at least 30% of its earnings.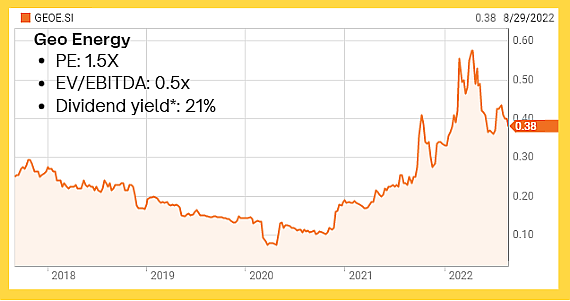 *Annualised 8 cents/share. Chart: Reuters

If some investors have their way, they'd get the company to buy back its shares aggressively, say, soaking up millions of dollars worth of stock every week.

Geo Energy did buy, in January this year, an aggregate of 3,000,000 shares for US$725,001 on top of the 8,900,000 shares bought last year.

Buyback advocates have a point but it may be short-sighted.

Mathematically, earnings per share rises as shares are bought back but that doesn't automatically translate into a higher stock price or a durable high stock price. That's real life.

There's actually a longer term business need for a sizeable amount of cash.

Geo Energy's cash cow is its two producing mines, SDJ and TBR, in Indonesia. They don't last forever, in fact their projected end is in 2027-2028 -- to be specific, their mining permits expire in 2027 and 2028, respectively.

(Geo Energy has two other mines, BEK and STT, whose mining permits stretch to 2031 and 2032. BEK recommenced production in 2020 on a small scale while STT is under exploration and development).


While Geo Energy has recently found itself in the fortunate position of being able to build up a cashpile, it faces a challenge searching for attractive new businesses.

It won't be another coal asset (not likely) because financing is hard to come by and without it you won't snare anything significant.

It remains to be seen what Geo Energy can diversify into with a couple of hundred million bucks cash (plus maybe proceeds from an asset divestment?)

Meantime, investors with shorter time horizons cannot complain about the dividend yield. Take 8 cents a share over 4 quarters -- that's 21% on a 38-cent share price currently.

Even if their returns are not euphoric, many of those who bought at higher prices (the stock's 5-year peak was around 60 cents in April this year) would have collected handsome returns

and will collect more if they hang in there

.