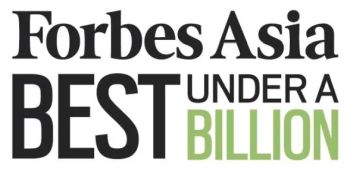 Nordic Group, a SGX-Mainboard listed company, was chosen to be among 200 public listed companies in the Forbes Asia 2022's "Best Under A Billion" list, which identified excellent companies with annual revenues under US$1 billion. Nordic provides system integration solutions, repair and overhaul (MRO), precision engineering, scaffolding and insulation services, petrochemical and environmental engineering services and cleanroom, air and water engineering services. It serves mainly the marine, offshore oil and gas, petrochemical, pharmaceutical, semiconductor, infrastructure and public environment agencies.


Nordic's 1H2022 financial results reflect its upward trajectory. Here are some highlights:
1. Maiden Starburst contribution:
Starburst was Nordic's biggest ($59.1 million) of 5 M&A moves that Nordic had undertaken in a decade.


Stock price

42 c

52-week range

32 – 45.5 c

PE (ttm)

9.1

Market cap

S$168 m

Shares outstanding

399.7 m

Dividend
yield (ttm)

4.2%

1-year return

26%

Source: Bloomberg
Starburst is a higher-margin business, contributing S$3.6 million in pre-tax profit out of its S$14.9 million revenue in 1H2022.

Of the S$14.9 million, S$5.1 million came from the Middle East, making it the first-ever revenue stream from there for Nordic which has been Singapore- and China-centric.

As a group,

in 1H2022

Nordic achieved S$79.7 million (+62% y-o-y) revenue and S$13.1 million pre-tax profit.

That implies Starburst had a higher pre-tax profit margin (24%) versus Nordic's (ex-Starburst) 14.7%.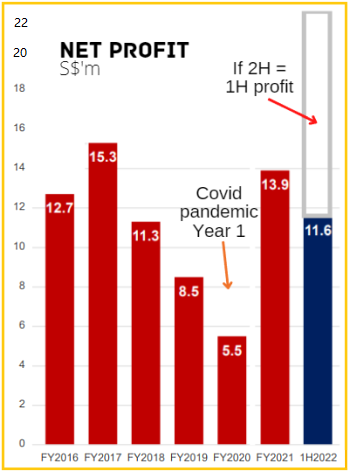 2. Group profit and dividend: Nordic looks on track for record profit and dividend this year, and is supported by a record order book of S$232 million.

Net profit in 1H2022 came in at S$11.6 million (+49% y-o-y), very close to surpassing the full-year 2021 profit. An interim dividend of 1.162 cents a share was declared.

Nordic reported a "marked pickup in momentum" for both Project and Maintenance Services segments as Covid-19 restrictions on work are substantially eased.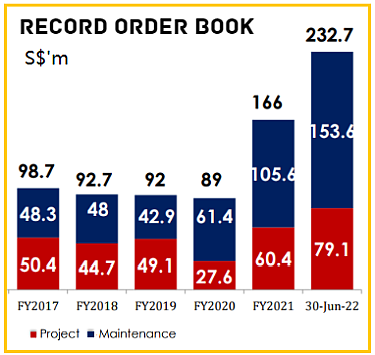 A substantial contribution came from work by subsidiary Envipure for a semiconductor customer in Malaysia, with the country accounting for S$8.9 million revenue (1H2021: S$906,000).

The interim dividend represents a 40% payout, consistent with Nordic's policy of paying at least 40%.

If annualised, that translates into a yield of 5-6% on a full-year basis based on a recent share price of 42 cents.


Executive Chairman Chang Yeh Hong at recent 2Q briefing. Table shows revenue contribution by geography, notably the new markets of Malaysia and Middle East.

3. Recovery of oil and gas sector: With the easing of the pandemic, Nordic's clients in the oil & gas sector are stepping up activities which translate into business for Nordic's scaffolding, insulation and petrochemical & environmental engineering divisions.

Citing a survey from the Singapore Economic Development Board, Nordic highlights optimism in the marine and offshore engineering industry with an increase in oil and gas activities driven by higher oil prices. The precision engineering industry is also expecting higher production.

4. Eratech acquisition soon: The completion of yet another earnings-accretive acquisition for S$10 million is about to happen. (For more, see: NORDIC GROUP: 49% profit jump, and another "unbelievably good" acquisition)

Eratech, a precision-engineering firm in Singapore, earned S$3.3 million net profit in 2021 on S$10.6 million revenue.

Its high profit margin comes from serving the optical imaging industry.

Eratech will figure in the 2H2022 financials of Nordic and beyond.

5. Eratech-Avitools IPO: Nordic has revealed the 2021 financials of its precision engineering business, Avitools, which operates in China.

The Avitools-Eratech combined entity earned S$5.4 million in 2021 on S$31.9 million revenue.

The plan is to list this entity within 2 years or earlier, a potentially nice growth story fuelled by supply chain disruptions and companies turning to local partners outside of China.

For more info, see Nordic's presentation deck here.