Fresh from putting the finishing touches to its biggest acquisition (S$59 million) of Starburst Holdings, Nordic Group has just announced its smallest proposed acquisition (S$10 million).

Like the former, the latter is a sweet deal for Nordic, prompting a long-time investor who attended the 1Q2022 results briefing to comment with a touch of wonder: "These deals are unbelievable."

He meant "unbelievably good" of course. (For our past story on the Starburst acquisition, see: NORDIC: Here's why acquiring Starburst at 23.8 cts/share is a great deal)


With the enlarged Group demonstrating strong operating cashflow in 1Q2022, the Group will vapourise its net debt of S$38 million which was accrued to help fund the Starburst acquisition:



Nordic Group is a SGX-Mainboard listed company that provides system integration solutions, repair and overhaul (MRO), precision engineering, scaffolding and insulation services, petrochemical and environmental engineering services and cleanroom, air and water engineering services. It serves mainly the marine, offshore oil and gas, petrochemical, pharmaceutical, semiconductor, infrastructure and public environment agencies.


Nordic Group's M&A track record

FY2011
Multiheight Group

FY2015
Austin Energy

FY2017
Ensure Engineering

FY2019
Envipure Group

FY2022
Starburst

Acquired 100% for around S$29m

Acquired 100% for S$26m

Acquired 100% for around S$17m

Acquired 100% for S$14.8m

Acquired 100% for S$59.1 m

Nordic's executive chairman, Chang Yeh Hong, shared some colour on the proposed acquisition of 100% of privately-held Eratech Group, a precision engineering business based in an Ang Mo Kio industrial park, Singapore.

Its key principal, Mr Koh Hang Meng, is about 70, and has built up the business over the past 40 or so years.

His children are said to be happily successful in their respective professions and have no wish to take over the business.

Seeking a buyer for Eratech, Mr Koh, who will stay on for a few more years, settled on Nordic over other motivated suitors partly because Nordic offered 100% cash (instead of partial cash, partial shares).

So what's great about the deal for Nordic?

• For a consideration of S$10 million, Eratech will come with a minimum cash and cash equivalent of S$4.3 million at completion and minimal debt.

• Eratech's net tangible assets to be not less than S$8.3 million

at completion

.

• Eratech's pre-tax profit in 2021 was S$3.255 million, which indicates that Eratech will be a significant future contribution to Nordic (2021: S$14.5 million pre-tax profit).

Beyond the attractive financials, Eratech enables Nordic to quickly start up a precision engineering business in Singapore, serving clients of Nordic's 100% subsidiary Avitools (Suzhou).

Some clients have conveyed their wish to be at least partially supplied from outside of China to mitigate risks of supply chain disruption due to US-China trade tensions, said Mr Chang.

Suzhou-based Avitools, also a precision engineering business, serves a set of clients that is different from Eratech.

Eratech is strong in the high-margin optical and imaging business, which Avitools is not present in. (See company profile here)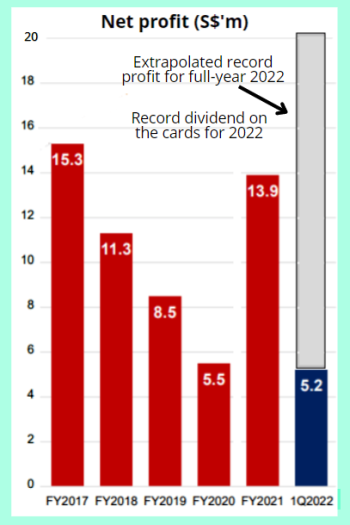 *No assurance that the projections will be achieved.1Q2022 saw maiden contribution from Starburst. Group revenue shot up 64% to $40.1 million while net profit, $5.2 million (+49%).

Starburst's revenue came in at S$7.6 million but its net profit was not disclosed in the Group's voluntary 1Q2022 business update.

While Starburst's net margin is superior to Nordic ex-Starburst, the Group net margin dipped 1 percentage point to 13%.

Mr Chang said the Group recognised amortisation of intangibles from its Starburst acquisition of about S$600,000 per quarter, which will total S$2.5 million this year.


Stock price

42.5 c

52-week range

31 – 45.5 c

PE (ttm)

11.8

Market cap

S$165 m

Shares outstanding

388 m

Dividend
yield (ttm)

3.4%

1-year return

32%

Source: Yahoo!
Subsequently, it will be about S$90,000 a quarter from next year, until the full S$5 million of intangibles is amortised over 7 years. The 7-year duration reflects the current orderbook's mix of project and maintenance work.

Aside from the said amortisation, the 1Q net margin was somewhat affected also by the more modest contribution from Avitools in China owing to work disruption by Covid-19 lockdowns.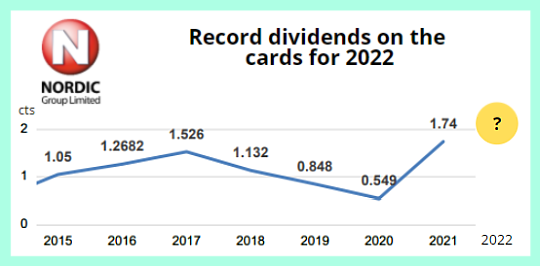 All in all, the 1Q2022 results point to a record profit this year, especially given Starburst's contribution and post-Covid conditions in Singapore that support a return to "normal" work.

If so, record dividends are on the cards, according to Mr Chang. Nordic's policy is to pay at least 40% of its earnings as dividends.