Geo Energy's 1H2022 earnings surged to its highest in its 10 years of listing on the Singapore Exchange on strong coal selling prices.

Amid tight supply, strong coal demand came from a post-pandemic infrastructure-led global recovery and the global and European energy shortage.

A temporary coal export ban in January 2022 affecting all Indonesian coal miners did not stop Geo Energy's 1H2022 net income from jumping to US$106 million (S$145 million) from US$48.5 million a year earlier.

Net profit margin was an incredible 28.8% on revenue of US$368.3 million (+67% y-o-y).

This, despite production cash cost increasing by 52% to US$39.63 per tonne due to certain of the Group's costs being linked to coal price.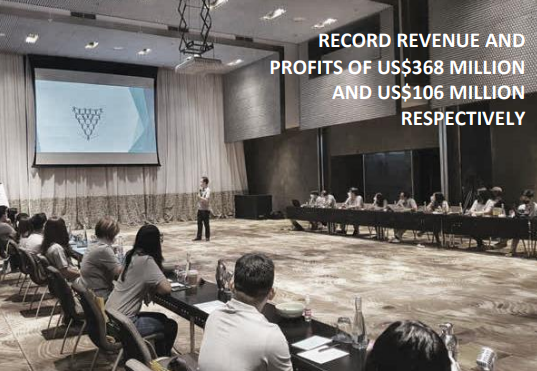 Geo Energy CEO Tung Kum Hon speaking to management staff in Indonesia. Photo: Company

Given the excellent 1H2022 operating cashflow (Ebitda US$163 million and capex of just US$2.9 million), Geo Energy was well placed to continue its track record, since 2021, of declaring quarterly dividends.

This time: 2 cents a share:
| | | | | | | |
| --- | --- | --- | --- | --- | --- | --- |
| Quarterly dividends | 1Q21 | 2Q21 | 3Q21 | 4Q21 | 1Q22 | 2Q22 |
| SGD cent | 0.5 | 0.5 | 3 | 5 | 2 | 2 |

The aggregate 1Q and 2Q dividends of 4 cents/share is 39% of its net earnings for 1H2022, in line with its policy of a minimum 30% payout.

Based on its dividend and PE metrics, Geo Energy's stock looks undervalued: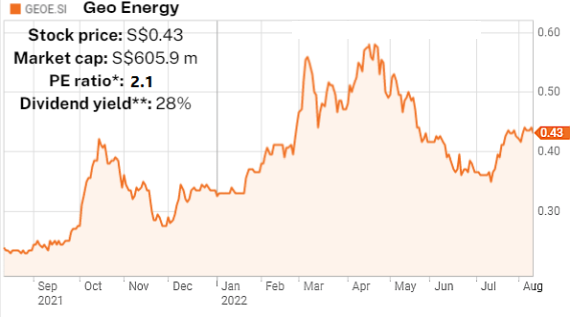 * Based on annualised earnings of 1H2022.
** Based on 2H2021-1H2022 dividends totalling 12 cents.
Chart: Reuters
Geo Energy said it delivered 5.2 million tonnes of coal for 1H2022 with over 0.2 million tonnes for June vessels only recognised in July after completion of loading.

This was slightly lower than the 5.4 million tonnes of coal in 1H2021, after adjusting its mining plan following the temporary coal export ban in January 2022.


Key figures: ASP, volume

1H2022 ASP*

US$71.12 per tonne

1H2022 cash profit

US$31.49 per tonne

1H2022 sales* volume

5.2 million tonnes

Full year 2022 sales target

12 million tonnes

* 36% of 1H2022 sales was domestic. Full-year domestic obligation: 25%.
The Group achieved production of 5.5 million tonnes in 1H2022.

"We remain on track for our target of 12 million tonnes coal sales for 2022. Our production volumes are typically higher for the second half of the year due to seasonality," said Geo Energy in a statement.

As part of its Domestic Market Obligations ("DMO"), wherein it has to sell 25% of its annual volume to domestic power producers, Geo Energy sold 36% locally in 1H2022.

As a result, the Group's 1H2022 average selling price (ASP) was lowered as DMO sales have a price cap of around US$38 per tonne.

"By fulfilling a higher DMO volume in early 1H2022 when ICI4 (coal) prices were lower, the Group expects to achieve a higher ASP with more export sales in 2H2022."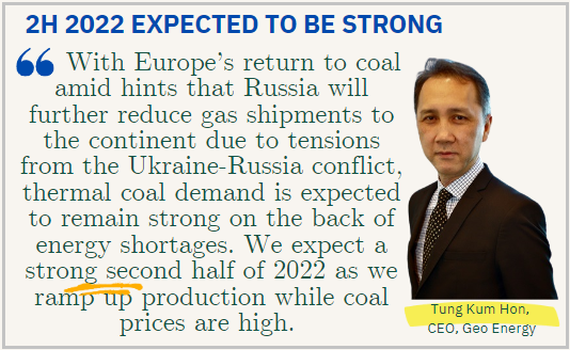 For more info, see Geo Energy's presentation deck here.