"Rolling Stones" contributed this article to NextInsight


China Sunsine, a major rubber chemical maker listed on Singapore Exchange since 2007, is expecting a year-on-year hike in 1H22 profit to be announced on 11 August after market close.

It said the expected profit growth is mainly due to an increase in the average selling price.

"Increase in the global commodities prices has led to the increase in prices of our raw materials, and the Group was able to pass on such increase to our customers. As such, the Group achieved higher revenue and net profit in 1H2022 compared to the corresponding period in 2021."

This is the company's third successive half-yearly profit alert after recovering from the Covid-19 pandemic:

Profit
(RMB m)

Year-on-year increase (%)

Notes

2020

219

-44

1H21

265

+222

first alert

2H21

241

+77

second alert

2021

506

+131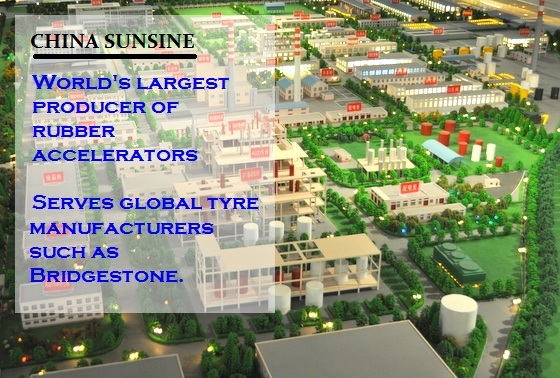 We can come up with 2 scenarios regarding the upcoming profit results:

• If 30% is the threshold for alert, 1H22 profit would be at least RMB 345m.


• A higher threshold of 40% will render a minimum of RMB 371m as 1H22 profit.
Sunsine has a peer with good news too. Shenzhen-listed Yanggu Huatai announced on 11 July that its 1H22 profit is expected to be between RMB 267m and RMB 297m, a year-on-year increase of 58% and 76% respectively (最近调仓(二):阳谷华泰_FX112财经 (anewsday.com)).

Sunsine is much bigger and more profitable than Yanggu Huatai, as this table shows:


Year

Sale

Profit

Sunsine

YGHT*

Sunsine

YGHT*

(A)/(B)

(A)

(B)

2017

2738

1640

389

**

204

191%

2018

3283

2088

593

***

367

162%

2019

2692

2018

389

184

211%

2020

2334

1940

219

126

174%

2021

3725

2718

506

284

178%
* 300121 ¥13.80 (▼1.78%) Shandong Yanggu Huatai Chemical Co Ltd | Google Finance
** after adding RMB 48m tax credit that accrued in the next year
*** after subtracting RMB 48m tax credit attributed to the prior year
As Sunsine was adding 82,000 tonnes to its 172,000-tonne capacity when the world was beset by the Covid-19 pandemic, worries abounded; but Chairman Xu Chengqui was cool, calm and collected in his address in the 2019 annual report:

Amid the crisis, one must identify opportunities to wait in the wings. Although China and the rest of the world are being severely impacted by the outbreak, we believe the pandemic will end eventually and the economy will recover and grow. With the economy on the ebb, expanding our capacity and taking advantage of our strong financial and market position will enable the Group to grab market share for our products when the market recovers gradually, thus setting the foundation for long-term growth of the Group.
Chairman Xu went further in the 2020 annual report:
We are witnessing the rise of an industry consolidation. Leading manufacturers' advantages in brand and scale are becoming more prominent. Two of the three production capacity expansions that we planned for during the economic downturn last year are nearly completed, and the output from the increased capacities in the second half of this year will be in time to meet market demand. The expansion projects have also laid a solid foundation for further growth in market share and long-term sustainable development.
And he made even more positive remarks in the 2021 annual report:
It is also clear to us that the rubber chemicals industry is increasingly concentrated and consolidated; Advantages in brand and scale of leading companies have become more distinct. The projects initiated by the Group have led to an increase in our production capacity and we are ready to meet the increased market demand for our products. With the Group's market share further increased, our competitive advantages will become even more pronounced. At the same time, the Group will continue to explore new expansion projects to lay a solid foundation for further long-term sustainable development. Thus, we have complete faith in the development of the Group.
"With a strong 1H22 profit and progressive ramping up of the 82,000-tonne new capacity, a new record profit for 2022 is on the horizon."
As weaker players falter or fold amid the pandemic, gaps in the market left by them are filled by stronger ones like Sunsine and Yanggu Huatai.

With a strong 1H22 profit and progressive ramping up of the 82,000-tonne new capacity, a new record profit for 2022 is on the horizon.

But the share price of 43.5c is way below its 70c NAV as at the end of 2021, only 4 times 2021 profit, and backed by net cash of 30c per share!

My article published on Nextinsight dated 20 July 2022 on Sunsine's tepid share buyback attributes this to a self-imposed cap.

Sunsine cannot initiate buybacks because subsequent transactions by other parties may not be enough to bring the repurchased shares below 30% of the total of the day.

For the same reason, it cannot take shares offered for sale at a depressed price. And such inaction is interpreted by investors as a lack of confidence in its own prospects.

Bemused disbelief is the common reaction when investors learn that Sunsine is the only company that imposes on itself the 30% cap. It is high time to rescind the self-imposed cap.