Excerpts from UOB KH report

Analyst: Llelleythan Tan

Rex International Holding (REXI SP)
Dip In Production Due To Maintenance Works

Oil production from the Yumna field in Oman softened in 1H22 as maintenance and upgrading work halted production intermittently.


Rex

Share price:
27 c

Target:
45 c
The Brage field production remains steady, in line with our expectations. Rex acquired licences for two discovery assets in Norway, adding to its portfolio.

To increase shareholder value, Rex is set to pay its maiden dividend in 2H22 and has had its proposed share buyback mandate approved.

Maintain BUY with a lower SOTP-based target price of S$0.45.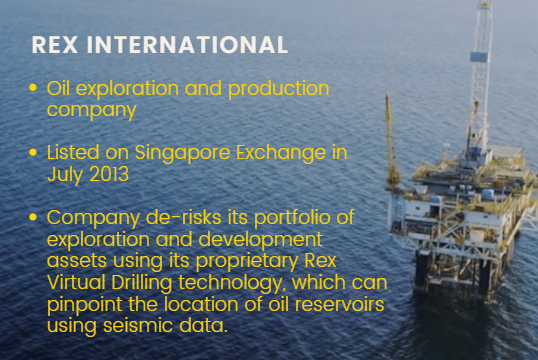 WHAT'S NEW
• Production updates for Oman and Norway. For Oman, oil production for Feb-Apr 22 was lower than estimated due to major upgrades and repair works which temporarily halted production. Some of the upgrades include the replacement of a new floating storage tanker and a change-out of the Mobile Offshore Production Unit (MOPU).

These new upgrades are meant to maximise oil recovery as the wells tend to naturally deplete over time.

As a result, average monthly oil production for Feb-Apr 22 was at 2,237bbl/day, 4,637bbl/day and 1,271bbl/day respectively, lower than our 9,500bbl/day average
estimates for 2022.

For May 22, average monthly production has recovered back to 4,800bbl/day post-upgrades but Jun 22 is expected to see a sharp moderation due to an operational issue with a pump in the Yumna field.

Production been halted since 11 Jun 22 and is expected to resume around early-Jul 22 once the issue is resolved.

Looking forward, a targeted drilling campaign of two additional wells has been planned for Oct/Nov 22. For the Brage field in Norway, oil production for Feb-May 22 has been steady at 2,700-3,561bbl/day, well within our 2,900bbl/day 2022 estimate.

• Growing Norwegian portfolio. Rex International Holding (Rex) signed an agreement to acquire 30% interests in licenses PL820 S and PL820 SB in Norway, pending approval.

These licences contain the Iving and Evra discoveries which are estimated to hold around 11.5mmboe of resources. In addition, the licence areas include several sizeable exploration prospects and are located adjacent to existing infrastructure, removing the need for further capex.

Rex intends to eventually operate these licences and mature them further.


Rex's dividend policy: A total annual dividend of S$0.02/share (7.7% 2023 yield) will be paid out quarterly starting 1Q23.
• Increasing shareholder value. 100% of Rex's shareholders voted in favour of the group's proposed renewal of its share buyback mandate, implying that Rex is now able to purchase up to 10% of total issued ordinary shares either through market or off-market purchases, at a maximum of 105% and 120% respectively of Rex's average closing market price.

Rex has also set up a regular dividend policy whereby a total annual dividend of S$0.02/share (7.7% 2023 yield) would be paid out quarterly starting 1Q23, subject to Rex's profitability and the board's discretion.

The first maiden dividend of S$0.005/share has been proposed, payable on 10 Oct 22.

STOCK IMPACT
• Elevated oil prices to remain with tight supply. With major oil producers Saudi Arabia and the United Arab Emirates unable to boost output and the possibility of price caps on Russian oil, oil prices are expected to stay elevated going to 3Q22.

Demand for oil is expected to pass pre-pandemic levels, according to OPEC, although the risks of a recession, China's COVID-19 lockdowns and worsening geo-political developments may soften demand.

Supply is expected to improve as OPEC has committed to phase out production cuts and boost production in Jul-Aug 22. However, the upcoming hurricane season in the Gulf of Mexico along with political unrest in Libya and Ecuador may hamper oil production.

Consensus is now forecasting 3Q22 and 4Q22 Brent prices of US$109/bbl and US$102/bbl (2022:US$107/bbl, 2023: US$95/bbl).

EARNINGS REVISION/RISK
• We have adjusted our oil price assumptions higher and lowered our bbl/day assumptions for Oman. For 2021, Rex had an average realised oil price sold of US$67/bbl.

Moving forward, we have increased our 2022 (US$90/bbl to US$95/bbl) and 2023 (US$85/bbl to US$90/bbl) oil price assumptions by US$5/bbl whilst keeping 2024 the same at US$80/bbl.

In summary, our new 2022-2024 oil price assumptions would be US$95/bbl, US$90/bbl and US$80/bbl respectively.

• Due to the repair works carried out in Feb-Apr 22, we have reduced our 2022 bbl/day assumption for Oman from 9,500bbl/day to 6,000bbl/day and increase our 2023 (7,000bbl/day to 7,500bbl/day) and 2024 (4,500bbl/day to 5,500bbl/day) assumptions.

We have maintained our Brage field bbl/day assumptions at 2,900/bbl. In summary, our new total 2022-2024 bbl/day assumptions (including Brage field) would be 8,900bbl/day, 10,250bbl/day and 8,100bbl/day.

Based on lower bbl/day and a higher oil price assumption, we have decreased our 2022 PATMI forecasts by 7.5% yoy (US$64.1m to US$59.3m) while increasing our 2023 (US$55.8m to US$72.4m) and 2024 (US$40.2m to US$47.8m) PATMI forecasts by 29.7% yoy and 19.1% yoy respectively. The increase in PATMI for 2023 and 2024 is due to higher oil price and bbl/day assumptions.


VALUATION/RECOMMENDATION


• Maintain BUY with a lower SOTP-based target price of S$0.45 (previously: S$0.58), based on:
a) 1.0x 2022F RNAV,
b) lower valuation for the Omani and Norwegian assets due to a higher WACC assumption (12%, 10% previously) with lower earnings, and
c) applying a 10% discount to our target price.

• Backed by a strong 7.7% 2023 dividend yield, we opine that Rex is an attractive pure-play on the ongoing oil super cycle at current price levels. However, we are cautious of any moderation in oil prices that may depress share price performance sharply.

Therefore, taking a conservative view, we have incorporated a 10% discount to account for any future volatility.

Our S$0.45 target price implies 2022-24 oil price assumptions of US$75/bbl, similar to average pre-pandemic oil prices.

SHARE PRICE CATALYST
• Stronger-than-expected oil production volume from Oman and crude oil prices.
• Unlocking value from Norwegian discovery assets.
• Successful development and production of the Malaysian discovery assets.

Full report here