Excerpts from CGS-CIMB report

Analyst: William Tng, CFA

ISDN Holdings Ltd
Impacted by China's Covid-19 lockdown

■ 1Q22 revenue/net profit were 10.0% below our expectations as revenue was impacted by the Covid-19 lockdowns in China.


ISDN

Share price:
52.5 c

Target:
70 c
■ Management guided that current order book remains strong, driven by continued robust demand for industrial automation.

■ We cut our FY22-24F estimates to reflect Covid-19 lockdown impact and the difficult operating environment. TP reduced as we lower target P/E multiple.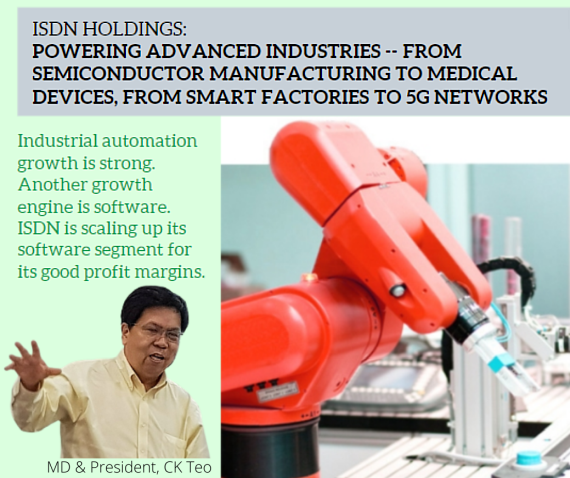 1Q performance 10% below expectations
ISDN released its 1Q22 business update on 10 Jun 2022. 1Q22 revenue (S$94.7m, -3.8% yoy) and net profit attributable to shareholders (S$6.4m, +5.8% yoy) were 10% below our expectations.

The revenue miss was due to the Covid-19 lockdown measures in China.

The yoy decline was softened by better revenue performance (no disclosure provided) in other geographies that ISDN operates in.

Gross profit margin remained healthy at 28.7% in 1Q22 versus 27.1% in 1Q21.

Cash as at end Mar-2022 was S$70.1m. ISDN did not provide an update on the hydropower business.

Outlook
According to management, ISDN continues to see solid demand for industrial automation across its customer base, resulting in a strong current order book (no disclosure provided).

The company hopes that the gradual lifting of Covid-19 restrictions in China will allow its business operations to revert to normalcy. ISDN guided that the group has expanded from components to modules and systems and is now also delivering Industry 4.0 software and cloud solutions.

Key risks
ISDN is concerned about the global economic outlook, negative impact from the Russia-Ukraine conflict and rising inflation. Management guided that the company remains vigilant in managing its cost base in the face of such concerns.

Model changes
Given the 10% revenue miss in 1Q22 and the spread of China's Covid-19 lockdowns in 2Q22F, we have cut our FY22F revenue forecasts by 8.7%. We also err on the side of caution and cut FY23-24F revenue forecasts by 6.2-7.4% given the rising economic uncertainties.

Our FY22-24F EPS forecasts are hence reduced by 11.0-13.4%.


Reiterate Add, lower TP to S$0.70
We reiterate our Add call on ISDN but lower our TP to S$0.70.

The lower TP is due to a) 11.0% cut in FY23F EPS and b) a revised 10.1x P/E multiple on FY23F EPS forecast.

The revised 10.1x P/E multiple (previously 12.3x) is 1 s.d. above the Jan 17 to May 22 forward P/E (previously 2 s.d. above).

Potential re-rating catalysts include earlier profit contribution from its hydropower segment.

Downside risks include a prolonged Covid-19 outbreak, leading to travel restrictions which could affect ISDN's ability to service its customers.

Full report here.