Excerpts from CGS-CIMB report

Analyst: Ong Khang Chuen, CFA

China Sunsine Chemical Holdings

Solid performance but uncertainties arise
■ 1Q22 net profit came in strong at Rmb157m (+11% qoq, +26% yoy), above expectations on the back of better-than-expected profit spreads.


China Sunsine

Share price:
46.5 c

Target:
67 c
■ While Sunsine's profit spread should remain healthy in the near-term, we think China's Covid woes may pose downside risk to its sales volumes.

■ Reiterate Add given undemanding valuations at 1.5x FY23F P/E (ex-cash), but we lower TP to S$0.67 due to the near-term challenging outlook.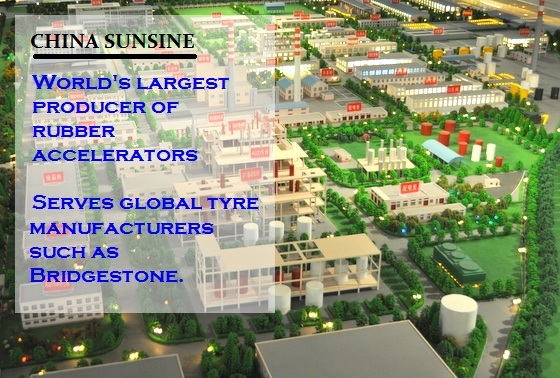 1Q22: strong performance driven by elevated ASPs
China Sunsine reported 1Q22 net profit of Rmb157m (+11% qoq, +26% yoy), above expectations at 35%/32% of our/Bloomberg consensus FY22F forecasts.

While sales volumes (-11% yoy) were impacted by the Winter Olympics and China's Covid control measures, Sunsine achieved 11% yoy revenue growth on the back of higher ASPs (+25% yoy) in 1Q22.

GPM came in at 34% (+2.4% pts yoy), as Sunsine benefited from stronger ASPs (especially for anti-oxidant products) while input costs remained stable.

Near-term profit spread likely to remain favourable
According to sci99.com, a Chinese commodity market information service provider, rubber accelerator prices remained relatively stable on a mom basis in Mar/Apr, while aniline prices eased slightly.

As Sunsine typically locks in quarterly pricing for its rubber accelerator products with major customers (while taking spot prices for raw materials), we
believe near-term gross profit spread is likely to remain favourable in 2Q22F.

China's Covid situation poses risks to downstream demand
With its production base and key domestic customers mainly based in Shandong Province, Sunsine's operations are not directly impacted by the multiple outbreaks of Covid-19 cases in China currently.

That being said, with China's economy facing increasing pressure relating to shrinking demand and supply disruptions, Sunsine's volume weakness could persist in the coming quarters. Weaker consumer sentiment domestically may impact automobile sales and hurt tyre demand, though management
noted that export sales have remained relatively resilient YTD.


Now trading at 1.5x ex-cash P/E; reiterate Add
Reiterate Add. Despite the near-term challenging outlook, we continue to like Sunsine for its consistent profitability and positive free cash flow generation track record, and attractive valuation at 1.5x FY23F P/E (ex-cash).

We keep our EPS forecasts unchanged, but lower our TP to S$0.67, now pegged to 0.90x FY22F P/BV (from 1.05x), based on its 10-year historical mean.

Re-rating catalysts: stronger downstream demand, easing Covid-19 measures.

Downside risks include lockdowns in Shandong and intensifying price competition which may negatively impact Sunsine's profit spread.

Full report here.