For thermal coal producers such as Geo Energy Resources, the high selling prices seen last year are all but certain to be surpassed this year. Here's why:

• Reflecting the grade of coal that Singapore-listed Geo Energy produces, the ICI4 coal price as at 4 March 2022 was US$95.46 per tonne.



•

In comparison, the average stood at US$65.85 per tonne in 2021.



•

Currently, coal futures are heading up steeply as the Russian invasion of Ukraine disrupts its coal supply (more on this below).

As the chart below shows, the futures index for the 4,200 kcal/kg coal grade has risen to US$140 per tonne for April and May.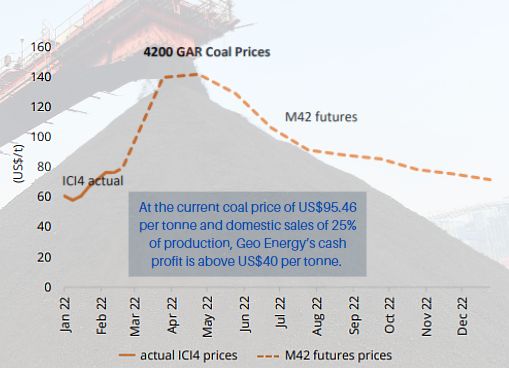 Giving a business update this week, Geo Energy said the Group delivered 1.4 million tonnes of coal in Jan-Feb 2022.

Revenue was US$78.4 million at an average selling price of US$55.05 per tonne, weighed down by the capped price for domestic sales.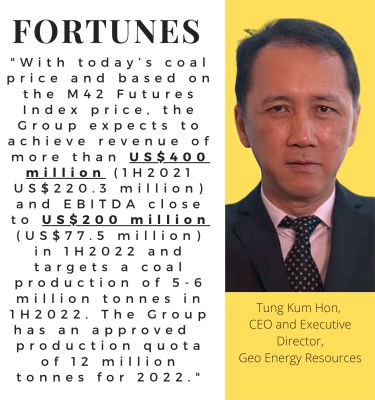 The Group's domestic market obligation (DMO) volume was 51% of the total volume it sold in these months, which is much higher than the DMO of 25% of annual sales.

Fortuitously, by selling a higher proportion of its DMO in Jan-Feb 2022, Geo Energy now benefits from the prevailing higher export prices for its coal.

Based on the prevailing coal price of US$95.46 per tonne and DMO sales of 25%, Geo Energy said its cash profit is above US$40 per tonne.

For an idea of the profitability, consider that Geo Energy has been granted a production quota of 12 million tonnes this year.

At US$40 per tonne profit, 12-million tonne annualised sales equates to US$480 million (S$653 million) cash profit.

For perspective, Geo Energy's market cap (stock price: 55 cents) is about S$767 million.

It's a windfall just waiting to unfold, with a gush of dividends expected to be repeated.

With its windfall last year, Geo Energy paid out 4 cents/share interim dividends and has proposed a final dividend of 5 cents a share.

It's a record payout of 9 cents/share:


Geo Energy's dividends

FY16

FY17

FY18

FY19

FY20

FY21

SGD cent

1

1

1.4

0

0.8

9*

*FY21 dividends: 0.5 cent (1Q), 0.5 cent (2Q), 3 cents (3Q), 5 cents (4Q)

The share price of Geo Energy closed at S$0.555 on 4 March 2022, the highest since 2013.

Its 52-week total shareholder return and enterprise value (excluding net cash as at 31 December 2021 and treasury shares) was 243% and US$388 million respectively


Stock price

55.5 c

52-week
range

16.6 – 55.5 c

PE (ttm)

3.2

Market cap

S$782 m

No. of shares

1.4 billion

Dividend
yield (2021)

16%

1-year return

215%

Source: Yahoo!
Still, Geo Energy says its stock is undervalued.

Among other things, its EV/EBITDA (2021) was only 1.4 times, and will be even lower going forward with the profits that are potentially gushing in this year.

Now, let's do a bit of crystal-ball gazing.

As mentioned above, Geo Energy's 2021 dividends total 9 cents/share, which equates to a 16% yield on the recent stock price.

If the 2022 dividends stay unchanged at 9 cents/share, the 16% yield would once again be breath-taking.

And if higher profits propel Geo Energy to raise dividends .... that's not an unreasonable thought for investors to hold but let's see if it happens.

While Geo Energy had a massive US$191 million cashpile as at 31 Dec 2021, a hoard that is growing by the day or week, it has signalled its intent to diversify into adjacent businesses and is preparing a war chest.


Lasting impact from invasion
"The impact of the Russia's invasion of Ukraine and the sanctions imposed on Russia on the coal industry is expected to continue in the coming years.

"The supply disruptions of coal in top coal exporters, including Russia, Australia and Indonesia have caused the surge in Asian thermal coal prices to a record high."

--

Geo Energy CEO Tung Kum Hon

Industry Outlook
Coal Analysis and Forecast to 2024
Source: Coal 2021: Analysis and forecast to 2024, December 2021 (International Energy Agency)

• China and India account for two-thirds of the coal consumption in the world, which will greatly influence the global trend in next few years. In 2021, the coal consumption increased 4% in China, 13% in India, and 17% in the United States.

• Coal demand expected to reach an all-time high in 2022 and continue until 2024, with emerging and developing economies being the driving force. The expected global economy recovery, higher power demand due to cold winter and hot summer, and adverse weather conditions might curtail coal supply.

• With the continued uncertainty around Australian coal ban by China, Indonesian miners continue to enjoy the high import demand from China.
See also: Geo Energy's FY21 results presentation deck here.