For finance industry specialist Sydney Yeung, leading by empathy is a daily imperative.

Empathetic leadership lays the foundation for the development of mutual respect and authentic human connections - essential ingredients for building morale, productivity and employee loyalty in any organisation, the Chief Executive Officer of SGX-listed GSS Energy Ltd pointed out.

"When a leader is empathetic, he is more understanding and less judgmental; his overall view is more flexible and less restricted - qualities that are critical in today's world, where we are required to adapt continuously to changing circumstances," he noted.


Another core management value is cultivating mutual respect in the workplace.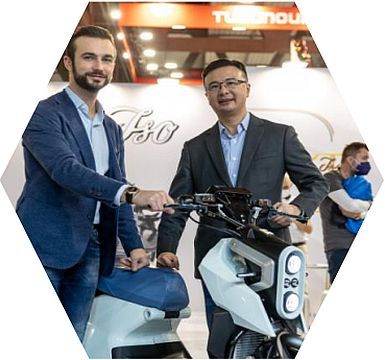 CEO Sydney Yeung (right)."Everyone has a unique role, regardless of position and status," Yeung said. "The way I speak to my CFO is the way I speak to my receptionist - there is no difference. This helps to build trust across the organisation."

Integrity, accountability and adopting a hands-on approach are also key elements of his leadership ethos.

"Moving into the precision engineering industry from a finance background was a steep learning curve for me. I'm grateful to my employees and management staff for helping me get up to speed in a relatively short span of time," Yeung recalled.

"That's why I have a very hands-on approach to running the organisation - it's both systematic and pragmatic, and that's the best way to learn quickly."

In 1996, Hong Kong-born Yeung began his career in the Institutional Equity Division at Morgan Stanley New York, before taking on the role of Managing Director of International Trading at Van Der Moolen, a US securities specialist firm. In 2005, he returned to Hong Kong to start a hedge fund, before moving to Indonesia to join a financial advisory company.

"At that time, I had reached a crossroads in my life, where I was evaluating the next stage of my career. That was when my partners and I started looking for a listed platform where we could contribute and add value to the business operations."

Giving Back

In 2015, when the opportunity emerged to join Giken Sakata and rebuild the precision engineering firm's debt-ridden operations, Yeung jumped at the chance.

"In the finance industry, I was focused on transactions and deals - there was little exposure to the operations side. Through Giken Sakata, I had the opportunity to restructure, manage and grow a business over a period of time, and as a result, I was able to give something back to society."

Listed since 1993, Giken Sakata (S) Ltd transferred its listing on SGX Mainboard to GSS Energy on SGX Catalist with effect from February 2015. Following a scheme of arrangement, Giken Sakata became GSS Energy's wholly owned operating subsidiary.

The principal activities of GSS Energy are Precision Engineering (PE) and Oil & Gas (O&G). Since 1980, its PE division has established itself as an integrated contract manufacturer, supplying to the consumer electronics, automotive, healthcare, gaming, as well as the safety and industrial equipment industries. Its manufacturing facilities are located in Singapore, Indonesia and China. The Group's O&G operations were farmed out in 2019.

Looking ahead, Yeung plans to grow the Group's precision engineering business by moving up the value chain into design manufacturing.

"When we took over Giken Sakata, it was focused on the OEM model, but over the last few years, we've been moving into ODM, by partnering customers to develop and design new products," he added, referring to the Original Equipment Manufacturing and Original Design Manufacturing processes.

In line with the Group's aim to grow its ODM operations, GSS Energy has expanded into the electric vehicle (EV) and e-mobility market, through the development of electric two-wheelers via its subsidiary Giken Mobility.

Giken Mobility is the global licensee of the international motorcycle brand "Iso", licensed from brand owner Town Life Veicoli SRL, which is part of the Lamborghini family.

Giken Mobility recently unveiled its new Iso UNO-X electric scooter, which has a 5kW motor powered by a 3.24kWh battery. It offers top speed of 115 km/h with a range of 130 km per charge.

E-Mobility Roadmap

Building on this momentum, GSS Energy also recently unveiled a plan by Giken Mobility to acquire Thailand's Edison Motors. The move will give the Group access to the patents, design, R&D capability and technical support to manufacture electric scooters, with initial distribution in Thailand, as well as potential markets in the Asia-Pacific region.

"When we started planning our ODM strategy three to four years ago, we were trying to decide on the industry and product. Because I travelled frequently within ASEAN, one day, I looked out of my hotel room and saw a sea of motorcycles on the road. That was when I realised the potential of the two-wheeler business in the region," Yeung recalled.

Motorised two-and three-wheelers, such as motorcycles, scooters and tuk-tuks, are the transport of choice for many in Southeast Asia. More than 80% of households in Indonesia, Vietnam and Thailand own motorcycles.

In 2020, India and China had the highest number of motorcycle and scooter sales at 15.1 million units and 14.8 million units respectively, followed by Indonesia and Vietnam at 3.7 million units and 2.7 million units respectively, according to data from automotive industry portal MarkLines.

"But given the degree of pollution and greenhouse gas emissions from petrol bikes, we wanted to pursue a sustainable and clean energy option, which was electric scooters. With many regional governments endorsing and enforcing EVs through subsidies, we believe the EV revolution will continue to gather pace," he pointed out.

The market size for electric motorcycles and scooters in Asia exceeded US$31.5 billion in 2019, and is expected to expand by compound annual growth rate (CAGR) of more than 3.5% between 2020 and 2026, according to data from Graphical Research.

"If we can capture just a small percentage of that rapidly expanding market, it would mean tremendous growth for us," Yeung noted.

GSS will adopt a three-pronged strategy in pursuing EV growth, he said. "Not only will we adopt a B2C model, we will also work with B2B clients and pursue the B2G route, where we can customise and develop two-wheelers for civil servants and government officials."

"Our strategy is to continue to provide a total solution for e-mobility market requirements. We hope that through this effort, we're able to contribute, in a small way, to a better and greener environment," he added.


Apart from managing the Group's day-to-day operations, Yeung is also focused on employee welfare. "One of my key responsibilities as a CEO is ensure all staff have a safe and healthy working environment, and there is enough business to keep the company afloat, so that employees have a sense of security," he pointed out.

"Talent retention, growth and development are also among my top priorities, as human capital is absolutely critical to growing and maintaining a successful business. Having happy and satisfied employees can only benefit the organisation as a whole."

For this 48-year-old, work is never far from his thoughts, even when he's out of the office. "For me, work is never just work, because I enjoy my job and am excited by the opportunities it offers,' he said with a laugh.

For his 12-year-old daughter, Yeung has this advice to offer: Life is short, be honest.

"Integrity and fairness are my touchstones. It's actually very simple when you think about it - If you want to be treated fairly by others, you must first treat others fairly."
GSS Energy Ltd

GSS Energy has two core operating businesses - Oil and Gas (O&G) and Precision Engineering (PE). The O&G business is engaged in oil production in Indonesia, while the PE business is engaged in precision engineering, with a presence in Singapore, Indonesia and China. The Group's O&G operations were farmed out in 2019. Following a scheme of arrangement, Giken Sakata, which had been listed on SGX since 1993, transferred its listing status to GSS Energy with effect from February 2015, and became its wholly owned operating subsidiary. In 2021, GSS Energy acquired Edison Motors, a Thai e-Mobility R&D company specialising in electric motorcycles.

The company website is: gssenergy.com.sg

Click here for the company's StockFacts page.

For the six months ended 30 June 2021 financial results, click here.


About kopi-C: the Company brew
Text: Jennifer Tan-Stanisic
Photo: Company file

This article was originally published in kopi-C, a regular column on the SGX Research website that features C-level executives of leading companies listed on Singapore Exchange. These interviews are profiles of senior management aimed at helping investors better understand the individuals who run these corporations.

For previous editions of kopi-C: the Company brew, please click here.