If you are comfortable to stomach potentially higher risks, one small cap company which may be interesting to take a closer look is GSS Energy.

GSS Energy had uploaded their Jan 2022 investor presentation deck (click
HERE
) on SGX.

This is the first time that they have given clear details of their electric mobility ("E mobility") business and also an update on their existing precision engineering and oil and gas segments.

I have summarised some key points from their 38-page informative presentation slides.

Key takeaways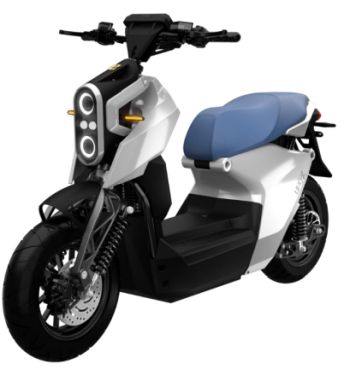 A) E mobility business – Aims to expand to 3 countries by end 2022 and to 3 continents by end 2024
Based on the slides, GSS plans to expand to 3 countries across Asia by end 2022 and to 3 continents by end 2024.

It targets to produce and sell 20,000 electric motorcycles by 2024.

It also plans to launch 2-3 new models within the next 3 years.


To achieve the above, GSS outlines some strategic initiatives which they are undertaking.
In talks with dealers/distributors across 6 markets for B2C distributorships;
B2B sales- in talks with companies involved in food delivery, motorcycle taxis, vehicle rental, and government agencies;
Expansion into white label design and manufacturing;
Licensing of EV technology

B) E mobility business – Potential revenue contribution in 2022 & potential value unlocking
GSS expects revenue contribution from 2022 with production capacity of ~500 electric motorcycles / month. GSS believes that given their current market capitalisation of around S$38.3m, market has not ascribed any value to its e mobility business.

GSS is hopeful that once they commence production and delivery of the electric motorcycles, market may start to ascribe some value. GSS pointed out that e mobility business is typically valued on future earnings, and given their strategic initiatives and plans outlined above, they are optimistic on the growth of e mobility segment.


C) Batam factory obtained the necessary approval and has the capacity to produce up to 5,000 electric motorcycles per month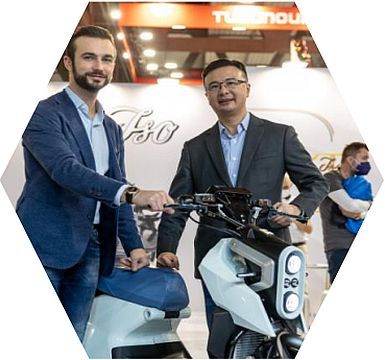 Sydney Yeung (right), CEO of GSS Energy, at the 2021 motorcycle event, EICMA in Milan.
Photo: CompanyAccording to GSS' AR2020, GSS' factory in Batam, has received formal approval from the Indonesian Government to assemble & produce electric 2-wheelers.

Their current site has existing capacity to produce up to 500 motorcycles per month. In addition, they have another building (which they will eventually move to) with the capacity of producing up to 5,000 electric motorcycles per month.


D) Precision engineering business – ODM segment sales contribution may increase by 20% by 2023
Besides doing OEM business, three to four years ago, GSS has started its plans to venture into the ODM business. A case in point is its electric motorcycle which took them three years.

GSS currently has an entire ODM team comprising of 20-25 engineers where they can offer the end-to-end development and manufacturing capabilities in the electric motorcycles space. For the last two years, GSS has also started partnering with its long-time partner Panasonic who has become their R&D partner.

This allows GSS to fast track in the ODM space and allows GSS to quickly establish the credibility and trust in the ODM segment.
In a nutshell, GSS has "levelled up" in the value chain by venturing into the ODM segment. Examples of products which they manufacture are coffee maker, smart cooker, window cleaner, electric motorcycle etc. ODM business' margins are higher than that of OEM by 5-10%. GSS expects that their ODM sales contribution to rise by 20% by 2023.


E) Precision engineering business – slated for further growth amid tailwinds
Barring unforeseen circumstances, GSS is hopeful that its revenue for its PE segment is likely to continue to grow minimally at the pace seen in the last couple of years (i.e. around 10% per annum). One noteworthy point is that GSS has become Philip's largest component supplier in Asia this year.
Management shared that through Covid and trade tariffs, many multinational customers have commenced plans to diversify their manufacturing exposure from China to other South East Asia countries such as Indonesia (Batam), Vietnam, Malaysia. Thus, this may be one of the tailwinds for GSS too.


F) Oil & Gas operations – production expected to commence this year
GSS has a 20% non-operational interest in the oil and gas operations in Indonesia. Based on their presentation, GSS mentioned that they have entered into agreement with Oakhurst Investment, which has committed investment for the CAPEX and OPEX for the development of the project. Oakhurst has a defined schedule to drill 5 wells in the Trembul Operation Area. Production is expected to commence this year and GSS is entitled to 50% of revenue generated till it recovers its sunk cost in the project (i.e., US$7m). Management estimates that it will take 2-3 years to recover its sunk cost. After recovering its cost, GSS has a free carry on 16% of the profits. This may perhaps be another bonus, albeit small contribution at the onset.


G) Investor relation activities may pick up pace

Management said in the webinar that they are hopeful that this is one of many investor engagements that they plan to do this year with more updates on their E mobility business along the way. It is noteworthy that GSS has been quiet on the investor relation front for the past couple of years. Late last year, it has signed up Gem Comm as their investor relations late (Click HERE). Thus, it may be reasonable to assume that GSS may be more active in engaging the investment community this year.
Risks
Do note that the risks indicated below are just some examples of risks that readers need to be cognizant of.


A) Mixed valuations
GSS' 1HFY21 net profit is around $1.7m. Barring severe chip shortage and for simplicity, if I annualise 1HFY21 net profit to derive FY21F net profit of around $3.5m, it trades at about 10.9x FY21F PE, which is not exactly cheap.
However, if we base on P/BV, after taking into account of its proposed acquisition of Edison Motors and after the issue and allotment of the Warrant Shares (assuming full exercise of the Warrants), GSS trades at 0.86x P/BV. Based on Bloomberg, GSS' average 10-year P/BV is around 1.2x.


B) Parts availability is key
In their 1HFY21 results, GSS cited that parts availability is key. The shortage of chips has been well documented and recent article (see HERE) points to a lead time of up to 21 weeks for chips. Should the situation worsen, this may have an adverse impact on their business and even their delivery of their first model of the bike.


C) Execution risk
GSS has been doing this e-mobility business for approximately three years. As of now, GSS has not made any formal announcement that they have produced and sold the electric motorcycles. Even if the product is out in the market, we do not know whether it will sell well. Readers who wish to bank on this e-mobility business need to be aware of the risks.


D) No analyst coverage
There is no analyst coverage now. However, if GSS' e mobility business segment continues to progress with visible results, this may attract the attention of some analysts or the market.


E) Volatile share price exacerbated by lack of liquidity
Based on Shareinvestor, GSS has traded in a one-year range of $0.053 – 0.089. Average 30D volume for GSS is only around 985K shares. Thus, GSS' share price can be rather volatile, exacerbated by its illiquidity, and may not be suitable for risk adverse readers.


Conclusion
This is the first time that GSS has given clear details of their E mobility business and also an update on their existing precision engineering and oil and gas segments. Furthermore, GSS has just signed up Gem Comm as their investor relation late last year. Based on these developments, I believe it is reasonable to assume that GSS is upbeat on their prospects. GSS last trades at $0.066 today. One year price range is $0.053 – 0.089.


Just an observation which I want to point out to readers, but it may not be a direct apple to apple comparison. However, it may be a rough gauge on how GSS' share price may perform, should there be updates on their e-mobility business.


On 19 Apr 2021, EuroSports Technologies and Strides Transportation (a wholly owned subsidiary of SMRT Road Holdings Ltd) have signed a Memorandum of Understanding ("MOU") to develop, market and supply smart electric motorcycles for commercial and corporate clients in Singapore and Asia Pacific region. Eurosports' share price has almost doubled from $0.169 on 19 Feb to close $0.300 on 19 Apr leading up to the above announcement.


Notwithstanding the above, readers are advised to refer to the above risks and GSS' annual report and financial statements on SGX.
P.S: I am vested in GSS.

Readers who wish to be notified of my write-ups and / or informative emails, can consider signing up at http://ernest15percent.com. However, this reader's mailing list has a one or two-day lag time as I will (naturally) send information (more information, more emails with more details) to my clients first. For readers who wish to enquire on being my client, they can consider leaving their contacts here http://ernest15percent.com/index.php/about-me/
Disclaimer
Please refer to the disclaimer HERE