Over the past three years or so, GSS Energy's wholly-owned subsidiary, GSS Energy Trembul, has invested heavily in the development of an oil field in Indonesia.

The cash outflow, which came from GSS Energy's profitable precision engineering segment, is to cease.

Through a farm-in agreement inked on 17 June 2019, it is proposed that Oakhurst Investment take over the development of the oilfield.



Oakhurst, which was selected out of a slate of potential partners, knows the region first-hand, having drilled GSS Energy's first of two wells in that field.





Oakhurst

is committed to spend a multi-million dollar sum in capex and opex within two years, according to GSS Energy CEO, Sydney Yeung,

at an investor briefing yesterday

.



He added that Oakhurst has a defined schedule to drill five wells in the Trembul Operation Area which seismic data have shown to be oil-rich.

For a nominal US$1, Oakhurst becomes an 80% shareholder of GSS Energy Trembul while GSS Energy retains the remaining 20%.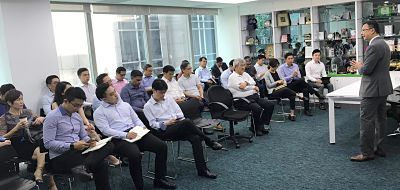 CEO Sydney Yeung at an investor briefing yesterday.
Photo: Colin LumAs revenue is generated from the sale of oil and gas, 50% of the proceeds will go to GSS Energy until it has fully recovered its sunk cost in the Indonesian project, said Mr Yeung.

(The other 50% of the oil project revenue will go to Oakhurst Investment).

This sunk cost is estimated to be at least US$7 million and as high as US$10 million -- which implies that GSS Energy will be in a strong position to finally start paying dividends to its shareholders.

In early 2018, GSS Energy had announced a dividend policy of paying no less than 20 per cent of its pre-tax profit for 2018 and 2019.

But, as it turned out, during its full-year 2018 results announcement, it said it had decided not to pay a dividend for 2018.

"The year FY 2018 has been particularly challenging. Management had to prudently manage Group's limited financial resources in the face of financing requirements associated with its oil exploratory operations in the Trembul Area and expansion of its PE operations."


Stock price

8.5 c

52-week range

7 – 15 c

Market cap

S$42 m

PE (ttm)

29x

Dividend yield

--

Year-to-date
return

-40%

Shares outstanding

496 m

Source: Bloomberg
Monetisation of the oil & gas project by the new operator is expected to start small, beginning from the end of this year with the proven gas wells.

The pace will vary, depending on the success and progress of oil production from the targeted 5 sites.

Until its entire sunk cost is recovered, GSS Energy is not obligated to spend another dollar on the oil & gas project.

After full recovery, GSS Energy has a free carry of 20% which it can dispose of or it can participate in a new programme to monetise the oil field further.


Meanwhile, GSS Energy is focused on its core precision engineering business segment which has factories in Batam, Indonesia, and in Changzhou, China.

Its Batam factory is enjoying a rising wave of business as a result of manufacturing activities shifting out of China amid the US-China trade war.

Has there been an impact from the trade war on its China factory?

It is unscathed as its clients are focused on the Chinese domestic market, said Mr Yeung.

The press release is here.