Excerpts from CGS-CIMB report

Analyst: Lim Siew Khee

Yangzijiang Shipbuilding: Spin-off in the process

■ Proposed spin-off to create two separately-listed, independently run companies; targeted to complete by 2H22. We expected more clarity.


Yangzijiang

Share price:
$1.30

Target:
$1.91
■ Secured US$7.41bn of order wins, with outstanding orderbook of US$8.86bn. YZJ secured orders for four 82,300 DWT bulk carriers worth c.US$168m.

■ Debt-to-securities business to focus on asset management and direct investment. Announcement may result in sideways movement of share price.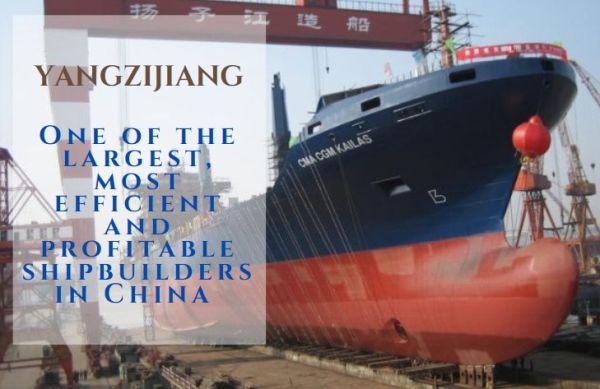 Officially announced the spin-off of its debt investment business

● Recall that YZJ first revealed its plans to spin off its debt-to-securities segment in 1H21.

● We had expected more clarity on the proposed spin-off, such as the markets YZJ plans to venture into, or the structure of the spin-off. Nevertheless, details are:

(1) post-spinoff, two separately-listed companies will be created and independently-run – one in shipbuilding, another in investments; and

(2) YZJ expects the spin-off to be completed by 1H22 or 2H22, although the proposed spin-off and listing are still in its preliminary stages, with no guarantee that the spin-off will go through.


No valuations were revealed.

Shipbuilding business as an entity

● As of 1 Nov 2021, YZJ secured a record US$7.41bn of order wins for 124 vessels, with an outstanding orderbook of US$8.86bn for 165 vessels. We expect YZJ to deliver 55 vessels by end-21. It has delivered 38 vessels as of its 9M21 update.

● According to Clarksons, YZJ secured orders for four 82,300 DWT bulk-carriers through its JV, Yangzi-Mitsui, on 19 Nov 2021. We estimate these four 82,300 DWT are worth c.US$168m. Management previously guided that its yards are operating at full capacity.

Thus, we do not expect YZJ to accept more orders, unless offered a high price. We think any future orders for YZJ will be driven by second-hand bulk carrier sales. Clarksons' Bulk Carrier Secondhand Price Index has risen c.71% YTD.

● YZJ aims to be the world's leading ESG company through beefing up its capabilities in the construction of LNG storage facilities, natural gas trading, and businesses related to parts of the LNG supply chain.

Debt-to-securities business to focus on asset management

● YZJ plans to expand its existing debt investment business into asset management and direct investments. Its current debt investment segment includes micro-financing, debt investments at amortised cost, and other investments.

● In its pursuit of growth-oriented investments, expanding global outreach, and growing its fee-income business, YZJ expects to widen its geographical reach beyond China.

● Management guided in its 9M21 update that it is pending negotiations with the Chinese regulatory authorities regarding the tax implications of the spin-off and listing.


Reiterate Add at SOP-based TP of S$1.91

● Our SOP valuations are based on 1x P/BV for its debt-to securities business (in line with10% ROE) and 1.1x P/BV for its shipbuilding business (+2 s.d. of 6-year historical meanon the back of record orderbook). With a neutral announcement without valuations, we believe the share price could move sideways. However, we think it is not expensive.

Catalysts: more clarity on the spin-off, especially if its debt-to-securities business is attractively valued.

Risks: tax negotiations regarding the spin-off fall through.