Food Empire's customers continue to be able to buy and enjoy its coffee products but they may not be aware of the supply chain troubles that became magnified in 3Q2021 and were overcome to deliver the products to them.

3Q2021 saw higher freight rates, higher coffee and sugar prices and renewed bottlenecks at ports.

These helped eat into Food Empire's profitability, resulting in a fall to US$3.1 million from US$6.3 million in 3Q2020.

"Freight costs have ballooned to a level which we have never seen
and, in spite of that, availability of slots is very limited, so there are delays," said CEO Sudeep Nair in a 3Q2021 earnings call last week.


To mitigate the pressure on its profit margin, Food Empire -- like its peers -- have increased selling prices incrementally, and is expected to continue to do so in the near term.

Coffee as a staple drink is not short of demand: Food Empire's revenue grew 8.8% in 3Q2021 to US$76.5 million, and 11.2% in 9M2021 to US$226.1 million.

(Details in table below)




Singapore-listed Food Empire's products include instant beverages, frozen convenience food and snack food. They are exported to over 50 countries such as Russia, Vietnam, Ukraine, Kazakhstan, Central Asia, the Middle East, China, Mongolia and North America. Its revenue by geography is as follows: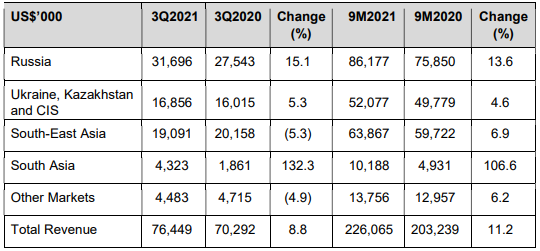 CEO Sudeep Nair shared some colour into the situation during a 3Q2021 earnings call last week. Briefly:


Extra costs, shipment delays, route changes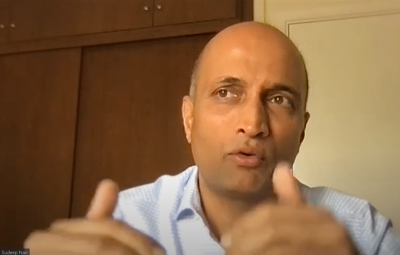 CEO Sudeep Nair. File photo.Covid measures were particularly tough in Vietnam in 3Q when the country was in a lockdown mode.

Food Empire's factory there, which has been supplying to the local market, ceased to operate temporarily, and the Vietnamese market was supplied by Food Empire's factory in Malaysia.

"It needed to get some of the raw materials (such as coffee) from Vietnam, process them and then ship it back, so you have double transportation and you have many other additional costs as well that takes away a certain percentage of margin."

The freight situation "is still very tough" owing to a shortage of container slots and port congestion resulting in supply chain delays.

"What you need to ship out in the first week gets shipped out in the third week most probably," says Mr Nair.

Food Empire has had to adjust its supply chain. For example, to supply to Kazakhstan, it delivers products from its Russian factory by land over about four days, instead of shipping from the Malaysian factory as has been the norm.

"We have had to do these kind of adjustments, something which all companies around the world are facing nowadays."


Margins may recover -- in due course
Stock price

79 c

52-week range

58 c – S$1.00

Market cap

S$424 m

PE

12.5x

Dividend yield

2.78%

1-year return

35%

Shares outstanding

536.3 m

Source: Bloomberg
A few times this year already, Food Empire has adjusted higher its selling prices in certain markets, such as Russia and Ukraine, where the impact of high freight costs was acute.

As and when normalcy returns to supply chains and shipping, Food Empire's profit margins are expected to recover, helped along by cost management in the area of sales and marketing.

"If revenue growth happens, costs are contained, and we go back to our usual supply chain model, we will see some improvement in margins," said Mr Nair.

Still, some uncertainty persists: "But we don't know what are the other moving parts which may come in next year."

In any case, customers will be able to continue to enjoy a cuppa.

For more, see Food Empire's 3Q press release here.