The Board of Directors of Food Empire Holdings Limited / Food Empire refers to the electronic media article published in Mergermarket titled "Food Empire's founding family exploring strategic options for its stake in instant beverage group – sources" dated 22 September 2021, which states, inter alia, "The founding Tan family of Food Empire...is exploring strategic options for its stake in the Singapore-based instant beverage group..." and "The family is working with an advisor to engage with potential investors...".
In connection with the foregoing, the Board wishes to clarify that the Company is frequently approached by potential investors, and as of the date of this announcement, there are no immediate and concrete proposals by the Board or the Tan family (as described in the Article) to undertake any privatization or de-listing exercise.

The Board will continue to assess and explore all possible business avenues, plans and opportunities that come its way in the interest of the Company, and will update shareholders at the appropriate junctures.

-- Food Empire, 27 Sept 2021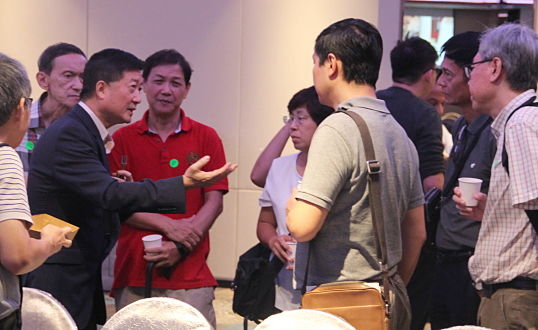 Executive Chairman Tan Wang Cheow at a past AGM. He and his wife own about S$93 million worth of Food Empire shares at the current market value. File photo

While we do not have full access to the "Mergermarket" article, we surmise that the article is talking about a potential M&A deal that could involve Food Empire's Chairman Tan and his family's stake totalling just over 22% of the company.

The largest shareholder of Food Empire is Indonesian Group Salim Holdings's 24.59% while CEO Sudeep Nair owns 11.69% and Fidelity LLC owns 8.99%.

Given the company's clarification, it suggests that there has been some approach by some parties to discuss about a potential deal, however, there are no "immediate" and "concrete" proposals by management to undertake any privatization and de-listing exercise as yet.

Fact is, Food Empire's share price has been declining steadily since hitting its peak of 98 cents in Feb'21 and is currently trading at 76 cents (market cap of $408 million) and valuations look undemanding for a consumer stock trading at 12x PE, and just under 3% dividend yield.

The company has been consistently buying back shares in the open market since early this year on the way down, having picked up 1.346 million shares (average cost about 86 cents).


Food Empire

Share price:
77 c

Target:
$1.26
Consensus expects Food Empire to deliver steady net profitability
performance in 2021 of 12% growth to $26.4 million and has pencilled in
a 12 month target price of $1.26, implying a potential 12 month upside of
66%.

We thus maintain an "Accumulate" rating on Food Empire Holdings.