Excerpts from CGS-CIMB report

Analyst: Lim Siew Khee
Yangzijiang Shipbuilding -- Pay up for the slot
■ YZJ is still able to take on orders for 2022-23 delivery with better pricing as seen in the latest win worth US$715m. Order book is at a record US$7.3bn.


Yangzijiang

Share price:
$1.40

Target:
$1.63
■ To manage yard tightness, YZJ could subcontract portions of work to smaller fabricators. Margin should be healthy as steel price pressure eases.

■ Our TP of S$1.63 is based on 1x P/BV or +1 s.d. from its 6-year average. Stronger orders are catalysts while rampant order cancellation is a key risk.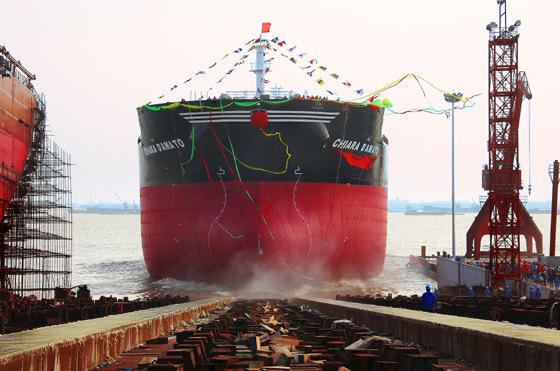 US$715m total order, c.US$250m for YAMIC's breakthrough in LPG
● YZJ announced contract wins of US$715m, bringing order wins to US$4.72bn YTD and order book to US$7.3bn, higher than the 2008 peak of US$6.9bn. Deliveries of these vessels are over 2022-2024.

● In this order, YZJ's JV Yangzi Mitsui Shipping (YAMIC) also saw its first breakthrough in LPG vessels, securing the first batch of 3 units from a German ship owner. We estimate the contract value for these LPG vessels to be c.U$250m, bringing YAMIC's order book to c.US$750m.

● The remaining c.US$465m orders to be built by YZJ's fully owned yards comprised of 1 unit of 9,150DWT chemical tanker, 1 unit of 29,800DWT selfloading bulk carrier, 2 units of 2,400TEU containerships, 5 units of 3,500TEU containerships and 2 units of 11,800TEU containerships.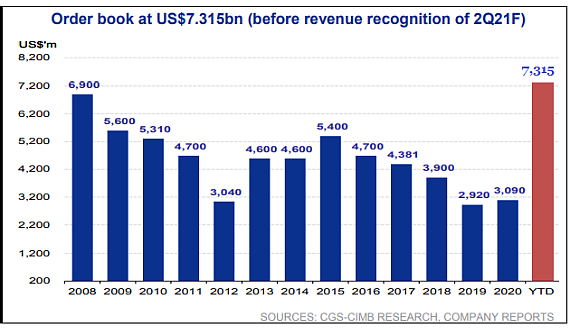 Managing yard tightness and charging higher for slots
● To manage the tight yard capacity, we believe YZJ could subcontract portions of work to neighbouring smaller yards/fabricators.

We had estimated that its main yard was full with delivery stretched till 1Q24 for large ships and 3Q23 for smaller ships. However, the latest win shows that YZJ is still able to deliver ships from 2022.

The prices for these new contracts could be relatively higher (c.10%) to factor in potential delays in delivery of other ships.

With the Shanghai Containerized Freight Index (SCFI) remaining high at a record level of c.3,700, we think shipping clients could be pressed for slots and will pay to secure the space.

● We are keeping our shipbuilding GM forecast of 17-20% for FY21-22F (1Q21: 14.7%, FY20: 20.7%) with the execution of higher value contracts secured.

Contracts secured recently buffer in a steel price of c.Rmb6,500/tonne vs. 2020's Rmb5,500/tonne. The recent easing of steel prices should allay concerns of margin compression.


Reiterate Add and TP of S$1.63; upside to 2022 outlook
● The unabated rise in the shipping index and momentum of orders in 1H21 could see management lifting its order guidance to US$5.5bn-6bn from US$5bn for 2021 with a strong outlook into 2022.

We factor in US$5bn and US$2.5bn of new wins in 2021 and 2022, respectively. Upside could come from continued order win strength into 1H22.

● Other downside risks: sharp appreciation in steel price and RMB.

Full report here.