Excerpts from DBS Research report

Analyst: Lee Keng LING
Key summary points

• Record-high 1Q21 earnings, lifted by strong demand and ASP; above expectations


Riverstone

Share price:
$1.36

Target:
$1.86
•

Expect a firmer ASP for cleanroom vs healthcare gloves going forward



•

Orderbook filled till end-2021; demand to remain elevated in 2022



•

Raised earnings forecasts; maintain BUY with S$1.86 TP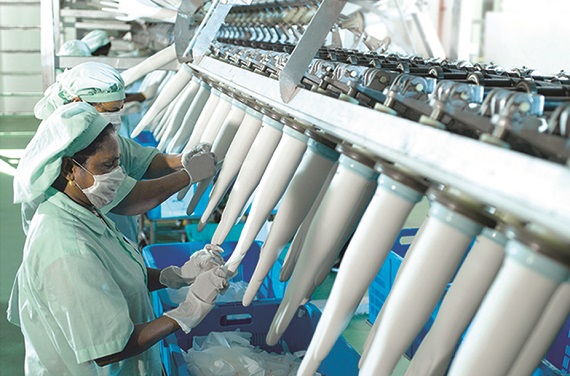 Strong 1Q21 results; above expectations. Revenue for 1Q21 surged 269% y-o-y (+43% q-o-q) to RM1,032.3m on robust demand from both the healthcare (HC) and cleanroom (CR) gloves. Despite higher production costs, the continued surge in average selling prices (ASPs) led to a 956% y-o-y (+58% q-o-q) jump in gross profit to RM708.3m.

Gross margin expanded to 68.6%, from 24% in 1Q20 and 62.2% in 4Q20. Net profit of RM522.7m (+1,022% y-o-y, +58% q-o-q) accounts for 57% of our FY21F forecasts, while revenue accounts for 34%, above expectations.
Rising ASP trend to plateau? On a sequential basis, the q-o-q growth in 1Q21 for both revenue and net profit is lower than the q-o-q growth in 4Q20, despite higher production capacity. This suggests that the rising ASP trend may plateau soon.
Expect a firmer ASP for CR vs HC. The ASP increase in 1Q21, especially for HC gloves had been very steep, up about 45% as compared to 4Q20. Hence, we see some downward pressure in 2H21. Furthermore, the raw material prices are also easing. It is now less compelling to keep on raising ASP.

We expect the ASP for CR to be less volatile, as prices are negotiated on a longer-term basis, vs monthly for HC. The CR segment is also less competitive vs the HC division. Some of Riverstone's competitors have also switched to producing HC gloves during the COVID-19 pandemic period. Hence, supply for CR is tight now.
Demand to remain elevated till 2Q22. Despite the positive developments on vaccines for COVID-19, demand for healthcare examination gloves is still expected to remain robust as healthcare systems around the world continue to fulfil immediate supply shortfalls and replenish reserves.

Furthermore, the recent resurgence of the COVID-19 pandemic globally, and the rise in awareness of hygienic practices globally have led to a higher usage of gloves in the medical as well as other non-medical sectors such as F&B and retail.
According to the Malaysian Rubber Glove Manufacturers Association (MARGMA), global supply of rubber gloves is projected to reach 420bn pieces this year, about 80bn pieces short of the projected demand of 500bn pieces. Last year's shortfall was 100bn pieces. Glove demand is expected to be robust until 2Q22 as new norms due to COVID-19 are expected to stay and sustain current elevated demand.
Orderbook filled till end-2021.
Orderbook remains strong. Riverstone is unable to fulfil any new orders until the end of 2021. The current orders are from its long-term customers, which provide more stability for the group.
Phase 7 to add 1.5bn gloves to 12bn by end of 2021. Riverstone has completed construction of its new production facility for Phase 7 of its expansion plans. Overall, the group will add seven production lines in total for Phase 7 which is expected to add up to 1.5bn pieces of gloves to bring total annual production capacity by up to 12.0bn pieces by the end of 2021. Similarly, another 1.5bn pieces of glove capacity will be subsequently added each year in FY22 and FY23 to bring total annual production capacity to 15.0bn pieces of gloves by the end of 2023.
Cleanroom gloves to ensure earnings resiliency and sustainable growth over the long term. Riverstone remains committed to the cleanroom space, and the group was able to secure new customers, including those in the trending semiconductor space. Hence, as the market leader in the high-end cleanroom glove space, Riverstone is poised to benefit from diversified income streams which allow the group to ensure earnings resiliency for sustainable growth over the longer term.
Planning for new cleanroom facility. Riverstone acquired an additional parcel of industrial land at Bukit Beruntung in Jan 2021 (6,740.76 sqm) for the development of its new cleanroom glove processing facility. This new facility will be able to process more than 2.5bn pieces of cleanroom gloves per annum, up from the current 2.0bn.
Raised earnings on higher ASP and margin assumptions. We have raised FY21F/FY22F earnings by 83%/57% as we now assume a more gradual reduction in ASP for HC from the current high level, only from 4Q21 onwards. ASP for CR is projected to remain firm in 2021 and to ease gradually in 2022. We have also upped our gross margin projections to 62%/40% for FY21F/FY22F from 43%/36% previously.


Maintain BUY with TP of S$1.86. Our TP of S$1.86 is pegged to 11x 4-year average PE on FY22F earnings.

We rolled forward our base year to FY22F to reflect more normalised earnings as compared to the supernormal profits in FY21.
At its current valuation, Riverstone is trading at only c.4.2x PE, near -1SD of its mean level. Maintain BUY.