1Q2021 selling prices were sharply up from 4Q2020 (as reflected in the gross margin rising from 62.2% to 68.6%).

After the surge, selling prices are, not surprisingly, plateauing or dipping in 2Q this year.

In conjuction with that, the cost of raw materials used in producing gloves has also softened.

That could translate into continued strong profit margins for Riverstone, leading to another record year this year.

About 79% of Riverstone's 1Q2021 revenue came from healthcare gloves and the remainder from "cleanroom gloves" -- ie for use in cleanrooms of electronic and semiconductor companies.
Riverstone Holdings' supernormal net profit in 1Q2021 came up to RM523 million (+1,022% y-o-y) as demand for its gloves stayed robust.

With phenomenal profits in sight, dividends this year are going to be exceptional.

The company has a consistent track record for dividends:

• To start with, Riverstone's payout has been consistent with a payout ratio hovering about 40%, as the table below shows.



•

For 2020, when profit was abnormally high, Riverstone's payout was accordingly abnormally high -- in absolute terms and percentage terms (50%).
Big earnings = big dividend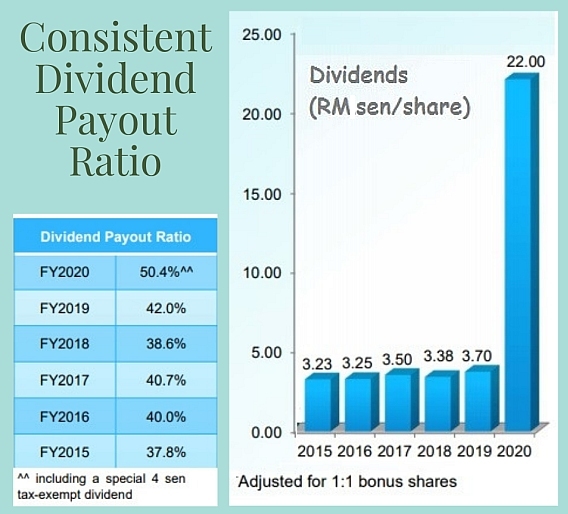 Looking ahead, let's assume 2Q21 will have a similar profit as 1Q21.

This is in line with DBS Research's expectation of "a more gradual reduction in ASP for healthcare gloves from the current high level, only from 4Q21 onwards. ASP for cleanroom gloves is projected to remain firm in 2021."

In 3Q21 and 4Q21, glove selling prices are expected to soften, mainly assuming Covid-19 is tamed in the US and Europe.

Offsetting that will be higher production capacity (an additional 1.5 billion gloves) kicking in from Phase 7 of Riverstone's expansion in 2H2021.

The entire production capacity of Riverstone has been booked for sale until end-2021, according to the company. Selling prices are under negotiation.

Therefore, if one broadly assumes Riverstone's 2Q, 3Q and 4Q profits will be similar to 1Q, then the year's profit would total about RMB 2 billion.

Assume instead a more conservative RMB1.5 billion profit.

With a 50% payout ratio, the dividend works out to be RMB750 million divided by 1.48 billion shares on issue = 51 sen (or 16 Singapore cents) a share.

Against a stock price of $1.46 currently, the dividend yield would be 16/146 = 11%.

A 40% payout ratio translates into a 8+% yield.

Cool numbers.

To reiterate, there are assumptions leading to that estimate.

For reference:

• DBS Research report of 11 May 2021 projects RM1.57 billion net profit, a dividend payout ratio of 30%.

• CGS-CIMB's numbers: RMB1.3 billion profit, a payout ratio of 40%.


About RM300 million is required to fund the capex for capacity expansion in 2021, 2022 and 2023.

There will be some cash set aside as working capital, and then the rest is available for paying out as dividends, according to CEO Wong Teek Son.

On an ongoing basis, of course, the company will continue to enjoy strong operating cash inflow.

Its cashpile jumped by RM442 million in 1Q2021 to RM1.1 billion as at end-March 2021.As at end-1Q2021, Riverstone had RM1.1 billion net cash, of which about RM300 million will soon be paid out as the final dividend for FY2020.

Riverstone's 1Q2021 business update is here.