Excerpts from DBS Group research report

Analysts: Wong Bing Yong & Derek Tan
What's New



• RMB435m GulTech stake sale marks another step to
unlock value


Tuan Sing

Share price:
$0.405

Target:
$0.54
• Potential GulTech IPO could almost double Tuan
Sing's market cap in theory

• Office and hotel business fundamentals improving

• Maintain BUY with higher TP of $0.54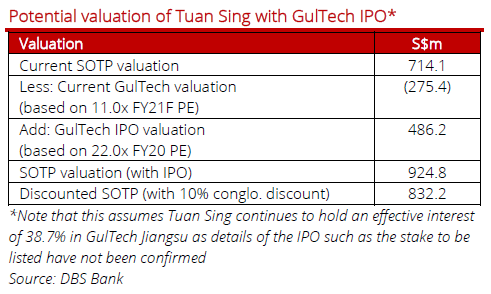 Crystallising hidden gold (Gul)

Investment Thesis:
Undervalued play. We continue to see good value in the stock even as its P/NAV nears +1SD from its 3-year historical mean.

Apart from improved office fundamentals and the upcoming launch of projects in Opus Bay, the potential IPO of GulTech could further unlock value for shareholders.

GulTech's peers notably trade at an average historical PE of c.29%, a significant premium over GulTech's c. 12x historical PE valuation in the stake sale to the private equity partners.

Transformation into partial tech play in progress. GulTech's earnings have grown by a CAGR of 17.7% in the past five years.

While Tuan Sing's effective interest in GulTech Jiangsu will fall to an estimated c.39% after the divestment to the private equity partners, GulTech's earnings growth may accelerate with help from its partners.

Resilient property market. The Singapore private property market has held up well amid the pandemic, and a successful sales launch of Peak Residences could catalyse share price.


Valuation:
Our TP of S$0.54 is based on SOTP. We assume a valuation of 11.0x FY21F PE for GulTech, a 60% discount to RNAV of S$971.2m, and a further 10% conglomerate discount.

Our TP represents a P/BV of 0.55x compared to 0.41x currently (between mean and +1 SD of its 3-year mean of 0.37x) and peers' 0.51x.


Where we differ:
We are the only broker covering the counter. That said, we have assumed more conservative earnings growth for GulTech in FY21F.

Key Risks to Our View:
Resurgence of COVID-19 infections could lead to construction delays, factory and hotel disruptions, FX risk, soft office market, termination of Robinson Point sale.