Riverstone

Share price:
$1.50

Target:
$2.30

Source: CGS-CIMB
Below are selected questions submitted by Riverstone shareholders & the corresponding answers by management ahead of the FY2020 AGM. For the full Q&A list, click here. Aside from gloves for the healthcare sector, Riverstone manufactures gloves for use in cleanrooms of manufacturers of semiconductors and HDDs.


Q: Please describe (in percentage terms) the trend in average selling prices for the gloves sold in 2020 and comment whether it can be sustained going into 2021.
For the new capacity under Phase 7 that has been booked in advance by customers, is the selling price already fixed or is it based on the market price in the future?
Would the company's manufacturing facilities be running at full capacity in the foreseeable future?

A: Selling price of 1st half of FY2021 is approximately 5% higher than 2nd half of FY2020. Generally, market expected price for healthcare glove to be revised downwards for 2nd half of FY2021.

However, price for cleanroom glove should be able to sustain throughout the remaining year. Capacity of Phase 7 has been taken up by our long term customers. Price is subject to revise monthly.

Our production utilisation rate is 95%, it is expected to continue at this rate until end of this year.

Q: You mentioned in your AR that RS will introduce 2 new products this year. Like to know which segment of the mkt will this be targeting at.
There was a report that the 2 big China producers is doubling their capacity. How competitive are Malaysian glove makers vs the Chinese producers?
With all the glove makers adding on capacity will there be a shortage or big increase in price of Butadiene due to supply n demand imbalance.
When will the new facility at Bkt Beruntung be up and running?
Is the company looking at increasing capacity or finding new locations (countries) outside of Malaysia?

A: Our target is to launch at least 2 new glove products, one each in cleanroom glove and healthcare glove segment by the end of this year. Malaysia glove manufacturers have an edge over the China Manufacturers in terms of product quality and reliability.

Based on our experience, our Malaysia plant has cost advantage when compared to China plant.

Raw material price has increased quite significantly in 1st quarter of 2021.

Supply demand is creeping back to normal due to more new suppliers and existing supplier increase their capacity. We believe prices will be more stabilised.

New capacity at Bukit Beruntung will be completed by end of 2021. While we are waiting for the completion, we have converted part of our warehouse for production use.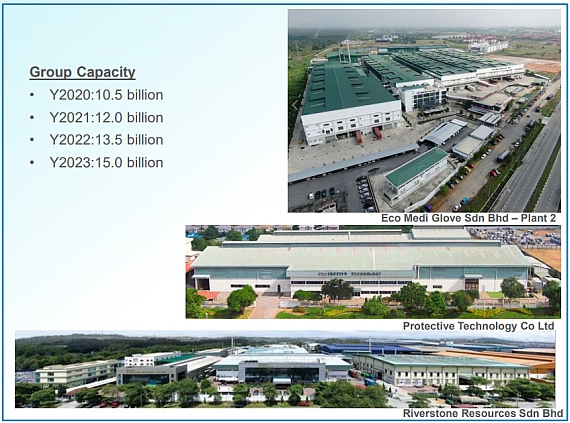 Q: What is the demand for industrial gloves in the next 2-3 years amid 5G, IOT and digitalization pushes?
What is the future plan for factory automation to increase the glove manufacturing throughput?
A: Barring unforeseen circumstances, we expect our cleanroom glove processing facilities to grow at 30% in 2021/ 2022. We are expanding our cleanroom business by installing more cleanroom processing facilities.

Our cleanroom customer base has expanded in 2020 and 2021.

We are investing to install more automated machine in our production line to reduce labourers. It is a continuous process of upgrading and automating the old lines for better efficiency.