Excerpts from UOB KH report

Analyst: Adrian Loh
Another Month, Another US$1b In New Orders
With the ink barely dry on the US$1.7b worth of order wins in Mar 21, YZJ has announced another slate of orders for 15 vessels totalling US$0.97b.


Yangzijiang

Share price:
$1.36

Target:
$1.76
More than half of these are containerships, which is positive given that such vessels attract higher shipbuilding margins.

As a result of the order wins, we have increased our EPS estimates for 2021-23 as well as raised our order-win expectation for 2021 to US$5.5b.

Maintain BUY with a higher target price of S$1.76.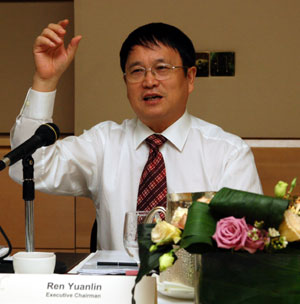 Executive chairman Ren YuanlinWHAT'S NEW
• Building on its success. In yet another positive development, Yangzijiang Shipbuilding (YZJ) announced on 19 Apr 21 that it had entered into shipbuilding contracts for 15 vessels, with a total contract value of US$0.97b.

Of the 15 vessels, it was heartening to note that the company continues to garner orders for higher-margin containerships with eight of them being containerships (six units of 15,000TEU containerships and two smaller units of 2,400TEU containerships).

In addition, there were orders for two 50,000DWT medium-range tankers, three 82,300DWT bulk carriers and two 31,800DWT "Great Lake" bulk carriers. The company disclosed that these vessels are mainly scheduled for delivery in 2022-23, and we understand that the clients were from both China and overseas.



• Increasing estimates and raising order win expectations. We have raised our net profit forecasts for 2021-23 by 4-12% and have also raised our 2021 order win expectation from US$4b to US$5.5b.

Our 2022 order win expectation has also been increased, rising from US$3b to US$3.5b.

We highlight that should YZJ exceed US$5b in order wins this year, it would be the first time that it has surpassed it prior high of US$5b in 2007 (which was also the year in which the company had its IPO).

EARNINGS REVISION/RISK
• Increasing earnings forecasts for 2021-23. As a result of the order-win announcement, we have raised our net profit forecasts for 2021-23 by 4-12% (see table on RHS).

We have not changed our gross profit margin estimates for YZJ's shipbuilding segment for 2021 which remains at 13.5%, however we have lowered gross profit margin estimates by 1ppt for 2022- 23 to take into account higher steel prices as this could lead to minor margin compression in the medium to long term.

VALUATION/RECOMMENDATION

• We maintain our BUY rating on YZJ and raise our target price to S$1.76 (+29% from S$1.36 previously). Valuation remains attractive, in our view, trading at 2021 P/B and EV/EBITDA of 0.7x and 5.8x respectively, and a 2022 PEG of 0.42.

Besides, YZJ has regularly paid an annual dividend of S$0.045-0.050/share, implying a 2021 yield of 3.8%.

After today's EPS upgrade, YZJ will see strong earnings in the next few years with a 20% three-year earnings CAGR over 2020-23.

Our target price is an aggregate of our PE and P/B valuation methodologies:

 Our PE valuation of S$1.89 is based on a target 10x multiple which is 1SD above the company's past five-year average PE of 7.4x, and is pegged to our 2022 EPS estimate to enable us to capture the earnings upside for 2022 and onwards. Note that our prior PE valuation was pegged to our 2021 EPS estimates.

 Our target P/B multiple – pegged to our estimated 2021 book value per share – has been upgraded to 0.9x which is 1SD above YZJ's past-five-year average (0.7x previously).

This results in a P/B valuation of S$1.62. We believe this upgrade towards 1x P/B is reasonable given our forecast for ROE to continue to expand towards 10% by end-22.

SHARE PRICE CATALYST
• Continued new order wins, especially from China-based clients.
• Better returns on its debt investments portfolio.
• Strong 1Q21 results which will be reported after market close on 29 Apr 21 with a results briefing on the morning of 30 Apr 21.

Full report here.