Just over five years after it listed in Singapore, Trendlines Group said it is seeking a dual primary listing of its ordinary shares on the Tel-Aviv Stock Exchange (TASE) in Israel.


Stock price

9.1 c

52-week
range

8.1 – 12.8 cts

PE (ttm)

--

Market cap

S$72 m

Shares outstanding

791.2 m

Dividend
yield (ttm)

--

1-year return

1.1%

Source: Yahoo!
Trendlines plans to raise new capital with a public offering of new securities during the proposed listing. At least 70% is expected to be subscribed by institutional investors, it said.

Trendlines is an Israeli investment company investing in medtech and agrifood companies directly and through its venture funds.

It's a business that, arguably, has not been well appreciated by Singapore investors as its stock has consistently traded way below its 33-cent IPO price and below its conservative portfolio values.
Trendlines considers that the proposed listing will be beneficial for the Company, and in the interests of its shareholders while maintaining its Catalist listing on the Singapore Exchange, for the following reasons:
(a) The Israeli capital market has become very attractive for technological companies with growing interest from institutional investors. In recent months, there have been more than 40 IPOs on the TASE and to the best of the Company's knowledge, the TASE is expecting as many as 70 IPOs during the first six months of 2021, many of which are technology companies.
To the best of the Company's knowledge, none of the contemplated IPOs involve companies offering a similar diversified portfolio to that offered by the Company;
(b) The stock markets in Singapore and Israel attract different investors. Listings on both the SGX-ST and TASE will provide the Company with access to two different equity markets and easier shareholder access; and
(c) The Proposed TASE Listing will strengthen fund-raising opportunities for the Company, broaden its shareholder base, and provide the Company with an additional source of capital to support the growth of the Company.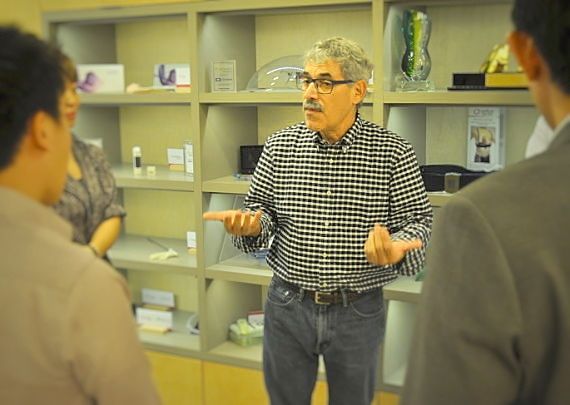 Chair and CEO Todd Dollinger speaking with Singapore investors visiting Trendlines. NextInsight file photo

Chair and CEO Todd Dollinger said,

"Interest in Trendlines and our portfolio companies from the Israeli investment community, including institutional investors, is clear and growing. We expect that our planned listing and public offering on the TASE will diversify and expand our shareholder base to include greater institutional ownership and higher market engagement. As the Israeli investment community, especially institutional investors, are receptive to and familiar with Trendlines' business model, we expect greater liquidity to our shares and substantially increase our cash flow to meet our business strategy. Trendlines remains committed to protecting the interests of our retail and minority investors."