Excerpts from CGS-CIMB report

Analyst: Ong Khang Chuen, CFA
■ Sunsine reported 2H20 net profit of Rmb136m (+66% hoh, +11% yoy). FY20 results was in line with our expectations, but ahead of consensus estimates.


China Sunsine

Share price:
48.5 c

Target:
61 c
■ We see continued ASP uptrend, supported by robust downstream demand and higher raw material prices; this could support better profit spreads ahead.

■ Reiterate Add with a higher TP of S$0.61 (1.05x FY21F P/BV).
Solid set of 2H20 results
China Sunsine reported 2H20 net profit of Rmb136m (+66% hoh, +11% yoy), riding the sequential ASP recovery in 2H which allowed the company to capture better profit spreads.

This was despite the Rmb32m forex loss incurred in 2H due to the depreciation of the US$ against Rmb.

FY20 net profit came in at Rmb219m (-40% yoy), in line with our expectation (102% of our forecast) but above Bloomberg consensus' (108%).

Downstream demand recovery continues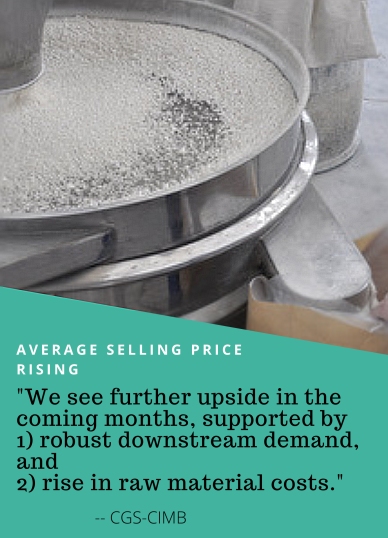 We believe downstream demand will remain strong in CY21F.

We expect China's tyre manufacturing industry (Dec: -1% mom, +14% yoy) to remain robust with the continued growth in the auto industry (China Association of Automobile Manufacturers expects new vehicle sales in China to grow 4% in 2021F).

We expect the export volume of China's rubber accelerators (Dec: +13% mom, +24% yoy) to also stay strong with the resumption of economic activities in the overseas markets.

We understand that Sunsine's 20kt rubber accelerator capacity added in mid-2020 has been well absorbed, with growing utilisation rate, and forecast its sales volume will grow 13% in FY21F.

ASPs trending higher
Post a two-year downtrend, average prices in the rubber accelerator and anti-oxidant industries had recovered 40% and 38% respectively since Sep 2020 to date.

We see further upside in the coming months, supported by
1) robust downstream demand, and
2) rise in raw material costs.

The price of aniline, a key raw material, has surged since Oct (+105% to date) riding on higher oil prices.

There is typically a time lag of 1-2 months for Sunsine to recognise higher selling prices as its pricing contracts are mostly negotiated on monthly/quarterly basis; hence we expect further uptick in its ASPs in 1H21F.

We see stronger profit spread ahead, and forecast FY21F net profit of Rmb300m (+37%).


Maintain Add with a higher TP of S$0.61
Maintain Add. We raise our FY21-22F EPS forecasts by 4.8%-6.1% to reflect higher ASP assumptions.

Our TP rises to S$0.61, now based on 1.05x FY21F P/BV (0.5 s.d. above its 10-year historical mean) vs. 0.92x (mean) previously.

Potential re-rating catalyst is stronger-than-expected selling price uptrend.

Key risks include worse than-expected pricing competition and resurgence of Covid-19 cases, impacting demand.


Full report here.