Property and hospitality group Roxy-Pacific Holdings took impairment charges in FY20 on its hotel assets and on properties held by its overseas associated companies.
Financial Ratios

31 Dec 2020

31 Dec 2019

NAV per share (SGD cents)

36.88

39.16

Adjusted NAV per share (SGD cents)

72.07

77.84

Cash holdings per share (SGD cents)

30.33

25.38

Net debt to ANAV (times)

0.64

0.60

Source: Company
This plus additional tax expense incurred for its divested investment in Hong Kong amounted to a total of S$34.6 million.

The figure represents 3.7% of the Group's total Adjusted Net Asset Value (ANAV) or 1.7% of the Revalued Total Assets.

With a ANAV of 72.07 cents a share, the recent stock price of 35 cents stands at a hefty 51% discount.


The impairment charges (S$24.5 million) are non-cash items.

The Group's cashflow from operations stayed strong at S$84.4 million in FY2020, but the

group's bottomline tipped into a S$29.5 million net loss attributable to shareholders.
"Our financial results have been adversely affected amidst vast challenges brought on by the global pandemic. During the year, operationally, we have taken a conservative approach and re-aligned our businesses, focusing on attaining a lean and nimble business structure."
-- Teo Hong Lim, Executive Chairman
Mr Teo Hong Lim, Executive Chairman and CEO of Roxy-Pacific, said, "For our Hotel segment, we have put in place strategies including cost control measures to mitigate the impact of COVID-19 on the business. While we take prudent and necessary steps for the Hotels, we continue to focus on training and implementing ideas to improve productivity, internal processes and operational efficiencies. All these efforts will prepare the Hotels to benefit well when the travel market recovers post COVID-19.

"For Property Development, we have successfully launched all the sites in our land bank and will place priority on the sale and delivery of the units. We continue to be highly selective in land acquisition, with a focus on freehold sites in Singapore. With Phase 3 re-opening in Singapore, we have stepped up our engagement with buyers through both physical and online marketing channels, including virtual showrooms, to showcase our apartment units.

"For Property Investment, through proactive asset management, we have continued to attain a high average occupancy of 88% as at 31 December 2020."

Highlights:

Group total FY2020 revenue was S$198.4 million (FY2019: S$444.0 million). This was mainly due to lower revenue from the Property Development and the Hotel Ownership segments.

• Property Development segment: Revenue was S$165.8 million in FY2020 (FY2019: S$385.9 million. FY2019 was boosted by contributions from The Hensley and The Navian, as well as West End Glebe projects).

In addition, delays in construction for development projects due to the closure of construction sites also contributed to a lower recognition of revenue.

Gross profit for the Property Development segment was 77% lower at S$17.4 million, while gross profit margin fell 9 percentage points to 10% mainly due to lower profit margins for some projects in Singapore as well as unexpected project cost escalation for Octavia Killara in Australia.

As at 31 December 2020, the Group has a total balance attributable pre-sale revenue of S$539.4 million, the profits of which will be progressively recognised from 1 January 2021 to FY2023.

• Hotel operation segment: Revenue fell 50% to S$25.2 million in FY2020 (FY2019: S$50.4 million).

• Property Investment segment: Revenue was stable at S$7.4 million in FY2020 (FY2019: S$7.7 million) supported by rental income from Roxy Square and NZI Centre.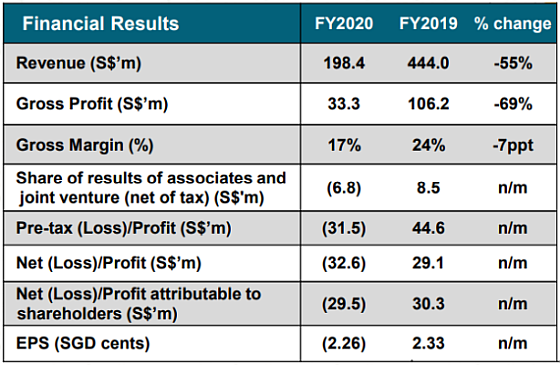 • Other operating income increased 129% to S$16.4 million in FY2020 mainly due to government grants received for the Job Support Scheme, higher foreign exchange gain and higher fair value gain from investment property at Roxy Square, partially offset by fair value loss from investment property at NZI Centre.

• Share of results of associates fell to a loss of S$7.4 million in FY2020 compared to S$8.5 million profit in FY2019, mainly due to additional tax expenses for its divested investment in 8 Russell Street, Hong Kong in 2H2020 and provision of impairment loss on its properties in the overseas associated companies.

This was partially offset by the profit from the sale of property at Ginza, Japan in 1H2020.


2 new projects in Singapore
In November 2020, the Group acquired a freehold residential site at Jalan Molek and Guillemard Road for S$93,000,000.

This site has a total land area of 37,131 sq ft with a plot ratio of 2.8.
Another project will spring up in the River Valley area where Roxy-Pacific has entered into an agreement to acquire a 999-year leasehold residential site at 10A and 10B Institution Hill.
It intends to amalgamate the site with another 999-year leasehold site at 11 Institution Hill.

The FY20 Powerpoint presentation material is here.