Roxy-Pacific Holdings reported revenue and net profit attributable to equity holders of $444.0 million and $30.3 million, respectively, for FY2019.
Roxy Pacific

Stock price:
38 c

Adjusted net asset value:
77.83 c
These results represent a 234% and 42% jump y-o-y, respectively.
The key contributor: property development, which recorded adjusted EBITDA of $64.3 million out of a total of $84.4 million for the group. That's 76%.

Roxy-Pacific proposed a final dividend of 1.09 cents per share, 55% higher compared to 2018.

Coupled with the interim dividend of 0.195 cent per share, the total distributions for FY19 is 1.285 cent per share, representing a dividend payout ratio of 55%.


The Property Development segment reported higher revenue of S$385.9 million in FY2019, a 415% surge from S$75 million in FY2018, mainly driven by

• Revenue recognition mainly from Aussie projects The Hensley and West End Glebe, and



• In Singapore, p

rogressive revenue recognition from 120 Grange, The Navian and Harbour View Gardens.
In line with the higher revenue, gross profit for the Property Development segment was 268% higher at S$75.2 million.

But there was an 8 percentage point decline in gross profit margin to 19% due to lower margins from The Hensley and West End Glebe.


Hotel Ownership segment: Revenue increased by 1% to S$50.4 million in FY2019 from S$50.0 million in FY2018.

This reflects a steady recurring income base from four hotels/resorts in Singapore, Japan and Maldives. Another hotel will open in Phuket in 2021.



High-end resort Noku Maldives (photo), which offer villas along the beach and overwater villas, made its first full-year contribution in FY2019.
Property Investment segment: Revenue declined 3% to S$7.7 million in FY2019.

The revenue comprised rental income from shop units in Roxy Square in Singapore and NZI Centre in Auckland, New Zealand.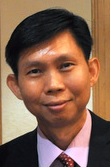 CFO Koh Seng GeokOverall, the Group's gross profit margin for FY2019 was 14 percentage points lower at 24%, compared to 38% in FY2018.

Reason: Higher contribution from the Property Development segment, which recorded a lower profit margin in FY2019.

Gross profit for FY2019 increased 109% to S$106.2 million from S$50.8 million over FY2018.


Executive Chairman & CEO Teo Hong Lim:


"Our diversified revenue streams across geographical markets and asset classes continue to deliver positive and resilient results. Apart from the significant revenue contributions from our property developments in Singapore and Sydney, our investment properties in Australia and New Zealand enjoy high occupancy rates and continue to provide us with good recurring income. Meanwhile, the Hotel Ownership segment continues to provide a stream of recurring income, which is expected to grow gradually as our newer assets mature and stabilise."

The property development segment looks set to drive results going forward:

•

In 2019, Roxy-Pacific launched all six remaining developments in Singapore, comprising a total of 606 units.



•

As at 12 Feb 2020, based on units sold from the ongoing development projects, the Group has total attributable pre-sale revenue of S$471.2 million. (See breakdown by projects in the table below)

Profits will be progressively recognised from 1Q2020 to FY2023.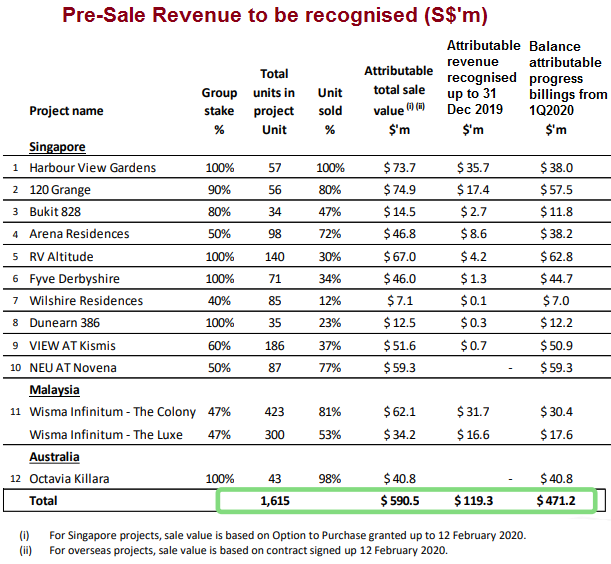 Details of the FY19 results can be found in the PowerPoint presentation here.