In a headline-grabbing move in Singapore, Tesla has just made its electric cars available for booking online by Singapore-based residents.

It would not surprise anyone in the days and months ahead if sales turn out to be popular.

It's not just the attraction of the car itself but also its competititve pricing vis-a-vis brands such as BMW and Audi.


The Tesla moment brings home, in its own way, the likelihood that electric vehicles (EVs) are closer to mass adoption than they ever have been.

In 2020, total EV sales globally jumped 43% despite the COVID-19 crisis dampening overall car sales.

That raises the fascinating question for equity investors: What stocks to invest in to ride the EV upcycle?

One great area would be miners -- juniors or producers, depending on your risk profile -- which are involved in battery minerals. Look at the forecast surge in demand: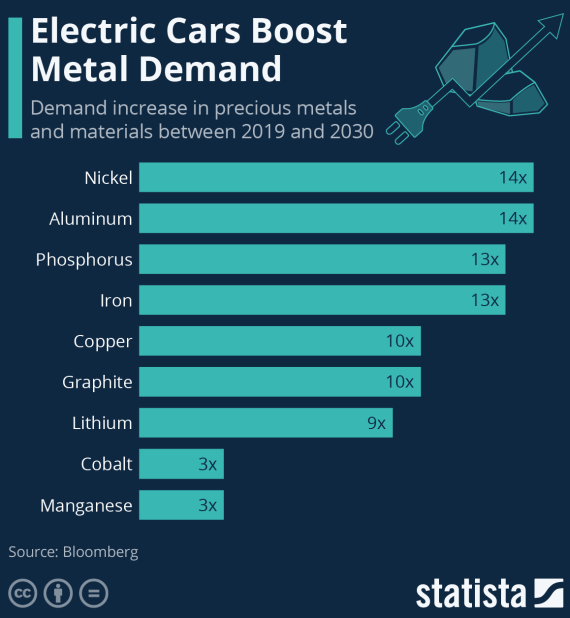 Of course, there is absolutely no shortage of ideas across the entire supply chain, ranging from mining juniors to EV manufacturers and battery producers.

Such stocks have risen significantly in the past year or so.

While ETFs of whatever exposure are not known to run hard, a global lithium ETF made up of a basket of EV-related stocks has surged about 122% in the past 12 months.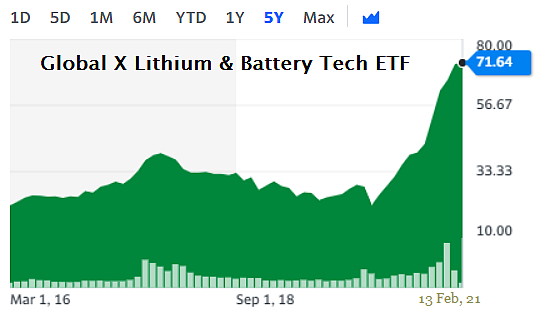 Chart: Yahoo!


New monthly record: The Mining.com EV Metal Index, which tracks the value of battery metals in new passenger EVs around the world, rose to a record US$512.2 billion in Dec 2020, and doubling from a year ago.

Real market prices of the minerals that go into EV batteries, especially lithium, cobalt and nickel, have also risen.

Lithium carbonate prices have increased by over 40% within China in January 2021 on the back of continued surging lithium iron phosphate (LFP) battery demand, the newest assessment from Benchmark Mineral Intelligence (Benchmark) shows.

The price surge underlines the highly favourable risk-reward balance for EV-related stocks at this early stage of the EV supercycle.

We have just come across an Aussie article that provides investors with ideas for where to look: Build Your Own Portfolio – lithium: Experts say start with these 8 ASX stocks

Check it out and for a quick summary below is a list of 8 stock ideas from 2 experts:


•
Niv Dagan is Founder & Executive Director at Peak Asset Management
Picks of Niv Dagan of Peak Asset Management

Stock

Market Cap (AUD)

Stock price (AUD)

$6.93 billion

$36.72

$1.02 billion

74 cents

$84 million

9.4 cents
• Gavin Wendt is Founding Director of MineLife, which provides independent coverage of Australian resource stocks, commodities and issues impacting the broader mining and energy sectors internationally.
Picks of Gavin Wendt of MineLife

Stock

Market Cap (AUD)

Stock price (AUD)

$2.74 billion

94 cents

$317 million

32 cents

$266 million

26 cents

$146 million

3.9 cents

$23 million

18 cents

Lake Resources is especially noteworthy because:

• Lake has the largest lithium concession holding in Argentina. Its tenements cover an area of over 2,000 km2, including 1,180 km2 of lithium brine concessions, dominantly within the Lithium Triangle Area.

• The Lithium Triangle Area accounts for around 29% of global lithium resources, and around 40% of global lithium produced from brines.

• Lake uses an entirely different lithium extraction process from its peers. It is a re-engineered well-known technology in water treatment. Its plus points include:

•

Efficiency – just lithium removed from brine
• Speed – days not months or years
• Higher recoveries than evaporation
• High purity – because only lithium removed
• Cost competitive with traditional method
• Scalable, flexible to meet demand quickly
• Environmentally friendly - small footprint
"(Lake Resources') Kachi project already ranks amongst the top 10 global lithium brine resources worldwide and will utilise an innovative direct-extraction technique, based on a well-used ion exchange water treatment method, which has resulted in the production of battery-quality lithium carbonate (99.9 per cent purity) with very low impurities."
-- Gavin Wendt