Entrepreneur Melvin Goh has long been inspired and fascinated by the power, form and style of sports marques. In particular, he enjoys the visceral rush that comes from high-performance driving.
"All my life I've been interested in sports cars – they possess a design and flair that excites me," said Goh, Executive Chairman and CEO of SGX-listed luxury automobile distributor EuroSports Global Ltd.
"Performance driving also really ignites your senses – I enjoy the adrenaline, discipline and taking the vehicle to the limit," said Goh, who honed his driving skills in the early years by go-karting at Kallang Park's kart-racing circuit.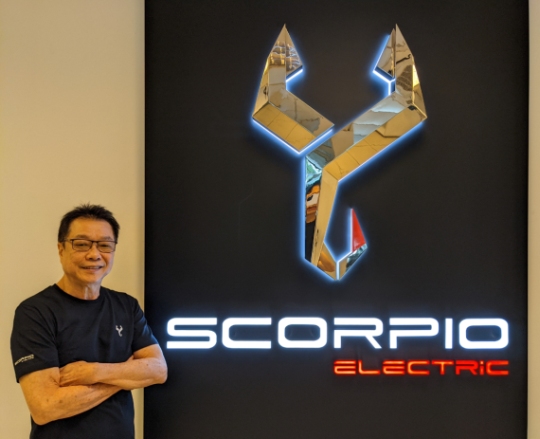 The 64-year-old began his three decade-long career in the automobile industry after being parachuted into the family business of trading used cars – Gay Hin Enterprise – during his teenage years. "I started off by spending most of my school holidays as an intern in the office, and learning the ropes from my father," he recalled.

"It grew into an apprenticeship of sorts, where he taught me the art of buying and selling cars, and how to conduct negotiations during these transactions. We were also running a car workshop, so the business naturally fell into my lap."

At first, Goh's day-to-day dealings focused on run-of-the-mill automobile brands. It was only after the business, which forged strong relationships with its clientele, took off that luxury sports marques came into the equation.

"I began buying and trading sports cars, and because we also wanted to pitch for an official dealership for ourselves, we formed EuroSports Auto in 1998, and embarked on a new journey with Lotus Cars," Goh said.

In time, the successful tie-up with Lotus Cars became a springboard for EuroSports to form subsequent partnerships with other brands, including Lamborghini, Alfa Romeo, Pagani and Touring Superleggera.

Listed on SGX Catalist in January 2014, EuroSports Global specialises in the distribution of ultra-luxury and luxury automobiles and provision of after-sales services, such as sales of parts and accessories.

The Group is the sole authorised dealer for Lamborghini in Singapore since 2002, and Indonesia since 2018. It is also the exclusive distributor for Alfa Romeo in Singapore since 2004. For Touring Superleggera, the Group has an exclusive distributorship in Singapore, Malaysia, Brunei and Indonesia, as well as a non-exclusive distributorship in China since 2012.

New Era Dawns

Goh's most recent brainchild is a home-grown, next-generation, high-performance electric motorbike – a first in Singapore history. The Group's subsidiary, EuroSports Technologies, was established to develop the sustainable mobility solution under the Scorpio Electric brand.

"Three years ago, I saw this opportunity – the beginning of a new era where the use of gasoline will gradually come to an end. The traditional automotive industry is also undergoing a transformation and moving away from internal combustion engines. Electric or alternative fuels are now the future," Goh pointed out.

"Our government is also implementing various initiatives to prepare the country for the new era of sustainable mobility. Singapore's small and dense city landscape is the perfect testbed for electric vehicles."

In April 2020, Singapore relaxed its rules on electric motorcycles, allowing high-powered bikes with power ratings of more than 10kW to be on the roads as part of efforts to encourage the adoption of green vehicles in the city-state.

The government has also unveiled a number of measures in its Budget 2020 to spur electric vehicle adoption, as well as plans to phase out the use of internal combustion engine vehicles by 2040.

Sales of electric vehicles are also expected to be more resilient than their conventional peers over the long run. Bloomberg New Energy Finance has projected that post-lockdowns, electric vehicles will make up 58% of new passenger car sales, and constitute 31% of the global car fleet by 2040.

In November 2020, EuroSports Technologies raised US$6.3 million to develop its Scorpio Electric motorbike. Part of the proceeds will be channelled into the software and hardware, including prototypes as well as pre-production builds that will undergo rigorous quality testing and checks to meet international standards.

The remainder of the funds will be used to construct its 3,600 square-metre assembly plant at Teban Gardens, which is slated to manufacture up to 8,000 electric motorcycles annually. The Group plans to unveil its showroom and kick-off digital pre-sales by mid-2021.

"We will have immediate access to our Southeast Asian "backyard", which represents a market size of about 200 million motorcycles and sales of 15 million motorcycles annually," Goh pointed out.

Southeast Asia is the fifth-largest automotive market in the world, with Indonesia taking the lion's share of sales in the region. "Our regional and global business footprint will accelerate our commercial strategy and help us build a solid network," he added.

Scorpio Electric plans to differentiate its brand by manufacturing "smart" bikes – using artificial intelligence and data analytics to turn them into energy-efficient machines, he added.

"We've been fortunate to attract talents like Julian Legazpi, our Chief Commercial Officer, Tham Kwang Sheun, our Chief Technology Officer, and Dr Muhammad Taureza, our Chief Operating Officer, to help us achieve our goals."

Navigating Speed Bumps

While the Group's future direction is clear, speed bumps exist. "For sure our business was negatively impacted by Singapore's Circuit Breaker period, but now that the lockdown is over, people are actually starting to buy our cars again," Goh noted.

For the six months ended 30 September 2020, EuroSports Global registered a 42.6% decline in revenue to S$24.4 million, and swung to a net loss of S$1.7 million, compared with a net profit of S$1.6 million for the half-year ended 30 September 2019. Cash and cash equivalents stood at S$10.0 million as at 30 September 2020.

"The car distribution business so far has been fairly stable," he said. "Sales might not be as good as last year, but the fall in revenue from the pandemic was smaller than expected."

EuroSports is leveraging on digital platforms – including virtual showroom experiences and digital product launches – to reach out to new and existing customers, in light of the "new normal", Goh noted.

The Group's competitive edge lies in its motto – "Walk in as a customer, walk out as a friend". "We have in-depth experience and expertise in the luxury automotive space, we understand how to build brands and develop a personal touch with customers, who are now our friends," he added.

"This contributes to our high level of recurring sales to existing customers."

The highly competitive auto industry, coupled with the prolonged COVID-19 pandemic, will continue to pose challenges for the Group, Goh admitted. But what really keeps him up till the wee hours is his Scorpio Electric start-up.

"I'm constantly thinking about strategy, how to steer this venture towards success, and looking forward excitedly to next year, when the brand will be launched."

This father of two is equally focused on steering his children in the right direction. His son, 30, and daughter, 28, are both helping him in the Group's operations.

He makes it a point to highlight to them the twin key principles of diligence and integrity, particularly when it comes to entrepreneurship and the world of business.

"I always tell them, be it with partners, clients or friends, honesty and hard work – more than anything else – will get you places."


Article was first published on SGX website
EuroSports Global Ltd
Established in 1998, EuroSports Global specialises in the distribution of ultra-luxury and luxury automobiles and provision of after-sales services. The company's Automobile Sales business retails new ultra-luxury and luxury automobile brands and pre-owned automobile brands, mainly Lamborghini, Alfa Romeo and Touring Superleggera.

EuroSports Global is the sole authorised dealer for Lamborghini in Singapore since 2002 and Indonesia since 2018, as well as the exclusive importer and distributor for Alfa Romeo in Singapore since 2004. For Touring Superleggera, it is the exclusive distributor in Singapore, Malaysia, Brunei and Indonesia, as well as a non-exclusive distributor in China since October 2012.

EuroSports Global is investing to develop a sustainable mobility solution in the form of a fully electric motorcycle under the Scorpio Electric brand.

The company website is: www.eurosportsglobal.com
Click here for the company's StockFacts page.
For the half-year ended 30 September 2020 financial results, click here.
About kopi-C: the Company brew
Text: Jennifer Tan-Stanisic
Photo: Company file

kopi-C is a regular column on the SGX Research website that features C-level executives of leading companies listed on Singapore Exchange. These interviews are profiles of senior management aimed at helping investors better understand the individuals who run these corporations.

For previous editions of kopi-C: the Company brew, please click here.