Company Overview

Stock price

27.5 c

52-wk range

11 – 31 c

PE

--

Market cap

$71.3 m

12 month 30 Day Avg Volume

$66,975

Shares outstanding

259.4 m

Dividend
yield

--

Float

32.1%

P/B

9.8

Source: Bloomberg
Established in 1998, EuroSports Global is a leading luxury lifestyle company in specialising distribution of ultra-luxury automobiles and luxury automobiles and the provision of after-sales services. EuroSports Global is the sole authorised dealer for Lamborghini in Singapore and Indonesia, the exclusive importer and distributor for Alfa Romeo in Singapore and the exclusive distributor for Touring Superleggera in Singapore, Malaysia, Brunei and Indonesia and non-exclusive distributorship in the PRC. The company's subsidiary, EuroSports Technologies, is currently developing a next-generation, premium, smart electric motorcycle under the brand name Scorpio Electric. Link to StockFacts company page.




1. What are the key drivers of EuroSports' growth over the medium to longer term?
The Group's luxury automotive distribution business has remained relatively stable over the years. More recently, we have also seen a rising demand for our luxury automobile as funds are diverted from travel spending to luxury automobile. Thus, we are optimistic that this segment will continue to grow, providing revenue stability to the Group.

• Going forward, to further enhance EuroSport's profitability, we may expand our distribution network for existing products to overseas markets as well as secure distributorships and/or dealerships for new ultraluxury and/or luxury automobiles.

• We believe that EuroSports is equipped to participate in the rising trend of electrification in the automotive industry. Governments and regulators are starting to invest in the necessary infrastructure and encouraging the public to adopt electric vehicles (EV).

• The Group also has immediate access to the rising motorcycle industry in Southeast Asian, which represents a market size of approximately 200 million motorcycles with annual sales of 15 million units.


2. Who are some of the Group's major customers?
• For our luxury automobile distribution business, our major customers are mostly high net worth individuals residing in Southeast Asia.


3. In November 2020, EuroSports' wholly-owned subsidiary EuroSports Technologies raised funds for the electric vehicle brand, Scorpio Electric. Can you tell us more about the plans for the business?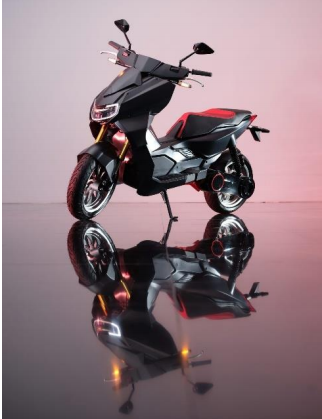 The Scorpio Electric prototype• The Scorpio Electric brand is a smart electric vehicle company specialising in creating electric motorcycles with a focus on high performance. Part of the US$6.3 million funds raised will be used for software and hardware development of Scorpio Electric's first electric motorcycle. This will include numerous prototypes and preproduction builds that will undergo rigorous quality testing and checks to adhere to international standards.

• We plan to stay focused on developing the home-grown, nextgeneration, high-performance electric motorbike - a first in Singapore history. The Group unveiled the X model prototype in January 2021. This will be the first of many prototypes that will pave the way for the series of Singapore's first fully built electric motorcyles.

• The commencement of the sales is expected to begin by end of 2021.


4. Do you have an investment and divestment strategy? If so, could you elaborate.
• We believe that a strong brand image will influence current and prospective clients' response to our products and services. Thus, our investmentstrategy focuses primarily on brand building.

• Luxury brands, which possess strong brand equity, can continue to cement their brand position by adopting new technologies and differentiating themselves from competitors. EuroSports strives to be a global brand in the luxury automobile industry and a technology innovator by investing in the EV segment.


5. Do you see any changing consumer preferences due to Covid-19? How does the Group plan to ride on these trends?
• The Group's sales and operations were affected during lockdown period, but we have noticed an increasing demand in the past couple months as consumers diverge their spending to luxury automobiles. Moving ahead, we plan to actively seek new dealerships and expand not just in Singapore but also into the region.

• The pandemic has disrupted the way we work, live and interact with others and the world is more receptive of remote and virtual interactions. In light of this "new normal", we effectively leveraged on digital platforms, including virtual showrooms and digital product launches, to reach out to new and existing customers.

• Covid-19 also turned consumer's attention to the need for greener and more sustainable technology. We believe that addressing tailpipe emissions is a step towards creating a greener future. Therefore, it was an opportune and timely move for the Group to advance into the EV industry.


6. What are EuroSports' competitive strengths in the EV industry?
• We believe that our Group, as one of the first to introduce premium smart electric motorcycle with a focus on performance, is at the forefront of the EV industry.

• Electric motorcycles with high performance in every aspect of design and technology are currently unavailable in the industry. Therefore, we aim to redefine the concept of electric vehicle and bring about a new era of transportation by combining art with technology to create a high quality smart electric motorcycle.

• Scorpio Electric's differentiating factor lies in their use of artificial intelligence and data analytics to create the next generation energy efficient and "smart" motorcycles, providing a seamless experience to the user.


7. How do you think the EV market will evolve in Singapore and the region? How do you plan to tap on these trends?
• The EV industry is a fragmented market, especially in Southeast Asia. Governments across the region are just beginning to invest in infrastructure and encouraging adoption for sustainable mobility. Thus, we believe that this is an opportune time for EuroSports to penetrate the EV industry.

• As part of Singapore's effort to encourage the adoption of green vehicles, the government relaxed rules on electric motorcycles in April 2020, allowing bikes with power ratings of more than 10kW to be on the roads. The Singapore government has also unveiled several measures in Budget 2020 to spur electric vehicle adoption, as well as plans to phase out the use of internal combustion engine vehicles by 2040. This also includes plans to deploy at least 60,000 EV charging points in public carparks and private premises by 2030, affirming the importance of EV industry in the future.

• Global EV sales has been increasing, mainly due to governments' push for carbon removals, improved charging infrastructures and enhanced battery technologies. According to a McKinsey report, the market for two-wheel EVs (E2Ws) and three-wheel EVs (E3Ws) was valued at close to US$97 billion (or 4% of global auto sales), and by 2022, could reach US$150 billion. The electrification in the scooter and light-motorcycle segmentsis projected to accelerate, especially in emerging markets.

• Recently, the Group signed a Memorandum of Understanding with Strides Transportation, a wholly owned subsidiary of SMRT Road Holdings, to develop, market and supply smart electric motorcycles for commercial and corporate clients.


8. What notable developments can shareholders expect from the Group for the rest of 2021 and into next year?
• The Group will continue to expand on our two main business lines – (i) the distribution of luxury automobiles; and (ii) the new electric motorcycles segment.

• We anticipate that our luxury car distribution segment will remain on its growth trajectory as we continue to cultivate and deepen relationships with our customers. We expect a steady demand for luxury automobiles in the near future and brands which actively engage their customers while investing in their brand image should lead the way. For our EV segment, we remain focused in developing our first EV under the Scorpio Electric brand and target to commence sales by the end of 2021.

• The Group is also in the midst of developing smart electric motorcycles for commercial and corporate clients with Strides Transportation. While separate from the Scorpio Electric brand of premium electric motorbikes, this partnership has the potential to create a new revenue stream for EuroSports.

• The partnership with Strides Transportation leverages on EuroSport's designing and manufacturing expertise for premium smart electric motorcycles, to develop and supply a smart electric motorcycle ecosystem (SEME). The SEME will encompass the development of electrified small-format mobility, E2Ws and E3Ws. The SEME will be equipped with smart riding features and supporting systems such as in-house charging stations.


9. Globally, governments have been committing to green economy. What are some ways EuroSports is working towards supporting a sustainable economy?
• To play our part in conserving the environment and supporting a sustainable economy, EuroSports has developed our first smart electric motorcycle, proudly made in Singapore and set for the global stage.

• The Group believes that internal combustion engine vehicles will eventually be displaced by greener and more sustainable alternative solutions. Motorcycles, which are disproportionately more pollutive than their four-wheeled counterparts, will face the same push towards electrification.

• We believe that EVs are just the beginning and the world will adopt other alternatives such as hydrogen fuel cell vehicles or even nuclear-powered vehicles.


10. What do you think investors may have overlooked about EuroSports' business?
• Investors might turn away due to the perception that EuroSports is a loss-making company with no growth prospects. However, our main business - the luxury automobile distribution business - is still performing well and growing. Our recent losses were mainly attributable to the investments made to develop sustainable mobility solutions through the production of our own premium electric motorcycle under the brand Scorpio Electric. Excluding the investment in the development of electric motorcycle, we would have recorded a profit.

• Leveraging on the trend of green technology, we believe that the growth of the EV industry will propel the demand for electric motorcycles. Therefore, we believe that the Group is well-poised to tap on this trend and to turnaround in the near future.

This article was first published in 10 in 10 – 10 Questions in 10 Minutes with SGX-listed companies
Designed to be a short read, 10 in 10 provides insights into SGX-listed companies through a series of 10 Q&As with management. Through these Q&As, management will discuss current business objectives, key revenue drivers as well as the industry landscape. Expect to find wide-ranging topics that go beyond usual company financials. This report contains factual commentary from the company's management and is based on publicly announced information from the company.

For more, visit sgx.com/research.
For company information, visit https://www.eurosportsglobal.com/
Click here for 1HFY2021 Financial Results