Excerpts from CGS-CIMB report

Analyst: LIM Siew Khee
■ YZJ (one of our Sg high-conviction picks) announced US$1.3bn of contracts for 29 vessels, including 22 containerships. Meanwhile, freight rates are firm.


Yangzijiang

Share price:
97.5 c

Target*:
$1.37
■ The key positive is its win from a Chinese domestic liner, Shanghai Zhonggu Logistics, of 10 units of containerships (4,600TEU).

■ Reiterate Add and TP of S$1.37, based on SOP valuations.

The stock is cheap, trading at trough of c.0.5x P/BV and 6x FY21F P/E.


US$1.3bn of contracts, making inroads with Chinese

● Included in the US$1.3bn order is a first time win from Shanghai Zhonggu Logistics, one of the largest domestic shipping liners in China, for 10 units of 4,600TEU containerships. We are positive on the fact that YZJ is making firm inroads with Chinese companies and competing head-on with state-owned yards.

Some of the key wins since 2020 have been with major Chinese companies, including SITC, Zhejiang Seasport Shipping, Shanghai Ganglu Shipping and Shanghai Baosteel.

● Other containership orders disclosed in this announcement are 4 orders of its ultralarge, 24,000TEU containerships as well as 8 units of 1,800TEU containerships.

● YZJ also has orders for some bulk carriers, which include an 82,300DWT bulk carrier, 4 units of 66,000DWT bulk carriers and 2 units of 31,800DWT great lake bulk carriers.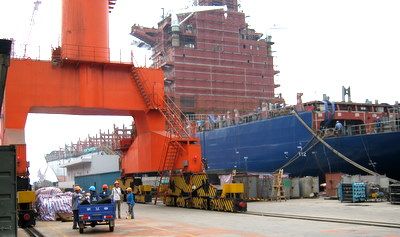 Strong order momentum; order book at c.US$3.7bn-3.9bn

● With the above wins, we estimate YZJ's order book to be at about US$3.7bn-3.9bn. It last reported a US$2.6bn orderbook in early-Nov.

Since then, it won another c.US$730m of contracts in Nov-Dec and closed 2020 with c.US$1.8bn of new orders, enhancing its earnings visibility for the next two years.

● We have factored in US$1.8bn of new orders for FY21F for now.


Reiterate Add and TP of S$1.37; 4Q20F could see forex loss

● Its strong net cash of Rmb4.4bn (S$0.22 per share) at end-Sep 20 should allow it to sustain its above-market yield of 4.3%. It is trading at a new trough and undemanding valuation of 5.6x CY21F P/E and 0.5x CY20F P/BV vs. ROE of 9%.

● Our SOP valuations peg its assets held to maturity at 1x FY20F P/BV, in line with its ROE of c.11%, and its shipbuilding business at 0.7x CY20F P/BV, -1 s.d. from its 6- year average.

● 4Q20F preview: We estimate net profit was Rmb1bn but see earnings downside if YZJ records high forex loss as Rmb dipped c.4% qoq. Recall that it recorded a Rmb367m forex loss in 3Q20.

● We reiterate our Add call as YZJ is a proxy for strong freight rates. The SCFI Comprehensive Index rose further to 2,884 as of 5 Feb (+216% yoy).

● A new wave of Covid-19 infections in China is a key downside risk.


Full report here.