Following RHB's positive report two days ago (target price: $1.27), UOB KH yesterday also highlighted Food Empire's stock.

Excerpts from UOB KH report

Analysts: John Cheong & Clement Ho
Expect Another Year Of Record Earnings; Raise Target Price By 37% To S$1.30
While the share price has increased 22% since we raised our target price on 18 Jan 21, we see room for upside as valuation remains attractive at 12x 2021F PE vs peers' average of 25x.


Food Empire

Share price:
95.5 c

Target:
$1.30
We expect another record year for core earnings, underpinned by an improvement in margins.

In view of its resilient core earnings amid a challenging environment and leading position in core markets, we believe the stock deserves to trade at a higher valuation.

Maintain BUY with a 37% higher target price of S$1.30.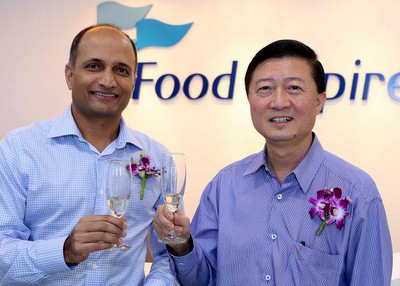 CEO Sudeep Nair and Executive Chairman Tan Wang Cheow. Company photo.WHAT'S NEW
• Compelling valuation; potential takeover target. Since our report ("Time For Re-rating On Outstanding Earnings Performance") dated 18 Jan 21, Food Empire's (FEH) share price has increased 22%.
Re-iterate BUY on the stock as we believe there is still room for upside given that valuation remains cheap at 12x 2021F PE, in comparison to regional peers' average of 25x 2021F PE.

In view of its resilient core earnings amid a challenging environment, leading position in its core markets in Eastern Europe and growing presence in its second-largest market, Vietnam, we believe the valuation gap with its peers will narrow.

Furthermore, given the depressed valuation, we do not rule out a possibility of a takeover offer or privatisation.

In addition, in the past, SGX-listed peers including Super Group and Viz Branz were acquired and privatised at significantly higher valuations of 30.0x and 16.4x respectively.

We raise our target price to S$1.30 on a higher valuation multiple of 16.6x 2021F PE, or 1SD above its historical average mean PE, as we opine the group deserves to trade at a higher valuation.

• Expect another year of record core earnings. The group is set to pull off a record year in 2020 in spite of operational and logistical issues faced in 2Q20 (due to stringent lockdowns in core markets).

Underpinned by ASP hikes and cost management, the decline in revenue in 2020 would be offset by better margins, in our view.

As such, our forecast incorporates 10.2% yoy growth in core earnings to US$28m for 2020, the group's highest level of core net profit (excluding forex loss) since its listing.

• Stable top-line and improving margin to lift earnings. FEH's increasing scale in Vietnam, efforts to streamline its operations, exit of its loss-making Myanmar business and ability to raise ASP during core market currency weakness have improved its overall margins over the years, whilst maintaining stable revenue.

Core margin rose 1.2ppt in 2019 and we expect continued margin expansion of 1.4ppt to 10.3% in 2020F.

• Aggressive stock buyback underlines confidence in business outlook. Since the start of the buyback mandate on 23 Apr 20, FEH has bought 3.3m shares, or 0.6% of its share base.

This was mainly carried out in 4Q20 to Jan 21 when FEH bought back around 3.0m shares for around S$2.0m, potentially signalling a strong set of results for 4Q20 and confidence in its business outlook in 2021.

STOCK IMPACT
• Resilient product offerings and strong brand equity. Given low product prices, and the relatively inelastic and consumer-staple nature of its products, sales volumes are likely to be more sheltered from an economic slowdown, in our view.


• Expect higher profit in Vietnam for 2020. The group's second largest and fast-growing market, Vietnam, has performed fairly well in 2020.

While the group does not separately disclose Vietnam sales, its Southeast Asia segment (which includes Vietnam and Malaysia) registered only a slight sales decline of 2.6% yoy in 9M20, in part from the exit of the Myanmar business and targeted lockdowns in certain provinces in Vietnam in 3Q20.

Management shared that sales have since recovered and profitability of its Vietnam business should improve yoy.


EARNINGS REVISION/RISK
• Maintain earnings forecast. We maintain our net profit forecasts for 2020-22 at US$28m, US$31m and US$33m respectively.

VALUATION/RECOMMENDATION
• Maintain BUY with a higher PE-based target price of S$1.30 on higher valuation multiple, at 16.6x 2021F PE, or 1SD above its long-term historical average (excluding outliers).

Full report here.