CEO Wong Teek Son on a 3Q earnings call:
On Riverstone ramping up production of cleanroom gloves: "This is an opportunity for Riverstone to extend our clean room business when our traditional competitors are not able to supply because they want to focus on healthcare gloves. We are grabbing this business because this is long-term business -- once you get customers, they are quite sticky and not willing to change suppliers."

On drivers for cleanroom glove demand: "Some of our existing customers have increased their usage by a lot, and we have secured new customers in China."
On healthcare glove demand:
"Even with vaccines available, I think the supply for gloves would still be very tight in the market, unless there's new capacity coming in. N
ew capacity can't be generated in a very short time. That is why our long- term customers, most of them want to book a certain quantity until next year-end which we are not able to commit. We can only commit a certain volume until middle of the year."


Excerpts from UOB KH report

Analysts: Llelleythan Tan & John Cheong
3Q20: Robust Results; Expect A Strong Finish For 2020
Riverstone reported exceptionally strong 3Q20 results with revenue and net profit surging on higher ASP and overwhelming demand.


Riverstone

Share price:
$1.63

Target:
$2.99
9M20 revenue and net profit formed 60% and 62% of our full-year forecasts respectively.

The second wave of infection has sent ASP higher as demand continues to outpace supply.

Cleanroom gloves ASP benefitted from a lack of supply.

Phase 6 capacity expansion is almost completed. Maintain BUY and PE-based target price of S$2.99 (ex-bonus issue).


RESULTS
• Robust results in line as COVID-19 pandemic rages on. Riverstone Holdings reported robust 3Q20 revenue and net profit on higher ASP and overwhelming demand.

3Q20 revenue and net profit soared 92.0% yoy and 401.6% yoy; 9M20 formed 59.8% and 62.1% of our 2020 forecasts respectively.

9M20 gross profit rose 390% yoy as ASP has risen sharply due to overwhelming demand, and formed 65% of our full-year forecast.

Despite an increase in raw material costs in 3Q20, 3Q20 gross margin grew 14.6ppt qoq.

We expect Riverstone to end the year with a bang as ASPs of its healthcare and cleanroom gloves continue to rise in Nov 20.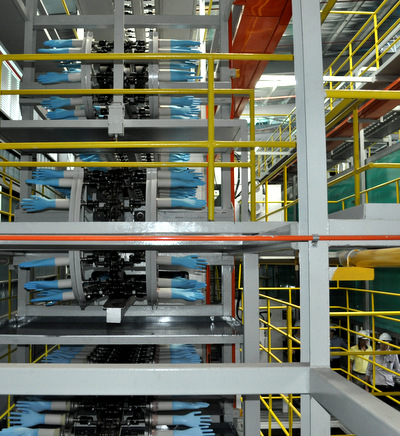 Riverstone's main production is based in Taiping, Malaysia. NextInsight file photo• Second wave of infection sent ASP higher. Due to the resurgence of COVID-19 in several countries, Riverstone is seeing strong demand for its healthcare gloves.

Its orderbook has stretched to 1H21 even with soaring ASP.

Riverstone is unable to fulfil any new spot orders until 1H21 as capacity is almost fully utilised.

ASP has been on the uptrend, with an upcoming Nov 20 hike expected to increase blended ASP to above US$70/'000pcs.

Although prices of raw materials have increased by 25% from Sep 20 to Nov 20, management expects ASP to increase 30-35% qoq in 4Q20, negating any significant impact on its bottom-line.


• Cleanroom gloves a surprise winner from COVID-19. Riverstone's cleanroom gloves segment has emerged as the main beneficiary of the COVID-19 pandemic.

The segment has seen an impressive 30% yoy increase in sales volume in 1H20 and is expected to grow a further 50% yoy in 2H20.

Riverstone's main cleanroom gloves competitors - Ansell and Kimberly Clark - have shifted their cleanroom gloves production lines to healthcare gloves.

An expected hike in Nov 20 is expected to increase ASP to US$85-90/'000pc (usual ASP pre-COVID-19: US$60/'000pcs).

• Phase 6 capacity expansion almost completed; phase 7 on the way. New capacity of 1.5b pieces from phase 6 expansion is set to be fully commissioned by Dec 20, expanding total capacity to 10.5b pieces/year.

Management has also guided that plans for phase 7 are being ramped up, with one double line to be commissioned in Apr 21 and one double line every month from Apr 21 to Sep 21.

This brings total capacity to 12b pieces by 4Q21, with some customers already booking capacity from phase 7.

STOCK IMPACT
• Announcement of successful COVID-19 vaccine trial. It was reported that Pfizer's vaccine was 90% effective in preventing COVID-19 among trial volunteers who had no evidence of prior coronavirus infections.

This is significant as a vaccine trial with a 90% efficacy rate at such a late and large-scale trial is comparable to previous successful vaccines such as the measles vaccine.

However, management said there is still a vast shortage of gloves due to the global resurgence of COVID-19 that there would still be strong demand for gloves until end-21.

EARNINGS REVISION/RISK
• We maintain our earnings forecasts and assumptions as we have factored in the expected ASP hikes.


VALUATION/RECOMMENDATION


• Maintain BUY and PE-based target price of S$2.99 (ex-bonus issue), pegged at 15.9x 2021F PE, or -2SD of Kossan Rubber's 3-year forward PE band.

• We reckon the supernormal earnings from the current upcycle in 2021 will eventually normalise in 2022. Thus, pegging our target price to a lower PE multiple would have priced this in.



SHARE PRICE CATALYST


• Multiple waves of COVID-19 infections.
• Better-than-expected ASP hike and operating leverage.

Full report here.