Singapore-headquartered ASM Pacific Technology (ASMPT) says it is confident about its position and ability to continue innovating and developing advanced solutions to ride some long-term megatrends.



"In terms of data, a fundamental market growth driver will be the accelerating and widespread roll-out of 5G Infrastructure."



-- CEO Robin Ng
Take the fast-moving 5G infrastructure rollout.

It will bring massive possibilities for data capture and creation, transmission, computation, storage, and use.

This is one of the fundamental market growth drivers for Hong Kong-listed ASMPT, said Group CEO Robin Ng in its virtual 3Q results briefing recently.

5G base stations, for example, require 8 - 16 times the number of power amplifiers compared to 4G base stations[1], driving 'capability and capacity buys' for ASMPT's equipment, he said.
[1] https://semiengineering.com/power-amp-wars-begin-for-5g/
Drivers for Capacity Buys[2]
(5G Smartphones)

4G

5G

Increase

Filters

40

70

1.75x

Bands

15

30

2.0x

Tx/Rx Filters

30

75

2.5x

Switch Throws

10

30

3.0x

CA Combos

10

200

20.0x

Sensors

6

7

1.17x

Camera Module

5

7

1.4x

Microphone

2

3

1.5x

(Source: various[3])

[2] Skyworks Presentation "5G Creates a Step Function Increase In Performance"

[3] Skyworks Presentation, Huawei P30 Pro, P40 Pro+, iPhone product specs, management estimates
5G devices will require a greatly increased number of components, again driving 'capability and capacity buys' for ASMPT.

And when we say 5G devices, it is not just 5G smartphones.

5G-powered data speed and throughput will lead to increasing demand for sensing, Internet-of-Things and High Performance Computing capabilities across many industries.

AI and machine learning capabilities will proliferate into every aspect of life.

Across the 5G ecosystem, components will require more sophisticated packaging solutions.


This is something that directly plays into ASMPT's capabilities in Advanced Packaging and System-in-Package offerings, said Mr Ng.

Advanced Packaging is one of ASMPT's significant growth enablers, the others being mini and micro LED solutions, CMOS Image Sensor solutions (or CIS), and Silicon Photonics.

Mr Ng dwelt on these areas:
The market for Advanced Packaging solutions in devices of all types is expected to more than double its revenue, from US$29 billion in 2019 to US$42 billion in 2025 as quoted by Yole Développement[5] this year.

ASMPT is in a good positon to benefit from this trend as a key provider of equipment to enable these AP solutions.

[5] Yole Développement 'Advanced Packaging Revenue Forecast'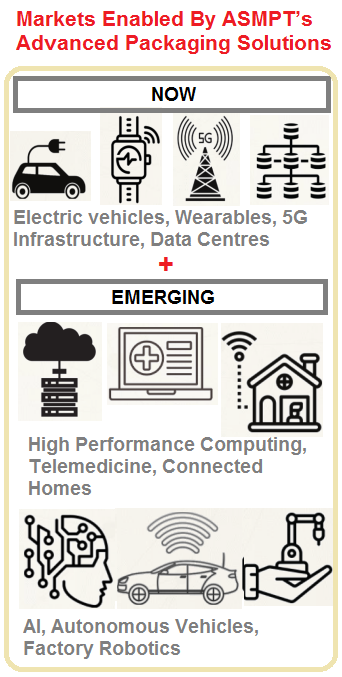 "Advanced Packaging is a key growth enabler for ASMPT," said Mr Ng, adding that it can basically achieve cost reduction and time to market while enhancing system performance in lieu of silicon chips becoming ever smaller and more difficult and expensive to develop and produce.

A wide range of current and potential Advanced Packaging markets are enabled by ASMPT's solutions – from wearables, vehicles, data centres and 5G equipment of today, to emerging areas in artificial intelligence, factory robotics, telemedicine, smart cities, connected homes and autonomous vehicles, and evolving high speed computing capabilities, just to name a few.

"With the broadest suite of Advanced Packaging Solutions in the industry, ASMPT is either one of the leading players, or is a strong contender in most of the Advanced Packaging sub-categories."

ASMPT said it is well-positioned for growth across the entire spectrum of technology and capacity buys.


These are expected to generate healthy technology buys for ASMPT.

The world is increasingly demanding better and sharper picture quality, especially with the ever-expanding innovation in smart wearables and displays on devices - for example, car displays, the rise of Augmented and Virtual Reality, and the expanding possibilities for television, and mid-to-large format LED displays.

According to research firm Yole Développement[6], Micro LED has many advantages, enabling 30 times greater brightness than OLED in consumer devices such as smartwatches and 10 times higher resolution in Virtual Reality devices.
[6] https://www.eenewsanalog.com/news/microled-display-market-poised-lift-0


"We are already experiencing increasing adoption of Mini LED with some key players entering into mass incorporation of Mini LED into their TVs, LED video walls and other devices," added Mr Ng.


"We have already secured key customers in Asia and being a major player in Mini and Micro LED packaging, we are well-aligned to capture this significant market opportunity when it presents itself."
-- CEO Robin Ng
Other players are experimenting with Micro LED solutions.

Overall, rapid adoption of Mini and Micro LED in consumer devices, gaming monitors and video walls will help drive a massive technology buy cycle.

Data transmission speed and throughput requirements will continue to place increasing demand on packaging solutions.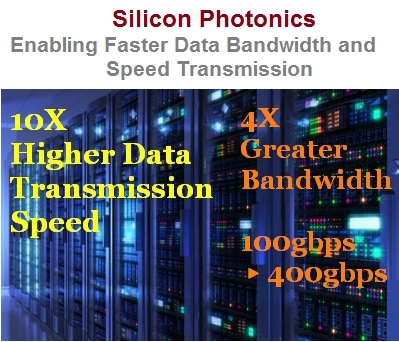 Silicon photonics technology enables data transmission speeds of up to ten times faster[1], and switching bandwidth speeds four times faster for datacentres[2].

[1] Yole Développement "Silicon Photonics 2020 Report"
[2] Yole Développement "Silicon Photonics 2020 Report" & 400G transceivers and cables: Q&A for Arista Networks | Cabling Installation & Maintenance
Silicon photonics technology uses light pulses to move data at high speeds over optical fibres, instead of conventional electrical signals over copper wires.

This technology requires sub-micron precision equipment and is poised to grow when 5G capabilities and cloud computing massively proliferate.

ASMPT's Amicra unit offers high precision die bonding solutions to top tier players.

"We are engaged with major IDMs[7] and OEMs in these areas who are using our tools for mass production. We are confident about capturing future opportunities in data centre applications and industrial manufacturing to meet ever-increasing data transmission requirements."

According to research firm Yole Développement[8], the Silicon Photonics market will have a healthy CAGR of 42% from 2019 till 2025.
[7] IDM: Integrated Device Manufacturers
[8] Yole Développement "Silicon Photonics 2020 Report"
Long-term o
utlook: On the cusp of new tech era
"The past few years have seen a rapid transformation of technology and constant innovation, but we are just at the cusp of an era of massive connectivity, speed, and possibility," said Mr Ng.

"Our equipment is being increasingly used for new market applications, expanding the range of possibilities for semiconductors. With our growth enablers and strong capability in key technologies in place, the prospects for our business remain positive and solidly supported by the key megatrends I have described today."

The company's business has emerged from an uncertain period in the first half of the year. ASMPT guided that its revenue in 4Q20 would come in at between US$530 million and US$590 million.


"With the localisation of our supply chain in China firmly in place, our China business is well-positioned to gain a substantial share of this growing pie."


-- CEO Robin Ng
In terms of geography, a key growth market for the semiconductor industry is China, which consumed US$212.2 billion worth of semiconductor products in 2019. Research firm Yole Développement[9] expects this to increase to US$624 billion by 2030.

"Our position in core markets, our total solutions suite, our commitment to innovation, and our strong customer relationships bodes well for the development and growth of our longer-term business prospects," said Mr Ng.

"We are confident that the key market growth drivers and enablers I have shared with you today will continue to drive strong demand for ASMPT's business for years to come."
[9] Yole Développement, "Status of Advanced Packaging Industry 2020" Report

See 3Q results Powerpoint material here.