SG listcos

Closing price / date

25 Aug closing price

Change

$1.85 (Aug 19)

$1.42

- 23.2%

Top Glove

$9.30 (Aug 6)

$8.38

-9.9%

Riverstone

$4.69 (Aug 7)

$3.96

-15.5%

UG Healthcare

$3.37 (Aug 11)

$2.30

-31.7%

*Medtecs produces personal protective equipment but not gloves

Did glove stocks fall in recent days and weeks due to profit-taking? Likely.

When investors have lots of paper profits to realise, news about impending vaccines for Covid-19 -- and the possibility of a Malaysian windfall tax on glove producers -- you will get downward pressure on stock prices.

Still, these factors may not reflect underlying fundamentals of the various pandemic-related business beneficiaries such as glove and PPE manufacturers.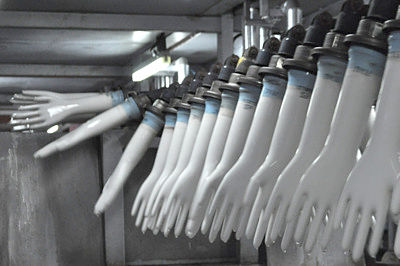 Credit Suisse, in a report on 24 Aug 2020, looked to history.

"The recent volatility in share prices, we believe, was largely due to news on the vaccine and questions raised in The Edge newspaper and other news media regarding the possibility (subsequently denied in parliament) of a windfall tax," wrote analyst Joanna Cheah, CFA.

"During SARS in2002/03, we observed that share prices continued to rise after WHO declared the outbreak as contained in Jul-2003.


"Although our current estimates point towards a peak in quarterly earnings by 1QFY21, we highlight that there is room for this to change materially, should ASP continue its strong upward momentum."



-- Joanna Cheah, CFA
(Top Glove's share price peaked along with its peak quarterly earnings growth announced in Oct-2003).

"Meanwhile, during H1N1, glove stocks continued to outperform even post approval of five vaccines by the FDA.

"Prices subsequently reversed when earnings momentum turned negative. Our estimates point towards a peak in quarterly earnings (for Top Glove) in 1QFY21E, but this could change, should ASP continue its strong upward momentum."

Positive and negative news from Top Glove
Credit Suisse recently hosted a call with Top Glove management, where it learnt that:

• Overall lead time for its glove delivery has extended to 2022.

Current backlog for nitrile gloves is at 590 days and latex at 490 days.
• Current average selling price (ASP) for nitrile gloves is about US$65-70 (after a hefty 30% hike in Aug).

A 10-15% increase is projected for September (previously 5%) and another hike of >10% in October (previously 5%).

Spot price is about double at ~US$130.

• Raw material prices for nitrile have gone up 10% monthly.

Top Glove expects it to increase by 15% between Oct-Nov.