Following the release of 1H results, analysts covering Riverstone has upped their target prices. DBS Research: $5.51 (previously $3.90) and CGS-CIMB: $5.55 (previously $3.90). UOB Kay Hian now has the highest target of $6.00 (see below)

Excerpts from UOB KH report

Analysta: Llelleythan Tan & John Cheong

1H20: Expect A Much Stronger 2H20; Raise Target Price By 67% To S$6.00


1H20 net profit grew 119% yoy due to higher ASPs and robust glove demand, meeting 33% of our 2020 forecasts.


Riverstone

Share price:
$4.69

Target:
$6.00
We understand that the profit for Jun 20 was much higher than that of Mar and Apr 20 as the aggressive ASP hikes only started in Jun 20.

We expect 2H20 net profit to grow by 120% hoh due to robust ASPs.

We raise our 2020 and 2021 net profit forecasts by 41% and 83%, respectively.

We also roll over our valuation base to 2021 (23.2x 2020F PE). Maintain BUY.

• Robust results, expect a much stronger 2H20.
Riverstone Holdings (Riverstone) reported robust 1H20 results as both revenue and net profit surged on higher ASP's and overwhelming demand.

1H20 revenue and net profit grew 30.5% yoy and 119.3% yoy respectively, forming 38% and 33% of our 2020 forecasts.

We note that the 1H20 numbers appear weak because the profit for Jun 20 was much higher than those recorded in the months of Mar and Apr 20, as the aggressive ASP hikes only started in Jun.

Moving forward, we expect Riverstone to post much stronger results for 2H20 as ASPs continue the uptrend (+10% mom in July and Aug 20) as global glove demand continues to outpace supply.

• ASPs for healthcare gloves expected to rise further.
With ASP hikes only starting in June, ASPs for healthcare (HC) gloves are expected to rise further by 30% qoq in 3Q20 as demand for HC gloves remain strong due to the ongoing Covid-19 pandemic.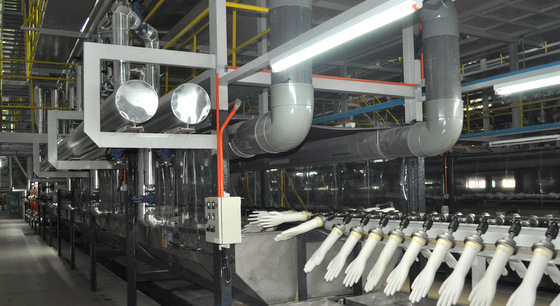 "Even with the discovery of a vaccine, management expects the strong ASP momentum to sustain at least until 1Q21, as the lead time for orders is currently till 1H21.

"Also, Riverstone has seen a strong surge in demand from countries such as the US and Japan, countries that are experiencing a resurgence in Covid-19 infections."



-- UOB KH report
Spot orders are currently at 15% of sales and management expects this proportion to be maintained going forward.

• Another surprise ASP hike for cleanroom gloves. The cleanroom (CR) gloves segment posted sturdy growth as sales volumes in 2Q20 increased 26% yoy, backed by strong demand from the pharmaceutical and semiconductor industries.

Management has stated the strong growth was partly contributed by CR glove competitors switching their CR glove lines to HC glove production lines, leading to new spillover demand from these competitors.

With an ASP hike already in place for Jun-Jul 20, the robust demand for CR gloves has led to a second ASP hike that management expects in Aug-Sep 20.

• Capacity expansion remains on track. The new capacity of 1.4b pieces from Riverstone's phase 6 expansion remains on track with one single line already commissioned in Jul 20 and double-lines being commissioned every month from August to Dec 20.

This would spell a total capacity of 10.4b pieces by end-20 and would allow Riverstone to absorb more demand with the additional capacity, further boosting revenue.

Also, construction for phase 7 has already begun and Riverstone is expected to commission the first line in Apr 21, expanding total capacity to 12b pieces by end-21.

STOCK IMPACT
• Undeterred by the possibility of a Covid-19 vaccine by 4Q20. Several promising Covid19 vaccine candidates have entered Phase 3 trials at historic speed, raising the possibility that a vaccine may be ready by 4Q20.

However, we reckon that this would not immediately affect glove demand.

According to the medical experts from WHO and FDA, achieving herd immunity may take 1-2 years due to the logical constraints from manufacturing to delivery.

Also, existing vaccine manufacturing facilities do not have the capacity to produce the billions of vaccines required for global herd immunity by 1H20.

Therefore, we believe Riverstone's ASP's will continue its uptrend till at least 1Q21.

EARNINGS REVISION/RISK
• We raise our 2020-22 EPS forecasts, backed by favourable tailwinds. We adjust our revenue forecasts to RM1,679.8m (+11.5%), RM2,081.7m (+30.6%) and RM1,706.8m (+5.1%) for 2020-22 respectively.

Our net profit forecasts are RM440.7m (+41.8%), RM586.7m (+82.7%) and RM365.7m (+12.4%) respectively.

The significant increase to our net profit forecasts is due to higher gross margin assumptions for 2020-21 at 35.8% (+6.7ppt) and 36.5% (+8.9ppt) respectively, along with higher sales volume and ASPs assumptions for 2020-22.


VALUATION/RECOMMENDATION


• Maintain BUY with a higher PE-based target price of S$6.00 (from S$3.60), pegged to a slightly higher 23.2x 2021F PE.

This is still based on +1SD of Kossan's 3-year forward PE band.

Also, we have now based our valuation on 2021F instead of 2020F earnings as we reckon 2021F earnings will fully price in the ongoing ASP hikes.

Although share price is at its all-time high, Riverstone is trading at only 17.5x 2021F PE, well below the sector's 22.3x 2021F PE.


SHARE PRICE CATALYST
• Second wave of COVID-19 infections.
• Bonus issue or share split.
• Better-than-expected ASP hike and operating leverage.

Full report here.