The stock price run of Malaysian glove manufacturers following the Covid-19 outbreak has turned them into billion-dollar companies, such as:

Company

Market cap

Share price

1 Jan 2020

24 July 2020

S$2.3 billion

S$0.93

S$3.15

Top Glove

S$22.7 billion

S$1.54

S$8.40

Hartalega

RM60.6 billion

RM5.56

RM17.68

An exception is Singapore-listed UG Healthcare, which has not reached the billion-dollar mark: Its market cap is still a sizeable S$325 million.

But more importantly, UG has immensely enriched its shareholders – ie after its stock ran from 14 cents at the start of 2020 to $1.66 recently.

That's a whopping 12-bagger.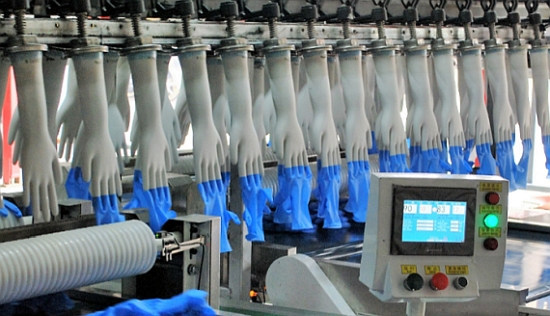 VIP Gloves operates out of a factory in the Malaysian state of Selangor.
Photo: Company

As glove manufacturers surged forward, one peer, VIP Gloves, listed on the ASX, sports a market valuation of A$60 million or so.

It looks relatively small. Interestingly, it has shot up 144% in the past 4 weeks.

Unlike its peers, VIP Gloves failed to capture investor attention early during the Covid period.

In recent years, it was a struggling business, and thus didn't have an investor following, let alone analyst coverage and fund managers' interest.

Here's more:

1. Poor financial performance: VIP Gloves has been loss-making for each of the past five years.

It was effectively dormant for many years as an investment company until it acquired, in Jan 2016, a Malaysian producer of roller conveyor chain systems and components which service the glove manufacturing industry.

VIP Gloves subsequently also established a glove manufacturing business in Malaysia which started operations in Aug 2016 with two production lines.

The performance of these two business segments were reflected in the results of the past three financial years (ending June):



Source: Company

Losses soared in FY2019 to A$4.8 million mainly because of one-offs (such as impairments) of A$2.6 million relating to its conveyer chain parts manufacturing operations which have since been discontinued.

The question of whether it is a going concern was raised in its 1HFY20 financial statement.

Reason: Its current liabilities exceeded its total current assets by $3.8 million as at 31 Dec 2019.

2. Small annual production capacity: Starting from an actual output of more than 130 million gloves in FY17, VIP Gloves has raised its nitrile glove production capacity to around 450 million gloves a year.

Two new lines were commissioned in mid-2020, which brought the capacity up to 620 million.

For perspective, Riverstone's capacity is 10.4 billion, and UG Healthcare's, 2.9 billion.

3. Weak operating leverage: In a business where volume matters, VIP Gloves' production capacity could not capture significant economies of scale.

4. Listing in faraway Australia: It is listed on ASX, far from its home base of Malaysia where its peers command rich valuations (from adoring investors who are familiar with management and the businesses).

In the past 12 months, up until 8 July 2020, VIP Gloves' stock price was going nowhere (except for a brief spike in April following a positive business update) with little or no trading.



Chart: Simply Wall St

Still, a rising tide lifts all boats: The surge in global demand for gloves is benefitting VIP Gloves, and investors have just wokened up to it, going by the stock price movement.

From 8 July 2020, the stock has enjoyed a strong updraft -- surging from A$0.038 to A$0.055 and, since then, hovering in the A$0.08-0.09 range.

The company's market valuation is around A$60 million on a A$0.08 share price and 745 million share capital.

Leading to this, there have been positive factors at play, including:

1. Uninterrupted production: VIP Gloves issued an update on 21 April 2020 saying that during Malaysia's Movement Control Order (MCO) lockdown, medical glove manufacturing was considered an essential sector, so glove production at VIP Gloves continued to operate 24 hours, 7 days a week.

2. Overflowing orders: Its orderbook is filled till June 2021, said the company in another update on 24 June 2020.

"Sales orders received by the Company have been filled through to the

second quarter of 2021

, with recent orders

at higher sale prices

which vary depending on specifications and order quantities."

"At present, the Company's products are predominantly supplied to third party distributors on a OEM basis, which in turn are sold locally in Malaysia and to overseas markets in Asia and the Middle East, all catering to a wide range of industries such as hospital, pharmaceutical, agriculture, hospitality, food and beverages, and electronics industries."

3. Margins expanding: With average selling prices rising, the company is likely enjoying positive operating cashflow and profits. In addition, VIP Gloves is likely to be having it real good through lower raw material costs.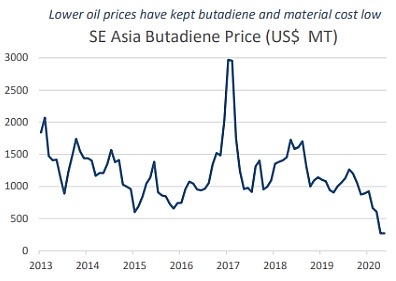 Source: Phillip SecuritiesButadiene is the key raw material and its market price has more than halved since the start of 2020.

Generally speaking, butadience accounts for about 50% of total costs in the making of gloves. (See: Butadiene market looks set to stay historically weak for rest of year)

4. Capacity expanding: The company said it will add another 4 production lines over the next 18 months, raising its annual capacity to 1 billion gloves.

That's a more respectable figure but won't imply an operating leverage that will yield profit margins approaching anything that the big boys like Top Glove enjoy.

VIP Gloves estimated that the total capital expenditure for this expansion is about A$6.5 million.

Likely, raising funds has become easier. The company placed out 76.5 million new ordinary shares in June 2020 at 3 cents a share to raise A$2.3 million for two new production lines.

There will be further cash inflow of A$10.3 million when a sale and leaseback agreement is completed (by 3 Aug 2020) involving land and buildings of VIP Gloves in Malaysia.


Conclusion: While VIP Gloves (formerly known as Voltage IP) struggled to make profits in the past three years, the pandemic is giving the business a big boost.

We cannot be sure of the exact impact until the company unveils its 2HFY20 results in August.

That, together with a hopefully detailed narrative from the management on the near-term prospects, will help investors navigate questions such as:

» At 620 million annual production capacity currently, is the company's market valuation of A$65 million under-priced? Or reasonable? Or over-priced?

» Are selling prices pre-determined when orders are received or closer to the delivery dates to reflect market prices?


»
Will there be further fund raising leading to shareholder dilution? Or will a surge in operating cashflow from the current business boom be sufficient to fund forseeable capex?

» Is VIP Gloves progressing towards a dual listing either in HK or Malaysia, as reported in Nov 2019 (see:
ASX-listed VIP Gloves mulls dual listing
)?


See Aussie media articles:

• VIP Gloves to boost annual output 60% with four new nitrile glove production lines

• VIP Gloves ramping up to meet demand in a booming global market