Excerpts from DBS report

Analyst: Lee Keng LING
All gloved up and ready to go!
Strong demand + tight supply = Higher ASP and margins. The
number of COVID-19 cases has escalated in recent weeks.


Riverstone

Share price:
$3.00

Target:
$3.90
A
second wave of infections could see glove demand sustained at
high levels. Riverstone's orderbook is fully locked in till June
2021.

Average selling price (ASP) and margins sky-rocketed to
new territory amidst this pandemic outbreak.

ASP has been on a rising trend since May 2020, due to the strong demand and tight supply.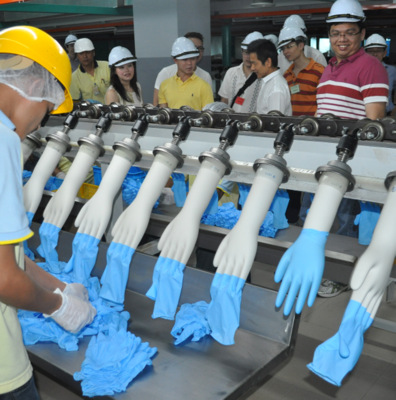 "The group is running at full capacity of c.95% utilisation currently. Its orderbook is fully locked in till June 2021.

"At current price-to-earnings (PE) of 21.0x and 19.8x on FY20F
and FY21F earnings respectively, Riverstone is trading at a
c.40% discount to peers. This is unjustifiable, in our view, given
its leadership position in the cleanroom segment."
-- DBS report
We expect this rising trend to continue at least till September.

Beyond that, ASP could stabilise, and the rate of increase is expected to plateau.

Depending on the pandemic situation, ASP could gradually normalise in 2022.

We have imputed a 45% y-o-y increase in ASPs for healthcare gloves and 10% for the cleanroom segment in FY20F, and flat in FY21F.

Gross margin is raised to 35% for FY20F and FY21F, from 27.5%, as the ASP hikes more than offset the slight increase in costs.

Where we differ: We are optimistic that Riverstone can continue to generate above-industry margins given its strong market share in cleanroom gloves.

Potential catalysts: Further capacity expansion, higher ASP and inorganic growth.

Valuation:
Maintain BUY call with higher TP of S$3.90. Earnings for
FY20F/FY21F are raised by 46%/48% on higher ASP and
margins.

Our TP is pegged to 24x FY20F earnings, +2SD of its
5-year mean forward PE.

We have switched our valuation
methodology from relative valuation to peers, in order to be
consistent with our valuation methodology for the rest of the
glove manufacturers.

Key Risks to Our View:
Global economic slowdown. While margins for cleanroom gloves are higher, demand for these gloves could be threatened by a global economic slowdown.

Full report here.