6. There are two asset acquisitions -- Shunde Metro Mall and Tanbei Metro Mall -- about to be completed. How accretive will they be to distributions in 2020 and 2021? And what factors were crucial to the decision to acquire the assets?

6.拟定收购的两个资产 - 顺德店和坦背店,即将完成收购。请问这项收购对于DRT于2020年和2021年的股息收益是否具增值性?DRT是基于哪些因素的考量而决定收购这两个资产?

They key acquisition rationale are:

a. Strengthen DRT's presence in the GBA
b. Strategic acquisition of strong performing assets
c. Enlarged portfolio providing greater income resilience
d. Improvement in portfolio, occupancy, WALE and land lease tenure

- Occupancy rate by NLA will be increased from 98.6% to 98.7% as at 30 September 2019

- WALE by GRI will increase from 4.1 years to 4.3 years based on 30 September 2019 numbers

- WALE by NLA will increase from 7.1 years to 7.4 years based on 30 September 2019 numbers

- Remaining lease tenure will be extended from 26.5 years to 28.2 years by NLA as at 30 September 2019

e. Attractive value proposition

- Significant discount of over 25% to appraised values by D&P and JLL

- NPI and NAV accretive terms both with or without Distribution Waiver


f. Positive impact on the Enlarged Portfolio

Stock price

83 c

52-week range

75 – 89 c

Market cap

S$539 m

PE (ttm)

--

Dividend yield

6.6%

1-year return

- 6%

Shares outstanding

648.6 m

Source: Yahoo!
- DRT's income will be further diversified with no single property contributing more than 23.5% to DRT's consolidated revenue for FY2018 as opposed to 29.1% before the proposed acquisition.

- DPU without distribution waiver will increase by 19% as if the Proposed Acquisition were completed on 31 December 2019.

- NAV per Unit will increase by more than 5% post-acquisition. The proposed placement to partially finance the acquisition will increase the market capitalization and free float of DRT, which potentially improves the trading liquidity of the units.

主要收购理由如下:
a. 巩固其在大湾区的立足点
b. 项目良好的战略位置和竞争优势
c. 扩大投资组合并提供更好的收入韧性
d. 投资组合出租率,WALE和土地使用期限的改善
- 出租率(按租赁面积)将从98.6%提高到98.7%
- 基于2019年9月30日的数据,平均租赁期(按总租金收入)将从4.1年增加到4.3年
- 基于2019年9月30日的数据,平均租赁期(按租赁面积)将从7.1年增加到7.4年
- 截至2019年9月30日,剩余租赁期限将从26.5年延长至28.2年(按租赁面积)

e. 极具优惠的收购价格
- 与估值相比,收购折扣超过25%
- 含或不含分配弃权的NPI和NAV增值条款
f. 对投资组合收益的正面影响
- DRT的收入将进一步多样化,没有任何一处资产对DRT 2018财年的合并收入贡献超过23.5%,而在拟议收购前为29.1%。
- 每股份单位分配额(不含分红豁免)会增长19.0% 若拟收购在2019年12月31日完成。
- 单位净资产会增长超过5% 若拟收购在2019年12月31日完成。
g. 提升市值及流通单位数量,这可能提高单位交易流动性。

7. Why a private placement instead of a rights issue?

7.为什么要选择私募而不是配股呢?

A rights issue is typically done at a large discount to current market price and would effectively be a cash call on existing unitholders. Further, the execution period of a rights issue is typically significantly longer than a private placement and as a private placement allows DRT to place the units to new investors, as well as existing unitholders who are not substantial unitholders, aprivate placement could potentially be more beneficial to trading liquidity and market participation in DRT.

配股通常是以当前市场价格的大幅折扣进行操作的,实际上也是对现有单位持有人筹集资金。此外,配股的执行期通常比私募要长得多,由于私募发行允许DRT向新投资者以及非主要单位持有人配售新股,私募发行可能更有助于提升DRT的交易流动性和市场参与性。
8. The Trust has low liquidity on the stock exchange. Why do you think this is the case and will you engage / communicate more frequently with the market?





8.

信托的流动性较低。流动性为什么会这么低呢?您是否会更频繁地与市场互动和交流?





Since the IPO of DRT, the management has been very actively engaged in investor relations with the investment community and DRT has secured research coverage from research houses. DRT will continue with its active engagement and continue to seek to improve awareness with both

investors and financial institutions. As it is currently envisaged that the proposed acquisition of Shunde Metro Mall and Tanbei Metro Mall would be funded through a combination of equity and debt, the proposed placement will increase DRT's total number of units in issue, which results in an increase in market capitalization and free float and should be beneficial to the trading liquidity of DRT.





自

DRT

的上市以来,管理层一直积极参与投资界的投资者关系,目前

DRT

已获得两家研究机构的研究报道。

DRT

将继续积极提高投资者和金融机构对

DRT

的认识。由于目前预计拟议收购将通过股权和债务相结合的方式进行融资,拟进行的配售将增加

DRT

的发行单位总数,这将提升市场资本化和流通量,对

DRT

的交易流动性也将带来益处。



Throughout 2019, the senior management and the investor relations team reached out to investors and analysts in Singapore, Bangkok, Beijing, Hong Kong, Shenzhen and Taiwan through conference calls, one-on-one meetings, conferences and non-deal roadshows. The Trust also supported investor education through its participation in the annual REITs Symposium for the second year. Visits to the Trust's retail malls in Zhongshan were also conducted for the investment community.



在

2019

年里,高级管理层和投资者关系团队通过电话会议,一对一会议,峰会和非交易路演与新加坡,曼谷,北京,香港,深圳和台湾的投资者和分析师进行了交流。

DRT

也连续两年参加年度房地产投资信托基金研讨会来教育投资者,也为投资界举办了实地考察。



We will continue to engage the market by conducting meetings with Unitholders and the investing community, to present an update on DRT's performance and developments while having a dialogue with them to solicit and understand their views and feedback in relation to DRT and address their concerns.



我们将继续与单位持有人和投资界保持沟通,并及时提供有关

DRT

业绩和发展的最新信息,同时与他们进行交流,以理解他们对于

DRT

的看法和反馈并解决他们的疑虑。




9. The Chinese government has recently issued unveiled financial support guidelines to support the development of the Greater Bay Area. Will there possibly be spillover near-term benefits for the Trust or are we looking at a longer time frame?

9.中国政府最近发布了新的财政支持指南,以支持大湾区的发展。这会为DRT带来近期利益吗?还是需要专注于更长期的发展才能看到效益?

Recently, the Chinese central government has unveiled financial support guidelines with 26 specific measures to support the development of the Guangdong-Hong Kong-Macao Greater Bay Area ("GBA"). The guidelines were jointly issued by the People's Bank of China (PBoC), the China Banking and Insurance Regulatory Commission, the China Securities Regulatory Commission and the State Administration of Foreign Exchange.

The guidelines include 26 specific measures across five areas: promoting the GBA's cross-border trade and facilitating investment and financing, expanding the opening-up of the financial sector, promoting the connectivity of financial markets and financial infrastructure, boosting innovation of the GBA's financial services and preventing cross-border financial risks.

5月14日,中国人民银行、银保监会、证监会、外汇局等四部委发布《关于金融支持粤港澳大湾区建设的意见》,从促进粤港澳大湾区跨境贸易和投融资便利化、扩大金融业对外开放、促进金融市场和金融基础设施互联互通、提升粤港澳大湾区金融服务创新水平、切实防范跨境金融风险等五个方面提出26条具体措施。


Promoting the development of the Greater Bay Area is a major strategic decision made by the Chinese government, and it is expected to have a significant and far-reaching impact on China's reform and opening-up. These new measures will also help the social and economic development of the region as it recovers from the novel coronavirus epidemic.

During the Two Sessions, the Chinese government reiterated that it will move forward with the coordinated development of the Beijing-Tianjin-Hebei region, the development of the Guangdong-Hong Kong-Macau Greater Bay Area, and the integrated development of the Yangtze River Delta.

The development of Greater Bay Area is also one of the main key topics in the recent Two Sessions. This shows that the Chinese government attaches great importance to the development projects in the Greater Bay Area and is committed to make it a success.


促进大湾区发展是中国政府的一项重大战略决策,预计将对中国的改革开放产生重大而深远的影响。这些新措施能够帮助该地区从疫情中恢复过来,从而促进该地区的社会和经济发展。在两会期间,中国政府重申将推进京津冀地区,粤港澳大湾区以及长三角的综合发展。这显示中国政府对于大湾区发展项目的高度重视并致力于使其成功。

DRT's portfolio comprises 5 retail malls with a diversified tenant mix located within Guangdong Hong Kong-Macao Greater Bay Area (the "GBA"). Post-acquisition of Shunde and Tanbei Metro Malls, DRT has a strong pipeline of another 17 ROFR properties located in the GBA from itsDRT's portfolio comprises 5 retail malls with a diversified tenant mix located within Guangdong Hong Kong-Macao Greater Bay Area (the "GBA").


"Post-acquisition of Shunde and Tanbei Metro Malls, DRT has a strong pipeline of another 17 ROFR properties located in the GBA from itsSponsor of which 11 are completed and 6 are under development. With the ongoing development of the GBA, the management believes that DRT will be able to benefit from the economic growth as its properties are strategically located in the heart of the GBA and is well positioned to capitalize on the growth of the region."
The development of the GBA could lead to an increase in rental rates and property valuation for DRT in the long term. DRT will undertake a prudent investment approach to inject assets which enhances its portfolio and manage its cost of borrowing to ensure that a competitive DPU yield for its unitholders.


DRT拥有5间购物中心,皆位于粤港澳大湾区。顺德和坦背店的收购后,DRT拥有来自发起人的另外15项现成资产的优先购买权,均位于粤港澳大湾区("GBA"),其中9项已完成,6项正在开发中。随着GBA的不断发展,管理层认为,DRT将能够从其经济增长中获益,因为它的资产在战略上位于GBA的中心,并且处于能够充分利用该地区增长的有利位置。GBA的发展可能会导致DRT长期的租金和资产估值上升。DRT将采取谨慎的投资方法注入资产,以增强其投资组合并管理其借贷成本,确保单位持有人的每单位分配收益率具有竞争力。


10. Can you tell us more about the Sponsor?


10.您能提供发起人的信息吗?
Our Sponsor is Zhongshan Dasin Real Estate Co., Ltd, one of the leading real estate developers in Zhongshan City, Guangdong Province. It is affiliated to Zhongshan Dasin Holdings Co., Ltd. (Dasin Holdings).

Founded in 1984, Dasin Holdings is a large ecological chain private enterprise with businesses in commercial, real estate, building, property service, retail, catering, food, hotel, technology, education, finance, medical treatment and land transport.

Dasin Holdings first started off in the curtain wall industry and expanded to real estate in 2001.

In 2011, Dasin Holdings has set its eyes on developing commercial real estate as its core business. Since then, Dasin Holdings has further strengthened its market position in the industry.

Currently, Dasin Holdings has more than 6,000 employees and the Group paid about RMB600 million in taxes in 2019.


我们的发起人是中山市大信置业有限公司,是广东省中山市处于领先地位的地产开发商之一。大信置业隶属大信控股有限公司(以下简称大信控股)。大信控股创立于1984年,是一家拥有商业、地产、建筑、物业服务、零售、餐饮、酒店、科技、教育、金融、 医疗、出行等实业生态链的大型民营企业。初期,大信控股只是从事幕墙业务,2001年扩展到房地产,2011年确定 "以商业地产为核心产业" 的战略目标。从那时起,大信控股进一步巩固了其在该行业的市场地位。目前员工人数已超过6,000名,于2019年缴交了将近6亿人民币的税收。


目前,大信商业与包括行业巨头在内的国内外1600个知名品牌,比如:家乐福、大润发、永旺、丝芙兰、屈臣氏、星巴克、H&M、优衣库、MI、必胜客、海底捞达成了稳定战略合作。通常,按照10万㎡城市综合体将配置150家租户。凭借庞大的品牌组合,大信商业可以选择最为适宜各商场定位的租户,进而优化业态组合。

Dasin Commercial, the core business of Dasin Holdings, has development projects mainly distributed in Zhongshan, Zhuhai, Guangzhou, Foshan, Zhanjiang, Beijing, Changsha, Macau and other regions. As of today, the total area of commercial real estate under management and in operation is over 2,000,000㎡, and the reserved retail landbank is also more than 2,000,000㎡.


大信商业是大信旗下的核心产业,项目主要分布于中山、珠海、广州、佛山、湛江、北京、长沙、澳门等多个区域。至今,大信运营管理的项目建筑面积超过200万平方米,储备建筑面积超过200万平方米。


At present, Dasin Commercial has established strategic cooperation with 1,600 well-known domestic and foreign brands including industry giants such as Carrefour, RT-Mart, AEON, Sephora, Watsons, Starbucks, H&M, Uniqlo, MI, Pizzahut and Haidilao Hotpot. Typically, a total of about 150 tenants will be allocated in an urban complex with 100,000 ㎡. With a larger pool of brands to choose from, Dasin Commercial is able to optimise the tenant mix its retail malls according to the individual mall's positioning.


目前,大信商业与包括行业巨头在内的国内外1600个知名品牌,比如:家乐福、大润发、永旺、丝芙兰、屈臣氏、星巴克、H&M、优衣库、MI、必胜客、海底捞达成了稳定战略合作。通常,按照10万㎡城市综合体将配置150家租户。凭借庞大的品牌组合,大信商业可以选择最为适宜各商场定位的租户,进而优化业态组合。


In line with its ambition to grow its commercial real estate business, the Sponsor has chosen to list the Trust in Singapore, a global REIT listing hub with a favourable tax regime and a regulatory framework with great focus on corporate governance.


发起人旨在发展其商业地产业务。因此,发起人选择在新加坡上市。新加坡是全球房地产投资信托基金上市的中心,拥有有利的税收制度和重点放在公司治理的监管框架。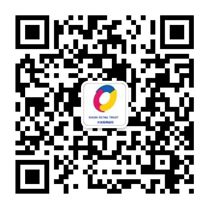 Dasin Retail Trust has launched a dedicated WeChat official account.

Scan the QR code or search for DASIN_RETAIL_TRUST to subscribe to Dasin Retail Trust on WeChat.