It's rare for analysts, within weeks or months, to revise upwards several times their financial forecasts for a stock or an industry. Because of the impact of Covid-19, it's been happening to glove manufacturers in Malaysia. Riverstone Holdings, which is listed in Singapore, is among them. Below, like other Singapore brokers, CGS-CIMB has once again raised its target price for Riverstone. It's now $3.12. It was $2.50 (21 May 2020), $1.86 (12 May 2020) and $1.30 (19 Feb 2020).

Excerpts from CGS-CIMB report

Analyst: ONG Khang Chuen, CFA
Higher ASPs on the cards


■ We reiterate our positive view on RSTON, as we believe higher ASPs are on the cards given the surge in glove demand.


Riverstone

Share price:
$2.25

Target:
$3.12
■ We now impute 10%/15% ASP growth qoq for healthcare gloves in 2Q/3Q20F.

Cleanroom glove prices could also trend up in 3Q20F.

■ We raise our FY20-22F EPS forecasts by 5.7-24.9%; TP is lifted to S$3.12.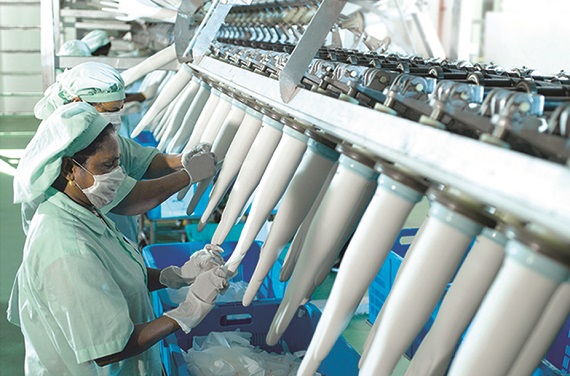 Surge in glove orders from new and existing customers
Our recent channel checks with RSTON reveal that it continues to see strong demand for gloves, both from its key existing customers as well as new buyers.

This is on the back of the current strong global glove demand owing to the Covid-19 pandemic.

We estimate that its order visibility for healthcare gloves has extended up to end-1QCY21, from end-CY20 previously.

Imputing higher ASP assumptions into our forecasts
Given the surge in demand, we believe higher ASPs are on the cards for FY20F.

For the healthcare segment, we now impute 10%/15% qoq price hikes into our assumptions for 2Q/3Q20F respectively.

RSTON remains committed to building long-term business relationships with its regular customers, and is raising prices on a more gradual basis on that front.

Meanwhile, it is allocating up to 10% of total capacity (mainly from new production lines) for spot orders, which have substantially higher ASPs (about 2x of recurring orders).

We also believe there is room for higher ASPs (+8% qoq in 3Q20F) in the cleanroom segment, as the demand for this segment also remains robust YTD.

Stronger sequential earnings ahead; FY20F a bumper year
Going into 2Q20F, we expect RSTON to record sequentially stronger net profit of RM72m (+54% qoq, +102% yoy).

Stars are aligned for RSTON in FY20F, with

1) stronger sales volume,

2) higher ASPs, and

3) higher margins (due to lower raw material prices).
We now expect RSTON to achieve a record FY20F net profit of RM314m (+141% yoy).


Reiterate Add, with higher TP of S$3.12
We raise our FY20-22F EPS by 5.7%-24.9% mainly to account for higher ASPs.


Favourable environment

"Our TP is lifted to S$3.12, still pegged to 22.7x CY21F P/E (+2 s.d. from its 5-year mean) to reflect the current favourable operating environment for glove players."
-- ONG Khang Chuen, CFA (photo),
CGS-CIMB analyst
We continue to like RSTON for its attractive valuations (33% discount to Malaysia-listed glove sector average CY21F P/E of 24.7x).

Potential re-rating catalysts include further price hikes; key downside risks include weaker cleanroom glove demand.


Full report here.