In its

12 May 2020 report, right after Riverstone's 1Q results release, CGS-CIMB forecasted that Riverstone would clock a 61% jump in net profit for FY2020. But just 9 days later, CGS-CIMB revised its forecast. Riverstone is now expected to record a 103% jump in net profit to RM265m (+103% yoy), according to the latest (21 May 2020) report (excerpts below).


Excerpts from CGS-CIMB report

Analyst: ONG Khang Chuen, CFA
When the stars align
■ We reiterate our positive view on RSTON, as its Malaysian peers reported strong Jan-Mar quarter and guided for more ASP hikes in CY20F.
Riverstone Holdings

Share price:
$1.90

Target:
$2.50
■ Stars are aligned for RSTON in FY20F, with 1) stronger sales volume, 2) higher ASPs, and 3) higher margins (due to lower raw material prices).
■ We raise our FY20-22F EPS forecasts by 10.6-26.2%; our TP is lifted to S$2.50 (22.7x CY21 P/E).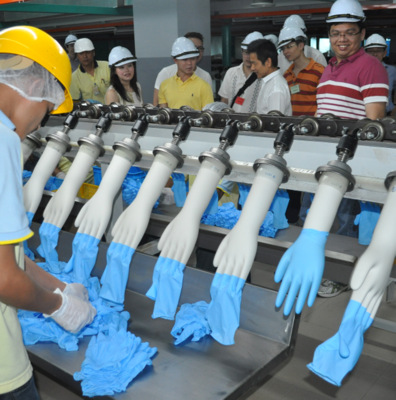 Riverstone currently has an order backlog of nine months (until Jan 2021) for healthcare gloves and 3-4 months (until Jul/Aug 2020) for cleanroom gloves vs. an average of one month pre-Covid-19 outbreak. NextInsight file photoMalaysian peers reported strong 1QCY20 results
RSTON's peers including Hartalega, Supermax and Kossan announced quarterly results earlier this week.

The three companies averaged 15.5% yoy revenue and 62.4% yoy core net profit growth during the Jan-Mar quarter, on the back of strong margin expansion as raw material prices trended lower.

We also gather that glove makers are now running at full capacity (>90%), and have firm order visibility till at least end-CY20.

Stars are aligned for RSTON
With strong demand due to the Covid-19 outbreak, glove makers are no longer pricing their healthcare gloves using the typical cost-plus mechanism.

Instead, selling prices have been on a sequential uptrend since Mar, despite raw material prices trending lower.


"The demand for gloves is likely to remain firm for the next 10-12 months, as governments and hospitals will still need to replenish safety stock after the pandemic is contained."
-- CGS-CIMB report
RSTON raised prices of its healthcare gloves by c.10% in May 20 for regular customers, while ad-hoc buyers are paying c.20% price premium to secure orders.

With peers guiding for more price increases to come, we are confident that RSTON could further raise selling prices by another 5% qoq in 3Q20F.

Bumper profits in FY20F
Going into 2Q20F, we expect RSTON to record sequentially stronger net profit of RM64m (+36% qoq, +95% yoy).

We raise our FY20-22F EPS by 10.6%-26.2% to account for:

1) an increase in glove sales volume,
2) higher ASPs and
3) better profit margins from higher economies of scale and lower raw material prices.
We now expect RSTON to record FY20F net profit of RM265m (+103% yoy).

Maintain Add, with higher TP of S$2.50

49% discount

"Despite the recent rally, RSTON continues to be a laggard play in the glove sector, as it is trading at a 49% discount to its Malaysia-listed peers (5-year average: 30%)."

-- ONG Khang Chuen, CFA (photo)


Our TP is lifted to S$2.50, based on a higher multiple of 22.7x CY21F P/E (+2 s.d. from its 5-year mean; 19.3x previously) to reflect the current favourable operating environment for glove players.

Potential re-rating catalysts include further price hikes or a continued downtrend in raw material prices; key downside risks include weaker cleanroom glove demand.

Full report here.