In its annual report every year, as far back as FY2014, Singapore-listed Medtecs International had the word "pandemic" in print.

Medtecs' website). (That's a good 6 years worth of annual reports which are accessible on the SGX website; only 4 are available on

Specifically, its words were "Vigilance against Future Pandemics will open up trading opportunities".



Repeated in every annual report, the same words were used as some kind of headline.



Well, a pandemic with global proportions has arrived finally, presenting oppportunities to Medtecs --

a supplier of key healthcare equipment in the fight against Covid-19

.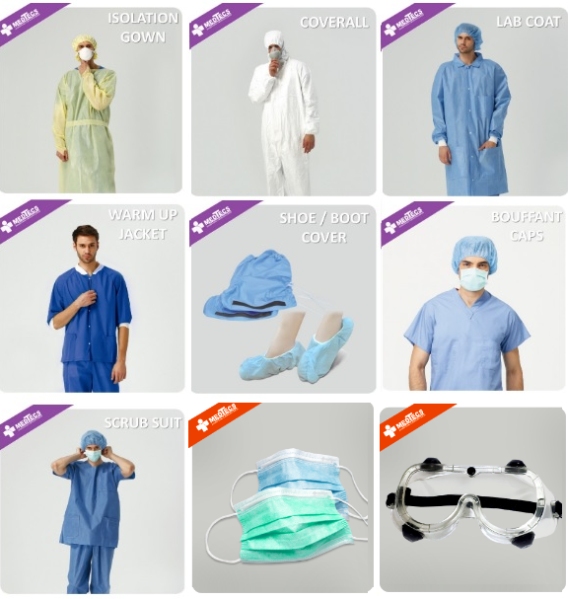 Medtecs' range of Personal Protective Equipment. Medtecs also produces medical consumables such as N95 and N88 face masks (with viral filtration efficiency of 99%), and caps and shoe covers. Photo: Company

Medtecs' vigilance all these years has perhaps led to its expanding production capacity, improving efficiencies and raising capabilities, among other things.

That can be inferred from its 2019 annual report which said:
Stock price

18.7 c

52-week range

2.2 – 21 c

PE*

60

Market cap

S$103 m

Average volume (10-day)

83.7 m

Shares outstanding

549 m

Dividend
yield

--

One-year return

668%

* PE based on US$1.2m net profit in FY19.
• "We will continue to implement new processes and invest in equipment upgrades to increase overall efficiency... we will strengthen our current market position by increasing our e-commerce capabilities to explore new business opportunities."
• "In 2019, the groundwork we laid in 2018 for optimizing production, sales, human resources, development and finance had gradually taken effect and improved Group's overall operations."

The preparedness has enabled Medtecs to ride the immense wave of orders, leading to a startling 15X jump in 1Q2020 profit after tax.

The company's 5 May 2020 update did not give details but it said it has doubled its production of personal protection equipment (PPE).

One can infer that the profit boost came from a wipe-out or near wipe-out of previously idle production capacity combined with higher selling prices, among other factors.


| | | | |
| --- | --- | --- | --- |
| (US$'000) | 1Q 2020 | 1Q 2019 | Increase |
| Revenues | 39,811 | 16,755 | 137.6% |
| Gross Profit | 7,154 | 2,522 | 183.7% |
| Net Profit | 3,672 | 227 | 1,517.6% |

The frenzied pace of business continues into 2Q.

Medtecs said: "With the continuing spread of COVID-19 around the world, the Company has received more purchase orders for its products, and expects revenue and profit growth in the second quarter ending 30 June 2020 to exceed that of 1Q 2020."

"To exceed" -- that doesn't give us any clue as to whether it greatly exceeds or not. And the rest of the year is anyone's guess.

Questions investors may then ask:

1) Is it reasonable to annualise the 1Q earnings and arrive at US$14.7 million (S$21 million) net profit for the full year? If so, is the 5X PE unjustifiably cheap?

2) Will that annualised figure prove to be

too little or too much?
3) A related question on valuation: Is it fair to compare Medtecs to, say, Riverstone Holdings which manufactures healthcare gloves and cleanroom gloves?

Riverstone shares have run up and now trades at about 22X this year's forecast earnings by DBS Research.

4) Will Medtecs' business continue to stay elevated into next year and beyond, transforming from being a (pre-Covid) low-margin, low return business with a weak balance sheet into a superior one?

(Prior to 1Q2020, Medtecs' revenue level was not sufficient to overcome fixed costs in order to achieve a decent net margin. But since then, operating leverage has become evident, leading to a healthy 9.2% net margin in 1Q2020.)

5) Will governments continue to replenish or raise their stockpile of healthcare equipment as a precaution?

6) Since the barriers to entry in this business are not exactly high, will more players jump into the game and Medtecs' margins erode from the current levels?

Well, the only certain answer is that the future for this industry is impossible to predict with certainty -- and ditto Medtecs' business performance --

because the Covid-19 situation is evolving

.
It has been so low profile that investors would be taken aback if told that it crossed -- without fanfare -- its 20th year of listing on the Singapore Exchange just a few months ago (ie Oct 2019).

It's not surprising, as Medtecs was a micro-cap stock: Its market cap was merely about S$22 million (share price: 4 cents) at the start of this year before it surged to over S$100 million recently (share price: 18.7 cents).

And Medtecs' once-sleepy trading volume has roared to an average of 87 million units in the past 10 trading days, according to Yahoo data.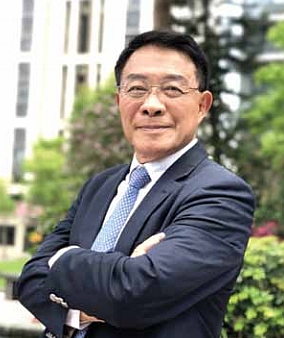 Medtecs founder and Executive Chairman Clement Yang, 65.
Photo: CompanySo, some background of Medtecs is in order owing to it being thrust into centrestage along with its industry peers during this pandemic.

Medtecs, which started life in 1989, was founded by Clarence Yang, now aged 65, and its executive chairman.

He was CEO between 1990 and 2018 until his son, William, took over the reins.

Medtecs has two main business segments:
• Original Product Manufacturing (OPM):
It manufactures a wide range of medical consumables, and hospital and work wear apparels, selling mostly to Europe and the Asia-Pacific (see table).

Its products have the CE marking which shows that "our products meet the health, safety, and environmental protection standards of the European Economic Area."
For Asia-Pacific, Medtecs sells under its own brand.

Its manufacturing facilities are located in the Philippines, China and Cambodia.


• Providing integrated hospital services:
Medtecs provides hospitals in Taiwan and the Philippines with integrated services which include rental and laundry of linens, management of laundry facilities, hospital automation and other non-core hospital functions.
In Taiwan, where

Medtecs derives most of its revenue in this segment, the company

is the dominant total solutions provider for such hospital services, with a customer base of 24 hospitals.
Its hospital service in the Philippines covers 32 hospitals.