Rex International is increasingly in the spotlight as it moves into production of oil from its concession in Oman. The stock has made big moves and one broker has just initiated coverage. We have put out several stories (see links at bottom of the page) and Business Times published its own interview today with Dan Brostrom (photo), executive chairman of Rex. Excerpts: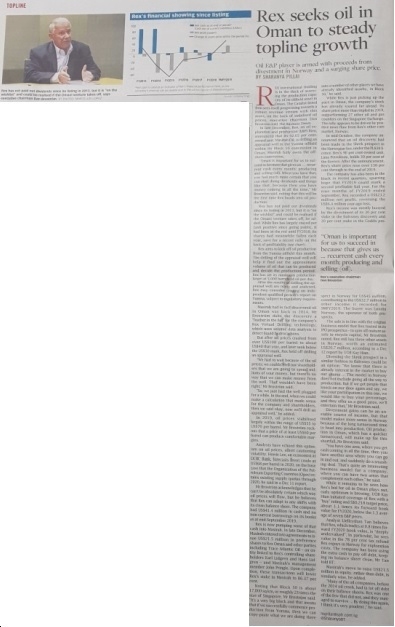 Dividends on wishlist:
"Oman is important for us to succeed in because that gives us … recurrent cash every month; producing and selling (oil). When you have that, you feel much more certain that you can start doing dividends and things like that, because then you have money coming in all the time." -- Executive Chairman Dan Broström.
Rex has not paid out dividends since its listing in 2013, but it is "on the wishlist" and could be realised if the Omani venture takes off, BT quoted Mr Broström as saying.




23 times the size of Singapore:
Rex's concession, Block 50, is huge -- about 17,000 sq km, or roughly 23 times the size of Singapore. And there could be oil in many places.

"It's a very big block and that means that if we successfully commence production from Yumna, then we can copy-paste what we are doing there into a number of other places we have already identified nearby, in Block 50".


Divesting Shrek:
After a divestment of its interest in Rovlsness this year for a US$30 million gain, another opportunity has shown up at the Shrek prospect, also in Norway.

"We know that there is already interest in the market to buy our shares … The model in Norway does not exclude going all the way to production. But if we get people that knock on our door again and say, we like your participation in this one, we would like to buy your percentage, and they offer us a good price, we'll entertain that," Mr Broström said.

For the full article, click here.