1QFY20 briefing:

Management Present:

Date

Wednesday,
13 November 2019

CEO

Shane Kimpton

Time

10 – 11 am

Executive Director

Eng Chiaw Koon

Place

Financial PR

4 Robinson Road

#04-01

S(048543), next to Raffles Place MRT station

CFO

Christian Johnstone

AusGroup has a number of high-profile investors, following a significant change in the ownership of AusGroup in Dec 2018.

AOC Acquisitions (which is majority owned by Asdew Acquisitions led by Alan Wang, together with Ching Chiat Kwong and Low See Ching of Oxley Holdings and Han Seng Juan and Loh Kim Kang David of Centurion Corp) replaced Ezion Holdings as AusGroup's controlling shareholder with a 26.8% stake.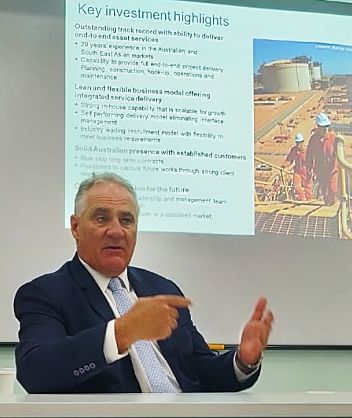 CEO Shane Kimpton. NextInsight file photo.
AusGroup management will present the 1QFY20 results and outline plans for growth.

To register to attend, pls send your full name, occupation & contact number asap to: This email address is being protected from spambots. You need JavaScript enabled to view it.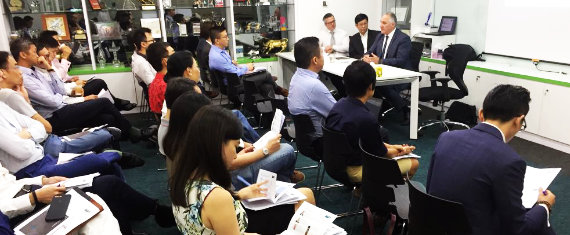 Recent news on AusGroup
Reported a net profit of AU$2.9m and revenue of AU$287.8m for FY2019


4QFY2019 – "The last quarter of the financial year has been challenging following the disappointing resolution of the court case and closing out the loss-making contract, both of which have impacted our results. Despite these setbacks, the Group has reported a profit for the year of AU$2.9m and has continued the trend of profitable quarters since FY2016."- Mr Shane Kimpton, Chief Executive Officer.


Awarded five-year contract with Tier 1 Mining Company, Newmont Goldcorp Services to provide specialist mechanical, scaffolding and rope access maintenance services in support of Newmont Goldcorp's Boddington Gold Mine – September 2019


Awarded three-year maintenance and shutdown contract by BHP Nickel West for all Nickel West assets across Western Australia – September 2019


Secured further work by thyssenkrupp Industrial Solutions for work on BHP WA Iron Ore's South Flank Project – September 2019