"Dragon Descendant" contributed this article to NextInsight


Share prices, as we all know, are influenced by many factors.


Fundamentals, such as profit and financial health are important factors affecting share price.

Overall market conditions as well as the target prices that analysts set for shares also play a part.


A CGS-CIMB analyst set $1.87 as the target price of Sunsine shares in a report dated 26 July 2018, but surprisingly slashed it to $1.41, just 12 days later.

The target price was further lowered to $1.29 on 1 March 19 and $1.10 on 7 Aug 19.
Report dated

Target
price ($)

x times next
year's profit

Next year's
profit (RMB m)

26 Jul 18

1.87

9.8

453

7 Aug 18

1.41

7.7

450

1 Mar 19

1.29

7.5

410

7 Aug 19

1.10

5.5

513
The latest $1.10 target price is pegged to 5.5 times 2020 projected profit.

Let's compare the target price and projected 2020 financial metrics (such as gross profit margin, profit, cash) in the four reports.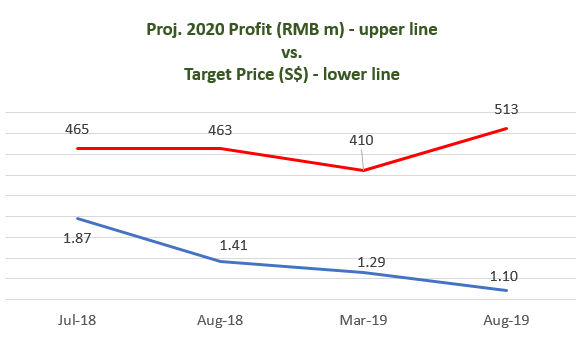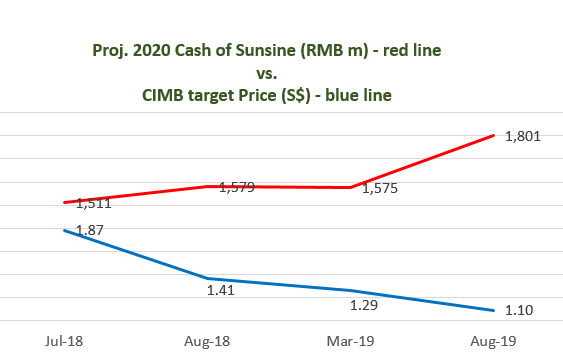 The divergence between rising projections of financial performance and declining target prices is striking.


"China Sunsine's ROE in 2020 will be 21.3% on RMB 3,115m equity.

"The high ROE suggests a very good return on investments.

"The 'true' ROE is in fact higher as cash amounting to RMB 1,801m earns very meagre interest income."

-- Dragon Descendant
The lowering of the target price to $1.10 in the most recent report, from $1.29 in the preceding one, is baffling when the projected 2020 profit of RMB 513m is very much higher than RMB 410m (2nd graph).

The 4.3 percentage point improvement in GPM in the Aug 19 report from the preceding one reflects strong pricing power and production efficiency.

The projected RMB 1,801m cash (with nil borrowing outstanding) by year 2020 translates into $0.72 per share, which is 65% of the $1.10 target price.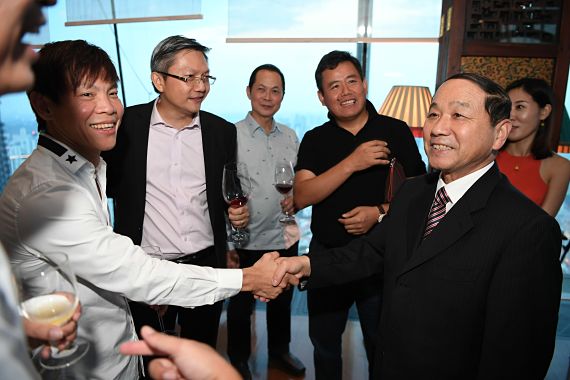 CEO Liu Jing Fu (wearing neck tie) and management toast Singapore investors at celebration to mark the 10th anniversary of China Sunsine's listing on SGX in 2017. Photo: Company

And how about the broking firm's latest projections for year 2021? They certainly do not point to a deterioration in Sunsine's fundamentals:


2019

2020

2021

Projected GPM

34.6%

35.9%

33.7%

Projected profit
(RMB m)

505

513

537

Projected cash
(RMB m)

1,461

1,801

2,266*

* This translates into $0.90 per share, which is 82% of CIMB's target price of $1.10
Thus, the lowering of the target price for China Sunsine share in the face of improving fundamentals is befuddling.